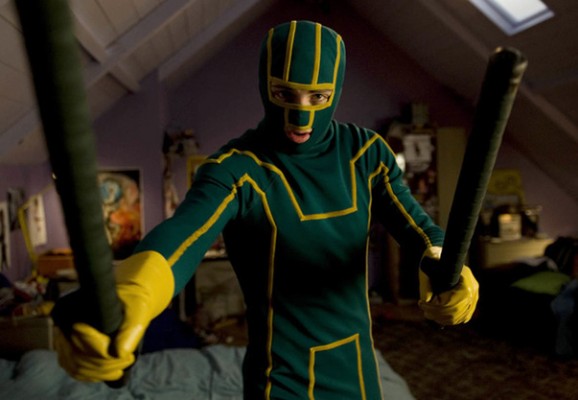 The cinematic adaptation of Mark Millar's comic book series Kick-Ass, directed by Matthew Vaughn, opens in theaters this Friday. In the spirit of several of the film's main characters, including Kick-Ass (Aaron Johnson), Red Mist (Christopher Mintz-Plasse), Hit Girl (Chloe Moretz), and Big Daddy (Nicolas Cage), I've compiled a series that outlines the five greatest self-made superheroes ever to grace the silver screen or the pages of a comic book.
But what is a "self-made hero"? By definition, self-made superheroes cannot exist; in fact, the more accurate way to describe these individuals is as "self-made heroes," because the idea of a "superhero" is based on possession of some type of "super" power, whether that is a superhuman ability, genetic mutation, or even some type of extraterrestrial characteristic.
Many Americans' exposure to superheroes is limited to what they witness in the movie theater or on their big screen TV at home. True comic book fans know, however, that there's more to being a great superhero than having some superhuman power or a kick-ass action movie. In fact, there's something to be said for a hero whose abilities are the result of innately human qualities like intellect, improvisation, and physical prowess. The ability to take on some of the world's greatest criminal masterminds or mutated, extraterrestrial, or otherwise superhuman villains without superhuman powers like being able to climb walls, to teleport, to freeze or ignite others where they stand, etc. is considered in some circles that much more impressive.
The five individuals listed below are those that I feel best exemplify the idea of the self-made hero: an individual who, for whatever reason, takes matters into his or her own hands using nothing more than their own physical ability, some cunning and a multi-million-dollar budget or two (where applicable). In honor of Kick-Ass, I will reveal the identity of one of the 5 Greatest Self-Made Heroes each day this week, beginning with the bottom of the list and working my way upwards to the greatest of the self-made heroes that human ingenuity has to offer.
Without further ado, here is the fifth greatest self-made hero to appear in my 5 Greatest Self-Made Heroes series this week:
The 5 Greatest Self-Made Heroes #5: The Green Arrow (aka Oliver "Ollie" Queen)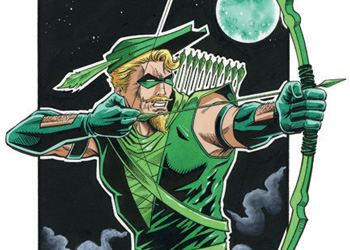 Although he did not become exceptionally popular until the late 1960s, the Green Arrow first appeared in More Fun Comics #73 in 1941. At the time the character was modeled heavily on Batman with a billionaire playboy alter ego, Oliver "Ollie" Queen, a sidekick named Speedy, an Arrowcar and Arrowplane, the use of an Arrow-signal to summon Green Arrow, a home base called the Arrowcave and even a clown-like arch-enemy named Bull's Eye, similar to Batman's foe The Joker. In the 1960s, however, Green Arrow was re-vamped when Ollie Queen lost his billions and the hero took to the street, becoming an advocate for society's underprivileged and the political left wing. Around the same time, the Green Arrow's appearance also changed, morphing into the goateed, hooded hero we all recognize today.
Like several other heroes that will appear on this list, the Green Arrow owes much of his ability to his alter ego's fortune — such vast resources allowed the Arrow to develop some of his most advanced and sophisticated weaponry, including the glue arrow, a net arrow, cryonic arrows, a tear gas arrow, exploding arrows, a time bomb arrow, and even a kryptonite arrow. Despite his bulky physique, the Green Arrow's claim to fame is his archery skills, although his hand-to-hand combat skills and swordsmanship are not far behind. Like all the other heroes on this list, the Green Arrow must rely on these skills in his efforts to help the underprivileged in society.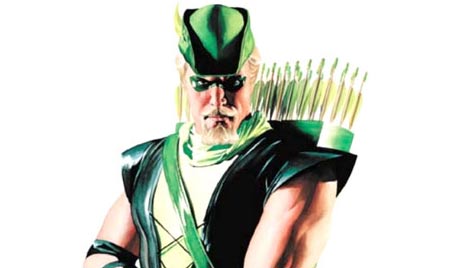 Out of all of the heroes that will be featured this week, the Green Arrow is perhaps the most obviously altruistic — after his revamp in the 1960s, of course. The transformation marked the Arrow as a much darker, grittier hero preoccupied with radical social, economic, and political changes that would benefit those he sought to help. The Arrow's goals became even more pronounced when he was paired with the Green Lantern in the early 1970s; where the Green Arrow desired radical social change and direct action, the Green Lantern advocated working within the existing system, focusing on exacting justice against criminals and obeying the law.
Regardless of motives, the combination of superior strength and well-honed skills with devastating weaponry earn the Green Arrow the distinction of being the fifth greatest self-made hero to be featured on Fandomania this week. Stay tuned for the remaining four self-made heroes, and don't forget to check out Kick-Ass in theaters this Friday, April 16th, 2010.

Paige rejoins Fandomania after taking a two-year hiatus to get her Master's degree in Media, Culture and Communication from NYU.