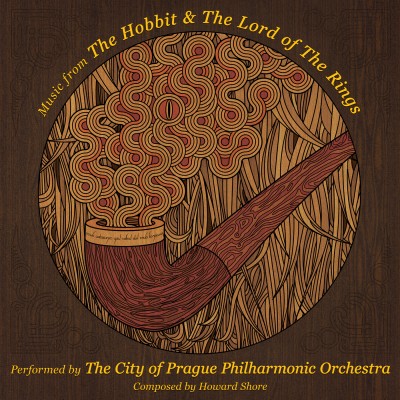 Title: Music from The Hobbit and Lord of the Rings
Composed by: Howard Shore
Performed by: The City Of Prague Philharmonic Orchestra
Conducted by: Evan Jolly and Nic Raine
Release Date: February 26, 2013
Since The Hobbit was released, I've fallen in love with its soundtrack. I've also gone back and listened to the Lord of the Rings soundtrack and remembered how good they were. This CD has three songs from The Hobbit: An Unexpected Journey, five from The Fellowship of the Ring, three from The Two Towers, and four from The Return of the King. All of the songs were composed by Howard Shore.
One of my favorite songs is "Concerning Hobbits". In the movies, especially LotR, it is used to call back to a happier, simpler time. The song always makes me think of Hobbiton and how much joy Hobbits have in life, even if it's just eating seven meals a day. The music is very light, full of wind instruments, and is upbeat.
"The Bridge of Khazad-dûm" is another of my favorite songs. I enjoy the whole scene in Moria and this song plays a huge part of that. It's very fast and harsh. It has a lot of drum sounds and quick singing. It expresses the urgency of the Fellowship to get away from not only Orcs, but also a Balrog. Then there are a few lovely parts near the middle and end that always manage to give me chills.
Next, "A Thunder Battle" reminds me of "The Bridge of Khazad-dûm" in that both songs are very fast, filled with tension, and harsh. "A Thunder Battle" has a lot of drums and sharp notes since it goes with the scene where the stone giants are fighting. That fighting sounds a lot like thunder, which this song emphasizes.
I think that if you enjoyed the movies and their soundtracks, you will definitely enjoy this CD. I don't think you would want to buy this if you already have the other four soundtracks, but if you don't own them or you aren't sure about buying them, this CD is a great place to start.
Track Listing:
"Over Hill"
"A Thunder Battle"
"Dreaming of a Bag End"
"The Fellowship"
"The Prophecy"
"Concerning Hobbits"
"The Shadow Of The Past / A Knife In The Dark"
"The Bridge Of Khazad Dum"
"The Riders Of Rohan"
"Evenstar"
"Forth Eorlingas / Isengard Unleashed"
"Hope And Memory / Minas Tirith"
"The White Tree"
"Twilight And Shadow"
"The Fields Of Pelennor"
From a young age, Nikki would read any book placed in front of her and has always had an interest in writing. She saw Sailor Moon, Red Dwarf, and Highlander (to name a few shows) on TV and they got her more interested in anime and sci-fi, which led to fantasy, her favorite genre. Right now Nikki is devouring anything Middle Earth related and has very much fallen in love with Tolkien's world. Nikki plays a lot of video games ranging from Final Fantasy to Mass Effect to Assassin's Creed III. Nikki has also written her first book! You can find it here if you're interested. She is currently planning another novel.