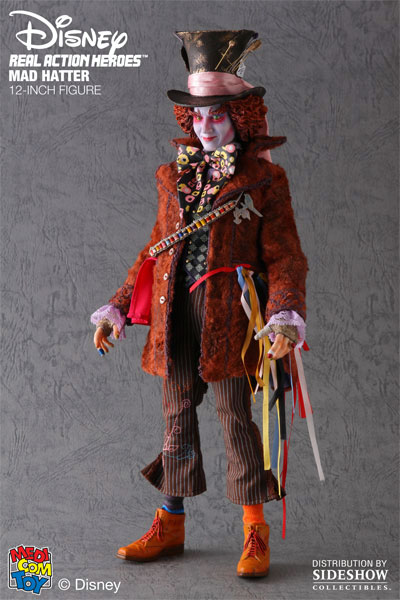 As if Alice in Wonderland wasn't freaky enough, Tim Burton had to go and turn the Mad Hatter (played by Johnny Depp, no less) into a clown. A clown! How many levels of freakiness are we operating on now? But wait, it gets even better. Now you can bring this bundle of freak into your house as a 12″ action figure with real fabric clothes. It can sit on your bedside table, staring at you as you sleep. It just might crawl onto your pillow and bite your earlobes around 4:30am.
Medicom is producing this official figure as part of their Real Action Heroes line, and Sideshow Collectibles will be handling the domestic distribution, starting next year. Sideshow began taking preorders last night, for those brave enough to welcome this fellow into their homes.
Sideshow Link: Medicom 12″ Mad Hatter
Jason is the founder and managing editor of Fandomania. He is severely into toy collecting, plays a worryingly large amount of games, watches way too many movies and TV shows, and reads more than his fair share of books and comics. He also likes guacamole.