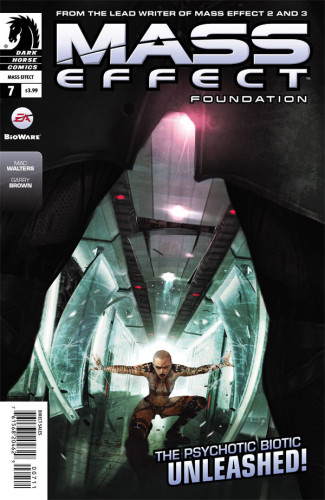 In the seventh issue of Mass Effect: Foundation, the focus is on Jack and her quest to find out who she is and to destroy all the facilities she can find. The issue is set before Mass Effect 2, perhaps anywhere from a few months to a few days.
Note: This recap may contain spoilers!
It starts off with Jack literally blasting her way into the main office, where she states that she was Subject Zero. After killing the administrator, she meets the Illusive Man, who she takes an instant dislike to. The Illusive Man sends Rasa and Kai Leng to the facility to either capture Jack or kill her. When they show up, the Blue Suns are already there, in case Rasa and Kai fail.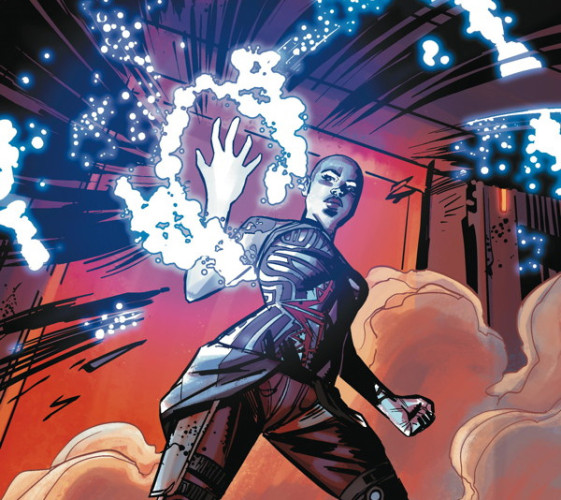 Meanwhile, Jack has blown up a lot of things. She then finds a student, who she feels sympathy for, because she was once like them. Jack finds more students and plans to break them out of the facility. Creating a diversion, Jack uses her extensive and powerful biotics against the Blue Sun members and Rasa and Kai. Nothing anyone does can work against her, except a sneak attack that Jack doesn't see coming. The Blue Suns leave with Jack, presumably to take her to the space facility that Shepard finds her at in the events of Mass Effect 2.
I thought this issue was good. It showed Jack's power, but also her soft spot for people who were used like her, which isn't really seen until Mass Effect 3. The issue also delves into why the Illusive Man wants Jack. The Blue Suns want triple the price because of all the damages she's caused them. The Illusive Man doesn't want to pay that, but he needs Jack's power. So, Jack's file is given to Shepard and two birds are taken care of with one stone. It's also a great lead into Jack's story in the game.
From a young age, Nikki would read any book placed in front of her and has always had an interest in writing. She saw Sailor Moon, Red Dwarf, and Highlander (to name a few shows) on TV and they got her more interested in anime and sci-fi, which led to fantasy, her favorite genre. Right now Nikki is devouring anything Middle Earth related and has very much fallen in love with Tolkien's world. Nikki plays a lot of video games ranging from Final Fantasy to Mass Effect to Assassin's Creed III. Nikki has also written her first book! You can find it here if you're interested. She is currently planning another novel.