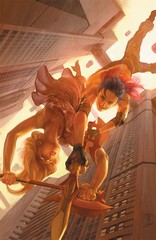 Georges Jeanty has been the regular series artist for the Buffy the Vampire Slayer Season 8 comic book from issue #1, but an old face from the Buffy comicverse will return to art duties, beginning with issue #16. Karl Moline drew the 2003 series Fray, a story written by Joss Whedon and introducing Melaka Fray, a future slayer who wielded the Slayer's Scythe in comics long before it ever appeared in the Buffy TV series. Moline was sketchy about the details of his upcoming work on the current Buffy series but did let a couple of tidbits slip in an interview he did at Comic Book Resources. Check out the overall interview there, but be warned that some minor spoilers do get hinted at:
Moline Returns To The Fray In "Buffy: Season 8"
Jason is the founder and managing editor of Fandomania. He is severely into toy collecting, plays a worryingly large amount of games, watches way too many movies and TV shows, and reads more than his fair share of books and comics. He also likes guacamole.