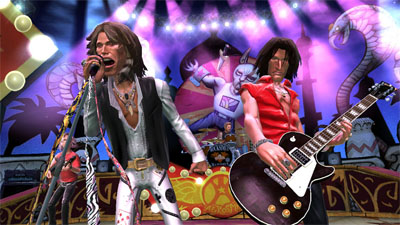 You'd think Activision would be doing everything they could with Guitar Hero to make it appeal to fans over the esteemed Rock Band competition, but it seems like they just keep getting it wrong. This time it's a bit of news that has trickled down about the next installment in the venerable series, Guitar Hero: Aerosmith. Have you downloaded any content for your Guitar Hero 3 game? Hope to be able to play it with the Guitar Hero: Aerosmith game once that arrives? Sorry, you're outta luck.
It's not exactly a surprise that GH3 content won't work with GH:A (as GH2 content doesn't work in GH3), but there was always the hope that progressing technologies and rising competition would make Activision allow the cross-game content. There's no word about whether Guitar Hero: On Tour or Guitar Hero: Metallica will have cross-game support, but I tend to doubt it, given the franchise's desire to have you wear out your console by swapping discs to play different songs.
Source: Joystiq
Jason is the founder and managing editor of Fandomania. He is severely into toy collecting, plays a worryingly large amount of games, watches way too many movies and TV shows, and reads more than his fair share of books and comics. He also likes guacamole.