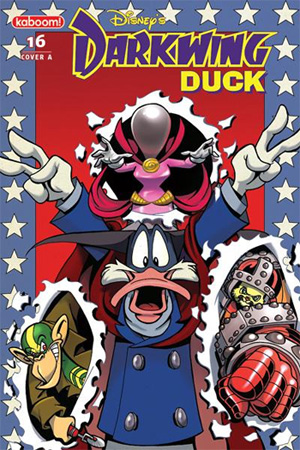 Issue: Disney's Darkwing Duck #16
Author: Ian Brill
Artist: James Silvani
Cover A: James Silvani
Cover B: Sabrina Alberghetti
Publisher: kaboom!
I haven't been reading Darkwing Duck, but apparently Darkwing and Launchpad have been running for mayor of St. Canard and have gotten themselves abducted by someone called Suff-Rage. Suff-Rage doesn't think that Darkwing and Launchpad are suitable candidates for Mayor, which is probably true. Suff-rage plans to burn them both at the stake and has the event being televised.
Watching from far away are Gosalyn, Honker, and Doofus. They hear strange noises and go to investigate, hoping to save Darkwing and Launchpad. Things don't go exactly as planned and the children need to be saved.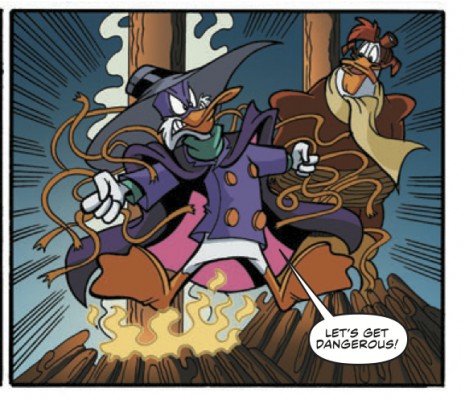 Darkwing and Launchpad make their way to the children, but Suff-Rage is ready for them. She messes with Darkwing's mind, showing him things he is afraid of. Gosalyn stops her and has her identity revealed. Darkwing and Launchpad then go back to being rivals and wait for the new mayor to be announced. This leads into the crossover between Darkwing Duck and Duck Tales.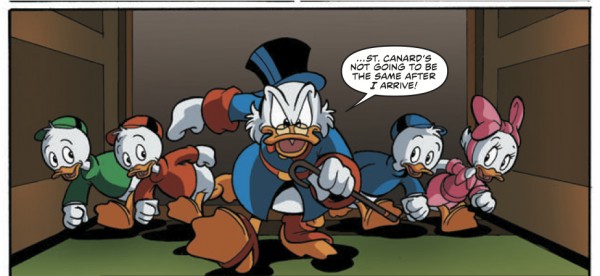 Even without know much of the back-story, the comic is very true to the television series. It shows how inept, but how dedicated, Darkwing is in helping St. Canard stay safe. The villain is also very interesting; she uses a unique power to control people. She can also say she's the only villain to almost beat Darkwing twice. I was intrigued by the idea of a crossover when reading Duck Tales, and now I am even more excited. I can't wait to see how it works out.
From a young age, Nikki would read any book placed in front of her and has always had an interest in writing. She saw Sailor Moon, Red Dwarf, and Highlander (to name a few shows) on TV and they got her more interested in anime and sci-fi, which led to fantasy, her favorite genre. Right now Nikki is devouring anything Middle Earth related and has very much fallen in love with Tolkien's world. Nikki plays a lot of video games ranging from Final Fantasy to Mass Effect to Assassin's Creed III. Nikki has also written her first book! You can find it here if you're interested. She is currently planning another novel.