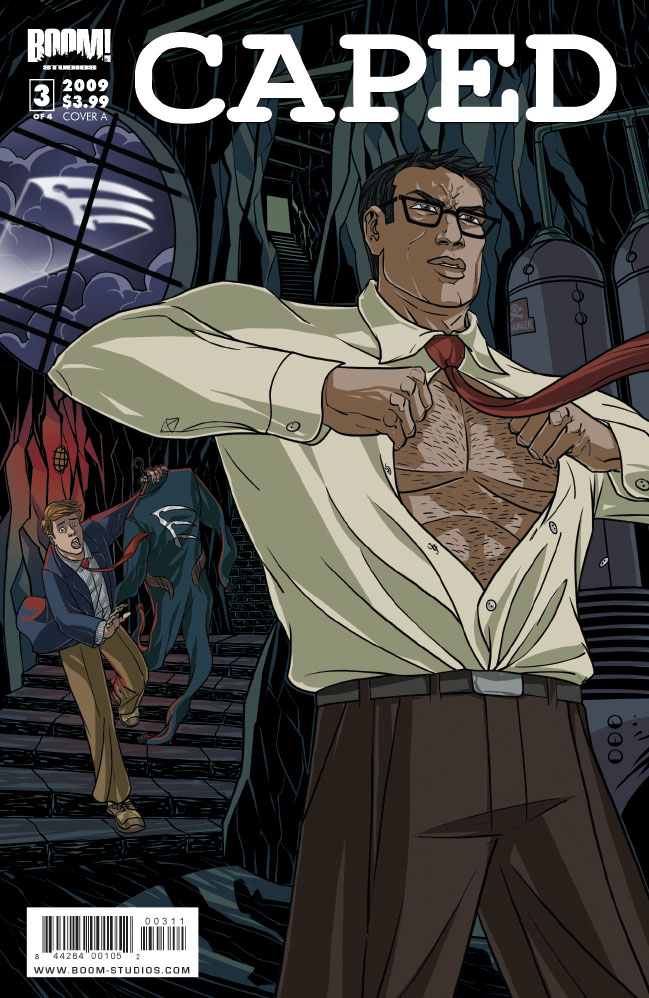 Review: Caped #3
Release Date: 17 June 2009
Writer(s): Josh Lobis and Darin Moiselle
Artist(s): Sebastiãn Piriz
Cover(s): Saumin Paatel, Joe Quinones
Colours: Digikore Studios
Letterer: Johnny Lowe
Publisher: BOOM! Studios
It's the second to the last issue in this snarky take on outfitted superheroes, and things are getting ca-razy! Jimmy Lohman is still determined to figure out who's killing off Capitol City's superfolk (and make a name for himself as an investigative journalist at the same time), even if that means he has to babysit Edge to do it. Boy, is he a wreck at this point in the story! Jimmy might be able to piece the clues together before it's too late if Edge would stop keeping him two steps behind the unknown villain.

Oh, Jimmy! If only you were free to solve this mystery on your own! He may be the personal assistant to a super, but he is clearly the brains between the two of them. Of course, there are moments when Edge is actually helpful in really important ways (being able to physically save Jimmy and dropping Secret Identities while drunk), but most of the time he is a real hindrance to the the whole crime fighting gig.
Speaking of clues, there were a few "subtly" dropped in this issue that completely changed who I thought the baddie was (cloning, missing blood samples, hmmmm). Of course, this could be a red herring also! I'm so not clever enough to solve mysteries, but I likes me some twists and turns and apparently incompetent masked avengers who enjoy fritters on a stake out.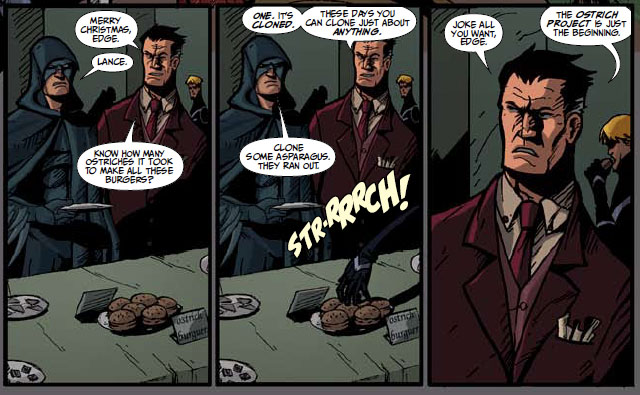 I like how the only way Jimmy can get Edge to investigate the case is by saying Flex (a rival superhero) is most likey invovled in the murders. Just the thought of implicating that guy in some wrong doings is enough for Edge to pull himself together and do his job. He totally fumbles the whole thing and not only gets fired from his "day" job, but is put on probation by the Capes and Tights League and is basically the most hated man in the city by the end of the issue. Without that in to the League, I think Jimmy's job of solving the case just got a lot harder.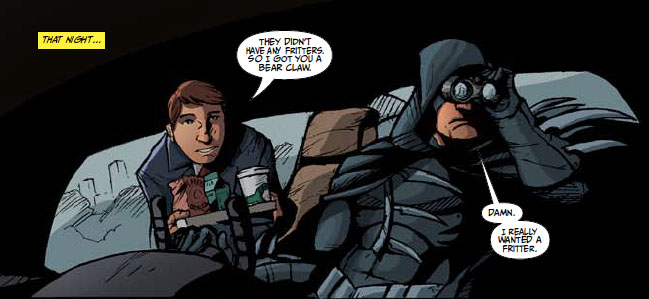 The one thing that did throw me off for a minute was the art. It was a lot darker than issue 2. Turns out, this issue has a different interior artist than the last issue (and that I'm just not very perceptive sometimes). I missed the lightness that Jimmy had in the previous issue, but Piriz does a nice job of making everything gritty and shady looking.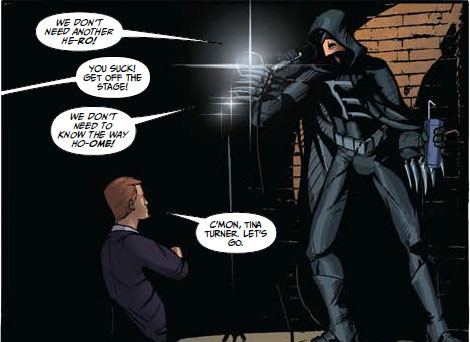 The writing is still top-notch from Lobis and Moiselle. The humour is just dry enough to make you smirk and just blantant enough to make you laugh. However, like with many of BOOM!'s minis, it doesn't feel like the story should be over in one more issue. It's possible that I'm just spoiled by comics that go on and on forever *cough*X-Men*cough*, but at this point in the story I would really like to see this title be an on-going series. They've really got me invested in the characters in only three issues, and I could only imagine what they could do with them in a longer run.