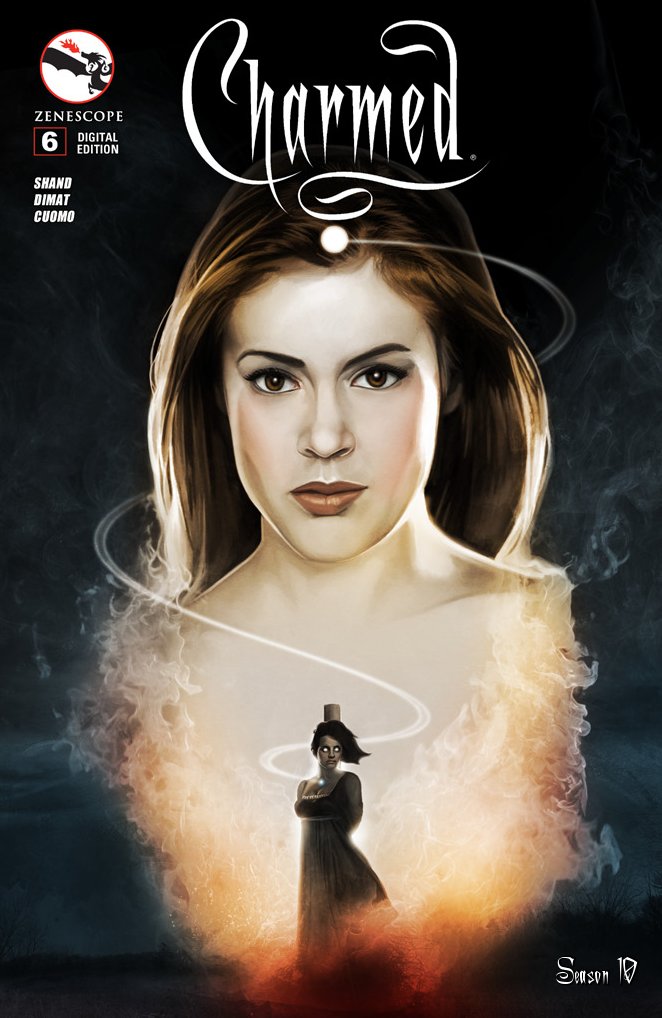 A sign of bad things to come? That was the impression I got from the latest issue of the Charmed comic. And the danger looks like it's coming from all sides, with sister against sister as well as dark force against the Charmed Ones. Where will it all end?
Note: This recap may contain spoilers!
Phoebe is on a book tour, trying to get her mind off the tragic loss of Cole. This proves difficult when she keeps seeing reminders of him everywhere, but it's a process and she's going to eventually get through it. Plus, she has Elise along for the week-long working vacation, so surely her friend can help her focus her attention elsewhere. But it turns out Cole's death is not all she needs to be worried about.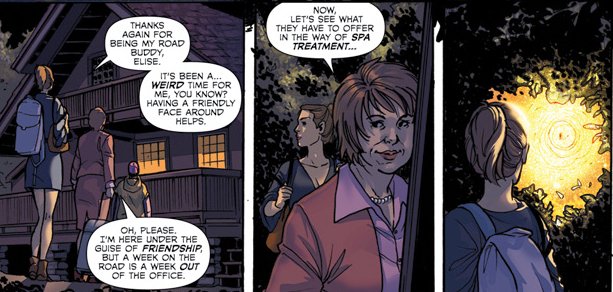 At the stop in Arizona, where they're supposed to stay, Phoebe wanders off into the woods because she sees a light. Before she can wander too far, though, Paige calls her on the cellphone and she gets distracted. And when she returns to her hotel room and finds not only Paige, but also PJ there to visit, the mysterious light is soon forgotten. But when has it ever gone so easy? Turns out that the big, glowing ball of light will cause Phoebe much heartache before it's done.
Paige leaves PJ at the hotel overnight, agreeing to orb back for her in the morning. Then mommy and daughter bed down for a peaceful night's rest, only to be interrupted by a light orb that penetrates the window and then disappears. Uneasy about what it could be, a call to Piper and Leo reveals that the orb is called a Will O' Wisp, which is a fragment of a broken spirit, sort of like feelings left behind. Needing to keep her daughter safe, though, Phoebe calls Coop and has him beam PJ back to the manor.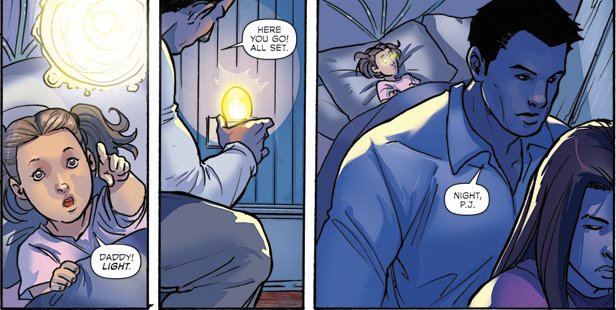 My hopes that the light might be Cole were soon dispersed, as it centers not on Phoebe, but on PJ. It appears in her room, without anyone noticing, and seems to join with her. The next morning at mealtime, it manifests itself by overtaking PJ with its power and lashing out against Piper. This leaves Piper unconscious and her sisters unaware. While Paige does mention that she can't get Piper on the phone, the next time she talks to Phoebe, she assures her sister that there's nothing to worry about and that she will go check up on Piper in a little while.
But Phoebe has every right to worry. In the middle of their phone call, Powered!PJ appears in Phoebe's room and then orbs her mother back to the witch trials with warnings of bad things to come. The root of all fear, of all evil — The Old Ones are coming for Phoebe. But, for now, she is more concerned with getting her daughter back. Finally, Phoebe does help PJ separate from the Wisp, thus breaking the spell and getting them back to their own time.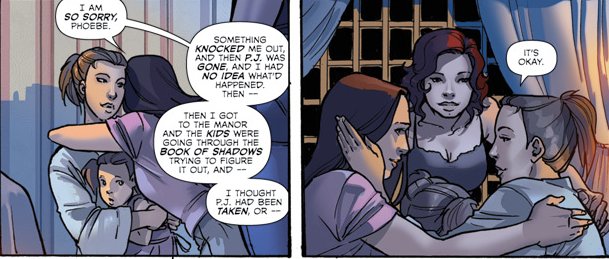 What was the mysterious warning? What could it mean for the Charmed Ones? And what is Prue up to? We end the issue with a quick scene from her, being all dark and mysterious, but without any answers. For that, we'll have to wait for the next issue it seems.
Rating: 3 / 5 Stars

In her youth, Kimberly could be found in the library, devouring books that covered everything from WWII History to Dr. McCoy's latest adventures aboard the Enterprise, with some X-Men thrown in for good measure. Saturdays were often reserved for PBS re-runs of Doctor Who and Red Dwarf. More recently, she's been riding along with the Winchester brothers, and she hopes the Impala doesn't run out of gas for a long time.