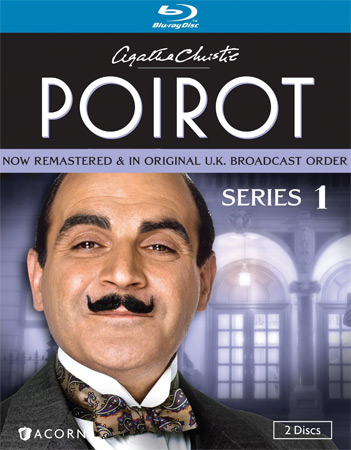 There is no disputing that the go-to detective from British literature is Sherlock Holmes. His eccentricities and eerie propensity to divine the truth at a glance from minute details have made him the de facto face of English mystery. After the Guy Ritchie movies starring Robert Downey, Jr., and BBC's current Sherlock TV series starring Benedict Cumberbatch, fandom for the Baker Street sleuth is at an all-time high. While Sir Arthur Conan Doyle's consulting detective is deserving of all the attention and praise he continues to receive, Agatha Christie's Hercule Poirot is every bit as odd, brilliant, and utterly captivating. Acorn Media celebrates Poirot's adventures with their new line of Blu-ray releases, the first time ITV's ongoing Poirot series has been remastered in high definition. Agatha Christie's Poirot Series 1 and Series 2 released on Blu-ray at the end of January, and the peculiar detective never has looked better.
Agatha Christie introduced Hercule Poirot to the world in her first mystery novel, 1920's The Mysterious Affair at Styles. A fastidious and particular Belgian with a delicately manicured mustache and a remarkably egg shaped head, Poirot gained countless fans from his debut through his final appearance in Christie's penultimate novel Curtain, published in 1975. In all, Poirot tackled cases in 33 novels and 51 short stories, most of which have seen multiple adaptations to stage, radio, and screen since their publication. Many actors have tackled the role of Hercule Poirot, ranging from Charles Laughton to Albert Finney to Peter Ustinov to Alfred Molina. Although there never has been a lack of talent in the assemblage of performers to play Poirot, none has captured the character so perfectly both for the fans and for Agatha Christie's family as does David Suchet.
After heavily researching and essentially becoming the character, David Suchet premiered as Poirot in "The Adventure of the Clapham Cook," the first episode of Agatha Christie's Poirot, which first aired in January 1989. Adapted from a Christie short story, that first mystery would set Suchet upon a quest that would keep him busy and in work as the same character for more than two decades. He set for himself a goal to portray Poirot in an adaptation of every story that featured the character, completing the entire catalogue before his own sixty-fifth birthday in 2011. Suchet missed the deadline on that goal, but not by far, as ITV will complete production on the final set of Poirot episodes sometime in 2012. With the long running series coming to an end, it's a perfect time to look back at the beginnings of this crime TV classic.
Timeless and immediately appealing, the first series of Poirot introduces us not only to David Suchet as the legendary sleuth but also to his everyman sidekick, Captain Hastings, played by Hugh Fraser. Pauline Moran as Poirot's secretary Miss Lemon and Philip Jackson as Chief Inspector Japp complete the collection of series regulars who will accompany, assist, and stymie Poirot in his many investigations. As there is not a strong sense of continuity among the original Poirot stories, the TV adaptations were not produced in any particular order. It is easy to jump in nearly anywhere in the series run and find a great episode, regardless of your prior knowledge of the detective.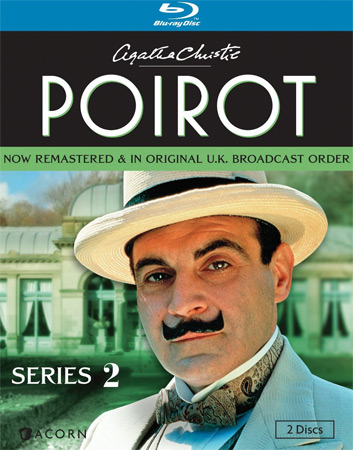 The Series 1 Blu-ray collection assembles all ten of the mysteries that aired during 1989, all remastered and organized into their original broadcast order:
The Adventure of the Clapham Cook
Murder in the Mews
The Adventure of Johnnie Waverly
Four and Twenty Blackbirds
The Third Floor Flat
Triangle at Rhodes
Problem at Sea
The Incredible Theft
The King of Clubs
The Dream
The Series 2 collection presents all nine of the episodes that aired in 1990:
Peril at End House (feature length)
The Veiled Lady
The Lost Mine
The Cornish Mystery
The Disappearance of Mr. Davenheim
Double Sin
The Adventure of the Cheap Flat
The Kidnapped Prime Minister
The Adventure of the Western Star
Acorn Media is off to a fantastic start for their Poirot Blu-ray collection with these two new releases. Fans of the series won't have to wait long for another addition, as Series 3 releases in remastered high definition next week, on March 6, with the remainder of the thirteen seasons surely following afterwards.
Jason is the founder and managing editor of Fandomania, and he co-hosts the weekly Fandomania Podcast with Celeste. He is severely into toy collecting, plays a worryingly large amount of games, watches way too many movies and TV shows, and reads more than his fair share of books and comics. He also likes guacamole.