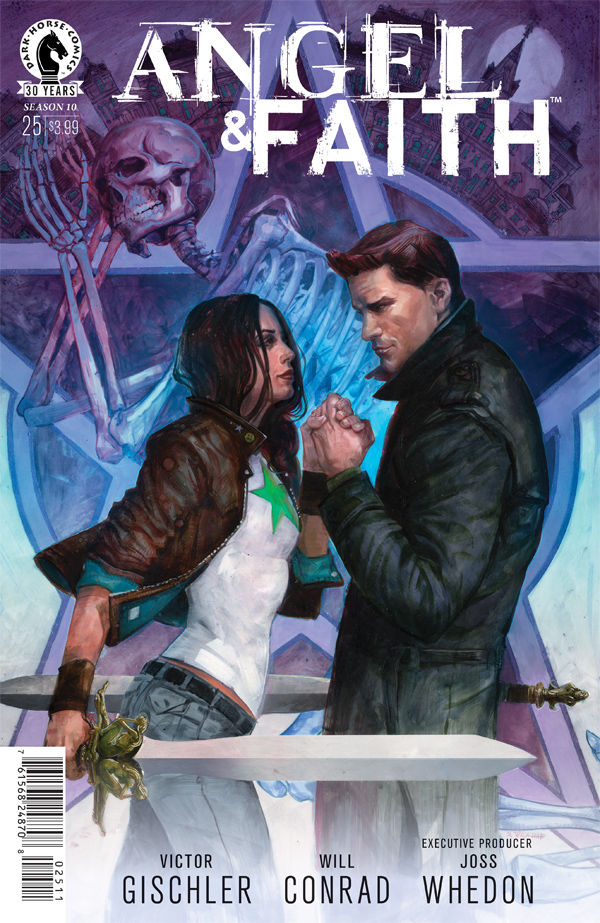 The fight with Archaeus is coming to an end, but the situation is tense and there's no indication which side will win. Will Magic Town fall under his destruction or can Angel and the team finally pull out a victory? It's anyone's guess.
Note: This recap may contain spoilers!
Archaeus is still going full force, threatening Angel and throwing punches. I can understand him lashing out at Angel's team, but when he turns his anger on Dru, then that's where I have to draw the line. She only wants to be a loved daughter and gets slapped for her trouble. And though Angel and she don't always see eye to eye, even he knows that she should leave Archaeus's abusive hold and save herself.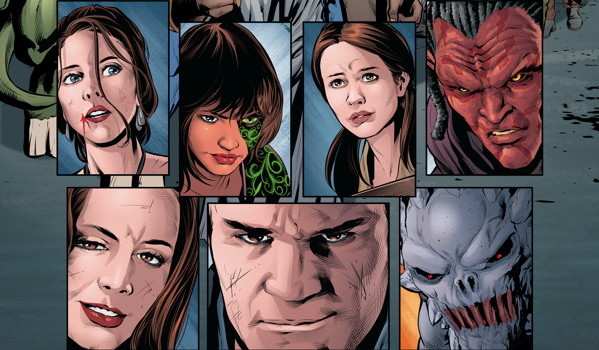 But they can't wait around for her decision. Her minions are still fighting the good fight against them, so they have to defend themselves in any way they can. Angel's friends from Magic Town join them, so it's more of a fair fight against Dru's minions, and a dramatic battle ensues. Faith takes on Dru herself, while Koh and Angel try to take on Archaeus. Then almost everyone from Magic Town piles on Archaeus as well. When it looks like the fight will surely be lost for Dru and her minions, they split and leave Archaeus to defend himself alone.
Even though it's one against many, Archaeus is not going to lie down and let Angel claim victory. He picks Nadira up by the neck, hoping to end her. But he has continued to underestimate her abilities. Nadira isn't some random human who he can crush with a flick of his wrist. She is a being that houses untold power and the ability to control it like no other. She taps into the magic of the statue, pure magic, and is able to be released. Then she wields her power to trap Archaeus inside the statue, sealing him in so that he cannot be released for a thousand years. But while it's a win for them, Koh points out they didn't come through unscathed. Parker is dead. War means losses.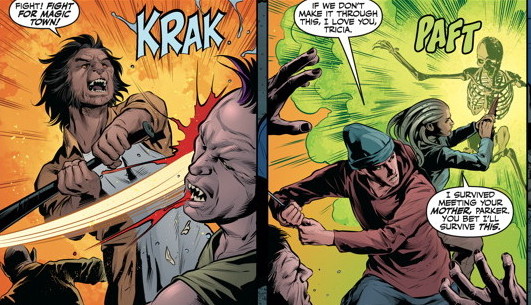 Later, Rory talks to Angel before he goes up to Faith's apartment. He thanks the vampire for what he and the others do, what they stand for. Angel and his team are a key part of Magic Town and, as they have shown, this is their home for better or worse. We end the issue up on the roof, where the gang is having a get-together celebration. They are in a good place, for now, but there's always a new danger around the corner. Until the next arc, we can let them celebrate their short victories.
Rating: 3 / 5 Stars

In her youth, Kimberly could be found in the library, devouring books that covered everything from WWII History to Dr. McCoy's latest adventures aboard the Enterprise, with some X-Men thrown in for good measure. Saturdays were often reserved for PBS re-runs of Doctor Who and Red Dwarf. More recently, she's been riding along with the Winchester brothers, and she hopes the Impala doesn't run out of gas for a long time.