If you think you come from a dysfunctional family, you've got nothing on Robert E. Howard, creator of Conan the Cimmerian, later called Conan the Barbarian. But was Conan really a fictional character? Not exactly. At least, I don't think so. Conan was almost surely based on Howard's own father, Isaac Howard, M.D., who practiced medicine on the frontier of the American West.
Both of REH's parents were beyond weird and there is no doubt they created Robert's tortured mind. Much of the energetic transmogrification of the tales in his head to the pages of pulp fiction, and later to motion pictures and gaming, emanated from what he experienced as a child. It would create in him a kind of fantastical madness.
For instance, Robert E. Howard was in love with his mother, while his father believed he had brought a curse upon the family by killing a whippoorwill. I believe these things fomented the unsettled, repressed, and chaotic mind that burst forth in the character of Conan.
REH was more than one of Stephen King's inspirations, more than a flayed mind, and more than the tortured individual so brilliantly portrayed by Vincent D'Onofrio in the biopic The Whole Wide World. Who was this man?
When Robert was but a babe-in-arms, his mother, Hester Jane Howard, who suffered from an inordinate fear of germs (as Howard Hughes did), and whose family had a history of derangement, turned out to be more possessive than devoted. She would sit at baby Robert's crib, constantly rocking him and, when she became exhausted, she'd lie on the floor and push up on his bedsprings with her legs, rocking him to sleep from below. She never let up and she never let go. She would expect her smothering devotion to be returned when Robert reached adulthood. And she made sure it was.
The only thing that came between little Robert and mother Hester was the impressive figure of his father, Dr. Isaac Howard. To a little kid, Dr. Howard, who always dressed in black, would have been an awesome figure: a huge (6'2″), domineering man with a fierce temper he frequently lost, piercing blue eyes, a head of excessive black hair, and an overbearing, pretentious attitude. Dr. Howard, who once wanted to be a minister, saw life in fearless and simple terms: good and evil. He saw himself as a Christian soldier committed to the obliteration of evil, and he waged war against what he saw as the enemy. He believed that if he relaxed his vigilance for even a second, he would fail to vanquish evil and death would triumph. Everything was seen in terms of black and white, with no gray areas.
Doctors in those days of the storied Old West experienced medical challenges like Gila monsters, rabid animals, poisonous snakes, fatal duels, scorpion stings, frostbite, stabbings, whippings, amputations, cholera, smallpox, suicides, typhus, gunshot and Indian arrowhead wounds. In fact, one local cemetery had 108 people buried there, and only three died of natural causes.
Dr. Howard frequently talked with his little boy about visionary land schemes, oil deals, and fantasy searches for a fabulous horde of jewels and other treasures. He often moved his family to new locations, but never to cities or urban areas, preferring small, isolated communities. The doctor liked to live on the edge of the world, be it an actual reality or just his internal reality.
Robert would speak of his father's medical prowess for the rest of his life, telling stories like the one about how his father analyzed pustules on one patient's back: Dr. Howard broke one large pustule between his fingers, and then sniffed it, put a bit of the leaked pus on his tongue and tasted it. Isaac also practiced "divine" healing by using the methods of Franz Mesmer (mesmerizing) and passing his "magnetic" hand over the patient. In addition, he attended evangelical revival meetings, searching for new ways to fight evil.
Young Robert also lived with a mother who smiled and pretended to be happy despite severe depression, fatigue, pain, and possible madness — and a father who had the curious habit of concealing his raging temper by utilizing a happy whistle the angrier he became. One parent laughed and the other whistled, though both were full of rage, frustration and despair. What a pair. As a result, the boundaries between reality and fantasy were purposely blurred for Robert, who must have felt a victim of malevolent forces he could not control.
Isaac Howard, who could spin a yarn like a demented Mark Twain, filled his son's head with superstitions derived from his Nordic ancestors (though Robert later insisted he was of Irish heritage). There, on the fringes of the world, Isaac said, between icy shore and snowy forest, overshadowed by foreboding hills, these barbaric Northmen harbored dark dreams and paranoid impulses. Cloudy skies, shrouding ancient hills, and somber trees, sowed the seeds of madness, which burst out in their descendants in Salem during the witch-hunts of 1692, he told his son. Isaac said he "never let the truth stand between me and a good story." Had his earth-born child come from the Gates of Hell with a Dark Lord watching over him? Years later, Robert wrote, "Barbaric life was hell; but so is modern life." About that time, the Howards were living in Texas in a place called Dark Valley, later the fictional Cimmeria, "Land of Darkness and the Night."
Dr. Howard also taught his son that masturbation was evil and masturbators would either become diseased and perish forthwith, or be damned to burn in Hell forever. The constant repetition of his belief must have had an abnormal effect on Robert, resulting in his severe and lifelong sexual repression. Conan had no such problems with the opposite sex.
Robert grew up afraid and distrustful of everyone except his parents, seeing the world as full of dangers. He believed he had to have both his gun and his fists ready for a death struggle he did not believe he could win. He told a friend a chilling example of his childhood helplessness. It seems a small girl tumbled into a hog pen and the hogs dismembered and half devoured her before anyone could rescue her, with Robert looking on. Thus he came to fear all situations that made him feel helpless.
Ever vigilant Mother Hester continued to watch him all the way from infancy to manhood. She selected his food, screened his friends, chose his books, and hovered over him, catering to his every whim. At the same time, his father filled his head with a world that did not really exist but, just the same, it became the only world Robert knew. He had no chance to develop a life of his own. Even as young as three or four, Robert conjured up visions of monsters, ghosts, and demons, peopling his world with evil beings. Since he had no friends to talk to, he was forced to invent them — invisible friends and make-believe people — and he created strange and menacing animals that had never existed. During Robert's adolescence, his father joined in to play variations of his son's distorted reality.
As a writer, Robert's thought patterns tended to metaphorical and narrative sequences because he could not deal with his own emotions, his inner violence, and the repressions forced on him by his parents. All his life, Robert had violent outbursts, tantrums, and frightening night terrors. It was Conan who met and mastered these horrors with strength and courage; the qualities Robert could not have developed himself.
When, without his mother's knowledge or consent, Robert managed to meet Novalyne Price, a local teacher, he at last had someone real to talk to. She had been warned against him, and told by her peers that Robert (Bob) was "the town freak."
In those days, sex did not enter boy-girl relationships and Robert never tried to take advantage of her. If they were out for a drive and the time came for him to give his mother her medicine, he would turn the car around, go home, do his duty, and return to continue the drive with Novalyne, who could not break the maternal bond, or maybe bondage is a more appropriate word. His adoring mother would bring him meals on a tray while he wrote and "while the divine possessed him." Novalyne wanted no life like that. "If I married you," she shot back in one of her discussions with Bob, "it would be just to cook three meals every day and iron your shirts!" Bob retorted, "Look, girl, if this were Conan, he'd bat you down and drag you by the hair in the dust!"
"Bob's attitudes toward women, a recurrent topic for argument, exacerbated their indecision," state his biographers, L. Sprague de Camp, Catherine Crook de Camp, and Jane Whittington Griffin, in their book Dark Valley Destiny. "Bob might vehemently defend the rights of women; he might write stories about women warriors who could spit a man on their blades as deftly as they could spear a pat of butter — Red Sonya in 'The Shadow of the Vulture,' Valertia in 'Red Nails,' or Agnes de Chastillon in the unsold 'Sword Woman' — but from the women with whom he had daily converse, he expected total dependence and subservience." Later examples of his ideal of femininity were the soft, timid, passive and foolish Natala in "The Slithering Shadow" and Muriela in "Jewels of Gwahlur."
As Hester's failing health declined further, she called in the chips, reversing her slavish devotion to Robert, thus making him a slave to her every whim as she had always been to his. Robert began taking his mother wherever he went and they became constant companions, forestalling the growing intimacy between Robert and Novalyne. Once they ran into each other and Novalyne said Hester glowered "at me as if I were some sort of venomous reptile."
Neither Novalyne nor Bob's literary friends admired his writing and considered it trash (though they did admire that he was published). When Bob showed Novalyne a copy of Weird Tales, August 1934, containing his Conan story, "The Devil in Iron," the great barbarian offended Novalyne because an illustration showed him whacking the monster with a scimitar, while a blonde beauty, wearing very little (only a sash), shrinks in terror from the combat. This was only one of the things that came to divide them as a couple. When Novalyne became so ill that Dr. Howard sent her off to another town's hospital, Robert never came to visit her. She later learned that, while she was recuperating, Dr. Howard had given orders that no man besides him be admitted to her room. By that time, Hester and Isaac had become estranged, but came together again, united in their zeal not to lose their "boy."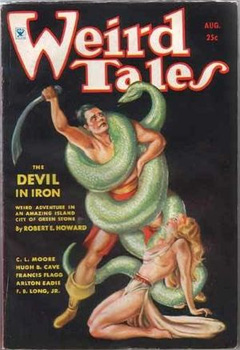 Hester's health continued on a downward trend, resulting in a long road trip by the entire family to a hospital 150 miles away. During this time, Robert told his father that he did not wish to live any longer after his mother was gone. Hester's condition worsened, forcing Robert to beg Weird Tales to pay the $1,000 they owed him so he could pay Hester's increasing medical expenses. At the same time, he went into total denial of his mother's condition (tuberculosis), so much so that he refused to even say the word. He tried to write and earn more money, but so much traveling with Isaac and Hester to seek cures deprived him of the necessary time. That meant that both of the two stabilizing forces in his life were leaving him: his writing, and his mother.
By 1936, so great were the isolation of his life and his denial of Hester's impending death that all he had left were the devils and monsters in his imagination. He began to dress bizarrely in frock coat, walrus mustache, Confederate officer's coat, and Mexican sombrero. But nothing could relieve his agony at seeing his mother in terminal decline. At last, his survivor mode of denial had failed him. He wrote, "There seems to be little we [father and son] or anyone can do to help her, though God knows I'd make any sacrifice, including my own life, if it could purchase her any relief."
At home, caring for Hester, Robert wrote and sold a few Westerns — "A Gent from the Pecos," "Gents on the Lynch," and "The Riot at Bucksnort" — and worked on his 50,000-word novel, Almuric, a sword-and-planet tale, which he hoped to sell to the growing science fiction market. He also responded to a letter from two young Conan fans, and wrote that he could not predict Conan's eventual fate for he was merely "chronicling his adventures as he told them to me… " According to the aforementioned 1961 biography of REH's life, Dark Valley Destiny: "He said Conan remained king of Aquilonia for many years during a time of turbulence and warfare. He traveled throughout the Hyborian World and even visited a nameless continent to the west. Whether he conquered a vast territory and built an empire or whether he perished in the attempt, Howard did not know, nor could he foretell how much of the story of Conan's life and loves would eventually get into print. Those who spin tales of the great barbarian today and those who read them still have not unraveled that mystery, but we all know that the giant Cimmerian still bestrides the Hyborian World and still has tales to tell."
Oddly, as Hester fell into a coma, and in keeping with his father's whistling-when-angry ploy, Robert noticeably began to get cheerful. It seemed to onlookers that Robert had found a solution to some perplexing predicament. No one suspected his impending suicide, despite his having penned thoughts like "Life is a liar and a dreary-eyed whore," "Jets of agony lance my brain," and "The years are as a knife against my heart." He spent most of his time in Hester's bedroom. He asked his father whether he thought Hester would regain consciousness and Isaac replied that he thought not. He asked, "Where will you go, Dad?" and his father replied, "Why, wherever you do." Robert then drove to the Greenleaf Cemetery in Brownwood to reserve Lot 13, Block 5, for three burials, telling the cemetery people, "My father and I will go away and never come again."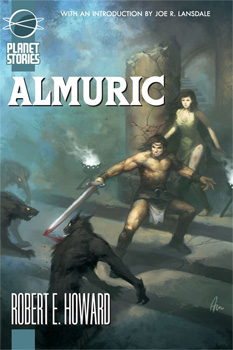 Isaac later told people he thought his son was acting strangely and was planning to kill him. Instead, Robert tried to straighten out the mess of papers in his study, but became so overwhelmed by the task that he ended up tossing the whole mass into the air, burying the floor under a flurry of typed pages. Then he returned to the deathwatch in Hester's room where he remained all night long. In the morning, he marched to his car, and blew his brains out. He had sought relief from his agony in what Isaac thought was an effort to transition to his next incarnation.
Within his world of Conan and King Kull, Robert E. Howard was fearless, inscrutable, and desired by all women. He was a man who could slaughter enemies by the dozen, single-handedly topple rulers from their thrones, and create empires of Oriental splendor. He could vanquish supernatural menaces by the magic he alone controlled. But in his life, he had no resources whatever against the powers of a father and mother who continually denied his innermost needs.
Two coffins were in the Howard home that night: Hester's and Robert's. Though devastated by their deaths, Isaac remained strong and courageous, attending the fire-and-brimstone double funeral at the Baptist Tabernacle. He later filed an application for appointment as administrator of Robert's estate, worth a pittance of $2,902 in cash (excluding the never-paid fee from Weird Tales) and a car. No value was put upon the writings of Robert E. Howard.
Isaac, who I believe was the living model for Conan, lived a nomadic, lonely, and angry life until he died in 1944. He is buried beside his wife and son.
From REH's "Recompense" in Always Comes Evening:
I have not seen the face of Pan, nor mocked the dryad's haste,
But I have trailed a dark-eyed Man across a windy waste.
I have not died as men may die, nor sinned as men have sinned,
But I have reached a misty sky upon a granite wind.