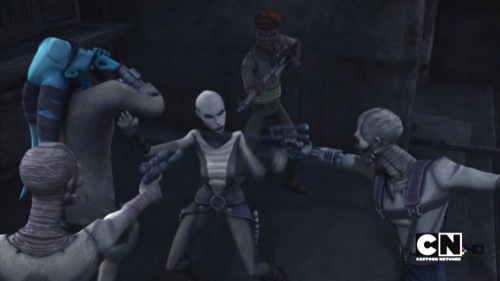 Episode: The Clone Wars 3.12 – "Nightsisters"
Original Air Date: January 7, 2011
Screencaps from The Clone Wars Screencap Gallery.
If there's one thing the Sith can't abide, it's when an apprentice becomes too powerful.
Such is the problem that faces Count Dooku as Darth Sidious (a.k.a. Chancellor Palpatine) decides that Dooku's personal assassin Asajj Ventress is getting too powerful, and therefore too dangerous, to live. You see, when a Sith feels that someone under their control might actually become more powerful, it's time to take that person out before he or she becomes a threat to that Sith's power.
Thus, in the middle of a battle that Ventress is leading against Obi-Wan and Anakin, Sidious's order comes down to make sure that the assassin dies. Dooku then orders the guns to fire on Ventress's ship, but unbeknownst to the dark lord, she flees at the last second and manages to survive the attack. Her small ship left drifting in space, she's picked up by a salvage vessel where she promptly kills the crew and uses it to go back home to Dathomir.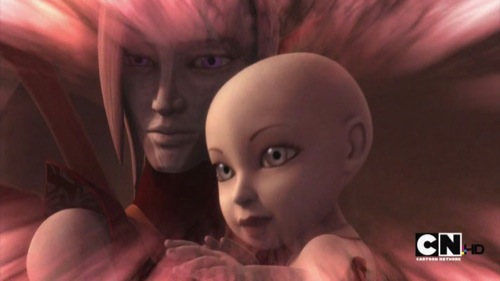 On the planet, Ventress encounters the Nightsisters, a group of witches into whom she was born. We get to see a bit of Ventress's life in flashbacks at this point. Apparently she was part of some bargain with a man who took her from her mother in exchange for leaving the Nightsisters in peace. From there, her "master" was killed during an attack on her village, during which she first displaced her ability to use the force and came under the tutelage of a Jedi. She turned to the dark side when he was killed as well, and then became a pupil of Count Dooku.
The Nightsisters then show her the truth of Dooku's betrayal and agree to help her get vengeance. Ventress's mother, the leader of the Nightsisters, provides her daughter with two of the group's best warriors and a spell of invisibility, amongst other weapons. The three attack Dooku and manage to deaden his skills with a poison dart, but the Sith lord still proves to be more than a match for them as he defends himself with skill and uses force lightening to dispatch Ventress and her two warriors.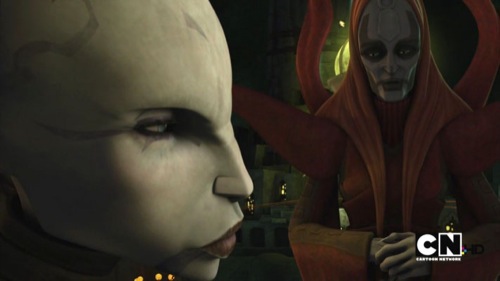 However, her mother does not view failure the same way that Dooku does. Instead of a complete failure, she sees instead an opportunity. Now that Ventress has attacked Dooku (even though Dooku is unaware of his attacker's true identity), the Nightsisters know that he is vulnerable and conveniently offer to set him up with a new assassin. The Nightsisters then offer to provide him with a male warrior from their planet. I can only assume, of course, that this will be the much-talked-about Savage Oppress.
Overall, this episode seems to be mainly a setup for a new story arc that will introduce Oppress, turn Ventress into a wild card, and bring us that much closer to Episode III. As with "Pursuit of Peace," Anakin is wearing his Episode III outfit, and Obi-Wan is wearing his normal robes as well, having done away with the chest plate from previous episodes. Lots of good actions sequences and fights, and it was good to see how Ventress became who she is, but this episode seemed to go by too quickly. That's really the only complaint I have. However, I can't wait to see what's coming up. We already know Ventress won't get her revenge since Dooku doesn't die until Episode III, but I'm curious if they can make Oppress a nastier guy than Darth Maul.
Rating: 3 / 5 Stars