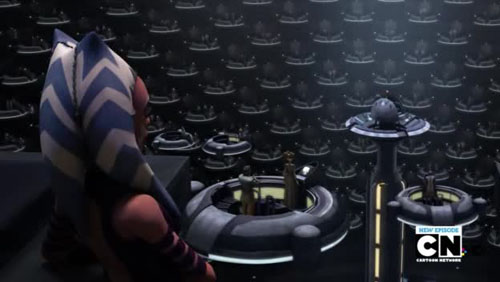 Episode: The Clone Wars 3.10 – "Heroes on Both Sides"
Original Air Date: November 19, 2010
In war, it's easy to demonize the enemy.
This episode puts a more human face on the Separatists. Like Ahsoka, we as the audience have only seen the Separatist movement represented by Count Dooku, Grievous, and other shady characters. This episode makes a point of showing that the enemies of the Republic are very similar.
The story kicks off with a bill pending before the Senate that will de-regulate the banks in order to free up more money for the war. Of course, Padme, Bail Organa, and Mon Mothma are opposing it and calling for negotiations. However, their opposition (who would stand to make a lot of money from this bill) secretly plot to ensure it passes.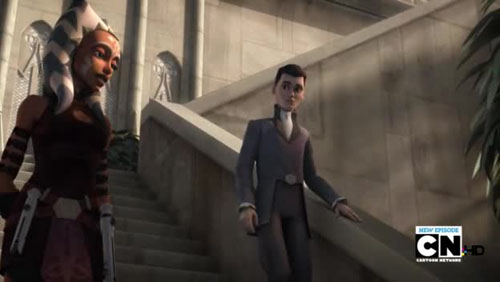 In an attempt at peace, Padme decides to slip behind enemy lines to see her old friend Mina Bonteri, who was a mentor to Padme when she started in the Senate. To teach Ahsoka about politics, Padme takes her husband's Padawan with her. Ahsoka uses her diplomatic status as a Jedi to get them to a neutral world by which they can travel to Separatist territory.
Meanwhile, the three conspirator senators plot with Grievous for an attack on Coruscant, one that will spur those on the fence to support the deregulation bill. Grievous has a special set of droids for the mission that resemble simple cleaning units until they transform into huge killers.
Padme and Ahsoka reach Bonteri's home, where Ahsoka meets Bonteri's son Lux and starts to realize that the Separtists are just like anyone else. There are some nice points at which the audience gets an insight into the Separatist mindset, that they have legitimate reasons for not trust the Republic. Bonteri and Padme's conversation proves fruitful, as the Separatist senator agrees to bring a resolution for peace to her own parliament. The Separatist Parliament passes the motion, but Dooku secretly continues with his plan of attack.
The droids then infiltrate and destroy the power generator on Coruscant, and the ensuing chaos pushes the deregulation bill forward, with the Senate feeling that the peace negotiations were a trick into getting the Republic to let down its guard. Failing to gain support, Padme returns Ahsokha to Anakin, who reveals that he knew all about her meeting with Bonteri. As everyone walks away, Ahsoka reveals the lesson for this week — that politics of war are not black and white.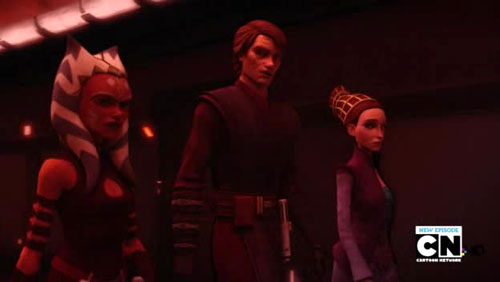 One thing that stood out almost immediately for this episode is the advancement in time. Ahsoka is clearly beginning to look older. Her head tails are growing and developing more fully for one thing. She also wears a more grown-up outfit rather than the tube top and midriff for which the character caught criticism when the original animated film was released. She also sports two lightsabers now instead of just one.
Anakin looks different as well, wearing an outfit that more closely resembles his attire from Episode III. It seems clear that the show is moving closer to the last prequel now, and one can only wonder how close.
Further, I do like seeing this type of story in the series, which shows the program is keen on teaching about the effects of war. However, these need to be a little more spaced out, as this is beginning to feel like the latter years of M*A*S*H when Alan Alda got behind the camera and whole episodes became focused on the horrors of war.
All in all, I think this episode's biggest point was the realization that we're getting towards the end and eventually the show will play right into Episode III. As an audience, we've gotten used to Anakin being a good guy, and being better portrayed than by the acting "talents" of Hayden Christensen. I expect to see Anakin get darker as the season goes on.
Rating: 3.5 / 5 Stars