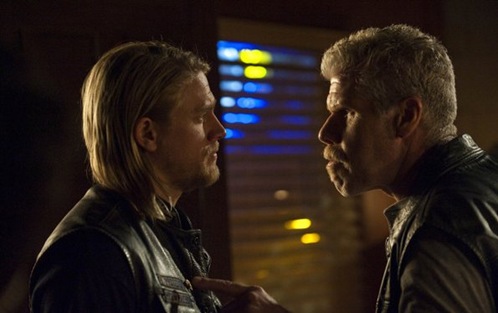 Review: Sons of Anarchy 2.01 – "Small Tears"
Original Airdate: September 15, 2009
Rating: TV-MA (Intended for mature audiences only)
You had to think there would be some fallout from last week's brutal conclusion, but it would appear that it will have to wait a bit. We saw the immediate ramifications, as Chief Unser found Gemma and got her to Tara. Gemma was adamant that she not go to the hospital, and you can really see how Tara is changing from the "good girl" she was in the first season. I guess watching your boyfriend shoot your stalker ex and kill him will do that to you. Unser continues to be a great character, a tired man who makes his own morals rather than following blindly the law like Hale. I really feel like we may be seeing two sides of the same career with Hale and Unser.
As that was going on, the Mayans were finding their dead member and flashing the Niner's sign thanks to Jax, and that particular headache fell to Clay and Tig to fix. It would seem the SAMCRO-Mayan partnership is over for the time being after the attack on the gun trade by the Mayans. That League is a pesky bunch. Of course, the attack also furthers the split between Jax and Clay, and I think we're going to see more of that split for a few weeks coming, too.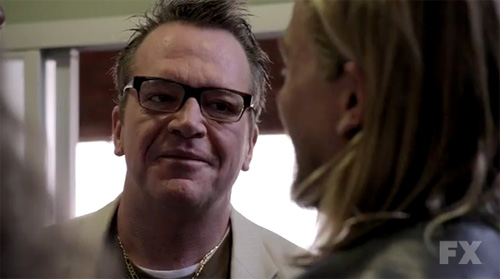 Just as things get entirely too serious, Otto shows up for some much-needed lighter fare. The last time we saw him, he was completely rearranging Agent Stahl's face in an interrogation room. Now he's worried because his wife Luanne has had her porn business raided by the Feds and she's in trouble. Jax can't promise to help Luanne out financially as the club is strapped at the moment, but he does promise Otto that she won't have to "get back in front of the camera." Turns out that a guy named Georgie Caruso (Tom Arnold) is running a rival porn business in Charming and he's responsible for tipping off the Feds as he wants to hire Luanne's "actors." Jax has two conversations with Georgie, one civil and one involving baseball bats in a very uncomfortable place, and for the time being it seems Georgie will be stepping back from his attempts to disrupt Luann's business. This leads Jax to propose a partnership between the club and Luanne. She will supply the talent and crew, they will supply the location and the muscle to protect the actors. Imagine that, the club running a legitimate business.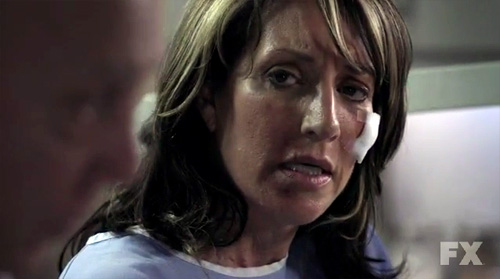 Katey Sagal was really outstanding in this episode. Despite the odd grouping of Tara, Unser, and Gemma running a little ruse on the club, her acting was very good. She managed to play Gemma as vulnerable without losing any of the underlying fire that makes Gemma a good character. You can tell that at some point, she is going to relish the revenge she is going to give to the League, but for the moment, she's too broken by the event to do much. Kudos to Sagal for once again providing a musical track as she covers the Rolling Stones' "Ruby Tuesday" at the start of this episode ("Son of a Preacher Man" was her first in season 1).
Also odd was the scene of Opie and Tig assembling guns, but to give Kim Coates credit, he played it very well and you really felt the discomfort that he felt knowing how much pain he caused Opie. I've read a few negative reviews of this show this week and I really believe that the writers of these reviews just set out to watch TV and not enjoy themselves.