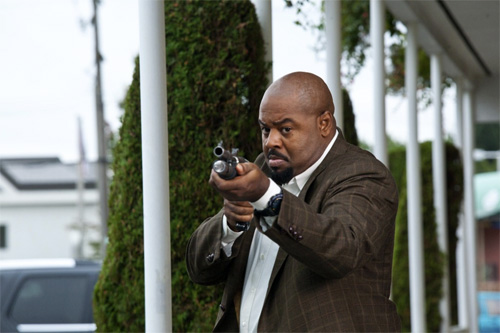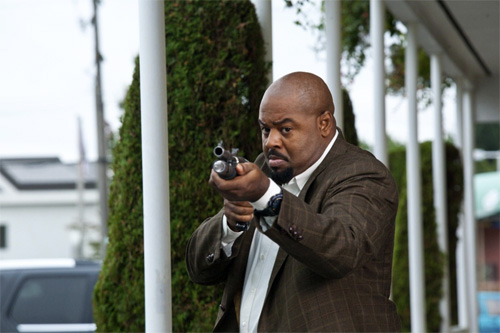 Episode: Human Target 2.05 – "Dead Head"
Original Air Date: December 15, 2010
This one starts with a bang — literally.
Chance and Winston are waiting outside a café for a new client who believes that everyone is out to kill him. As they make jokes about a guy trying to parallel park, he taps another car and a bomb goes off. Turns out that's the client. Chance and Winston rescue him before his car completely explodes, but in the hospital they learn that the explosion and subsequent head wound have given "John Doe" amnesia.
Back at headquarters, a funny moment pops up when Guerrero gets his first paycheck. Preferring not to have a paper trail in his life, he attempts to discuss it with Ilsa before members of the San Francisco Police Department show up to question John Doe (now dubbed J.D. by Ames). Turns out the lead cop, Lt. Brauer, and Winston have a history. For years, Winston tried to prove that this cop was crooked, and it wound up costing him everything.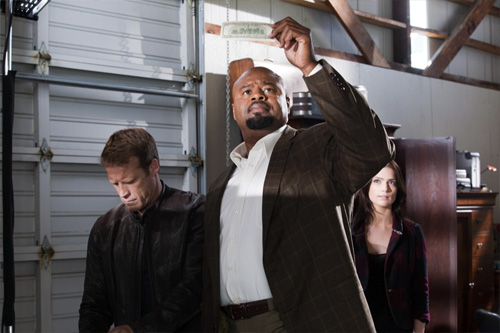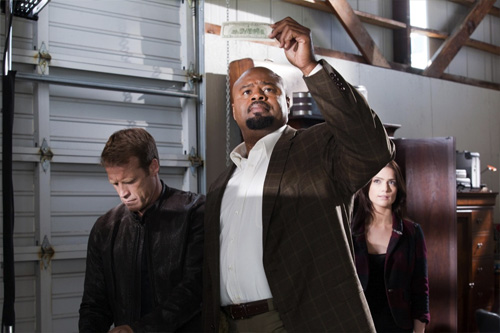 An investigation of J.D.'s hotel room finds a board with information about everything from drugs to bank heists, as well as a key cleverly hidden behind the ironing board. Meanwhile, Guerrero posing as a bomb squad member, gets access to the car to discover that the bomb maker was an amateur. A couple of bikers then show up to kill J.D., and a nice shootout begins to Motörhead's "Ace of Spades." As the bikers ride off without success, guess who shows up but Brauer. J.D. willingly goes with the police, thinking that Chance isn't as safe. On the other side of town, Guerrero has caught up to one of the bakers and discovered that the gang wasn't there to take out J.D., but to take out his protection.
Things get curiouser as Brauer and J.D. begin to talk in the car. As J.D. tries to figure out who he is, Brauer tells him he can "cut the act." Leaning that J.D. really has no memory, Brauer decides to kill him — just as the team shows up to take him back. In what appears to be a really cathartic moment for Winston, he takes Brauer's gun, car keys, and cell phone, and says "I'll get your badge later."
The bad cops then show up at the headquarters to "speak" with Ilsa, but a well-timed call from Chance and Winston persuades her to get out while she can. While Ilsa makes her escape, the team figures out the key is for a storage center which they discover looks a lot like a safe house. This also leads to a name — David Jarecki — who we find out from Guerrero is an infamous money launderer.
Winston and Chance then leave J.D. and Ames in the storage center while they go back to Winston's old house to get the evidence on Brauer that Winston had collected as a police officer. Winston's own notes match up with Jarecki's information about Brauer's accounts. Ames learns that the reason Jarecki doesn't have paper records is that he has a photographic memory, which means all the information is inside his head. Winston loses it on hearing this, feeling that his desperation to finally catch Brauer has been lost and Winston has put the team in danger.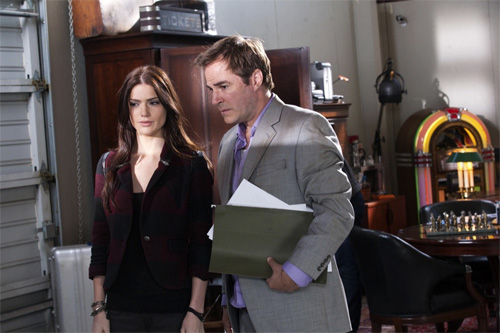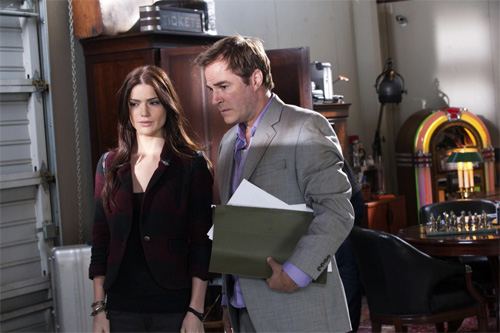 The new plan starts to take effect shortly after. Chance and Jarecki intend to pretend that Jarecki has regained his memory in order to gain access to Brauer's account, while Guerrero and Ilsa attempt to set up an account of their own to transfer those funds into. While the cops show up for Ilsa and Guerrero, Ames distracts them by hitting the cop car with Guerrero's Cadillac, and Chance and Jarecki attempt to bribe Brauer.
Brauer learns the truth, Jarecki confesses the plan and offers to take Brauer to the storage center. Brauer and Jarecki make their way there while Chance takes out the other cops in the room and gets arrested. At the storage center, Brauer finds the money, but just as he plans to kill Jarecki, Winston arrives. Jarecki's photographic memory has gotten Brauer's account number, and it's game over for the crooked cop.
As the episode comes to a close, Ilsa acquiesces to Guerrero and pays him in cash. Meanwhile, Jarecki is receiving immunity for cooperating with the investigation into Brauer and likely to enter the witness protection program. The twist comes in that Jarecki bought the bomb components himself, he had planned to fake his own death and make off with the money. Jarecki regrets his former actions, and decides to make a new life for himself.
Lots of action this week, and that wound up making for some great television. It was interesting to get a little deeper into Winston's head, and to find out that his obsession with his job essentially ended his marriage. Lots of action, good character development. Good times.
Rating: 4 / 5 Stars