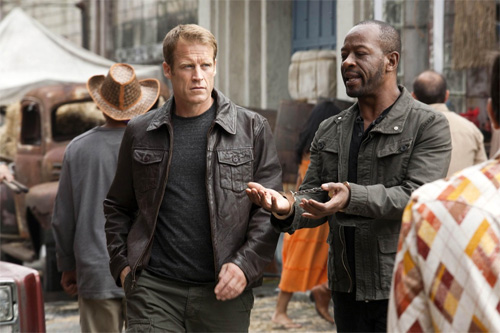 Episode: Human Target 2.04 – "The Return of Baptiste"
Original Air Date: December 8, 2010
Guess who's back? Okay, fine, you guessed it, but I'm not giving you a prize.
A reporter friend of Ilsa's named Susan Connors has been captured by a notorious South American drug leader, and the team's benefactor takes it upon herself to get her friend back. However, she gets absolutely nowhere with drug leader's agents, and Chance figures the only way to rescue her is to turn to Baptiste for help.
See, the deal is that Baptiste and the drug leader, Miguel Cervantes, have a bit of a history in that Cervantes tried to have Baptiste killed. Getting Baptiste to help, however, has several problems, the first of which being that Winston and Guerrero are completely against seeking his help. The second problem is that, after his last run-in with Chance and subsequent arrest, Baptiste was turned over to the Russians who are holding him prisoner in Siberia.
A little bribing of the guards, and the pair are on their way to free Susan from Cervantes. Chance places some ground rules on Baptiste that the assassin is not happy with, and the rules go out the window when Baptiste gets hold of a gun while they seek information. A brief fight between them leads the two to be captured by Cervantes's men and brought out to the middle of nowhere to dig their own graves. Cervantes arrives and, surprise surprise, Baptiste sells out Chance for a job. Turns out the old man cut Baptiste loose after Chance caught him, so Baptiste is currently unemployed.
Meanwhile, Ilsa's plane has been impounded by the Paraguayan army who have notified the Air Force. To get it free, Winston and Guerrero convince her to seduce the Air Force officer and plant a bug on his computer that will let them convince the local authorities to free the plane. In addition, Winston and Guerrero are hooking up a sophisticated pirating system to hack the military satellites and keep an eye on Chance.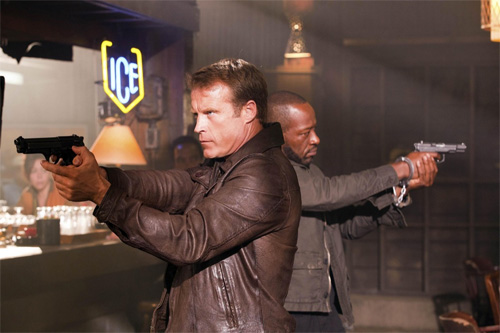 Cervantes takes Baptiste up on the offer, and soon Chance awakens next to Susan, both chained to the ceiling of a shed at the drug lord's mansion. While Chance works himself and Sarah free, Cervantes offers Baptiste the job — so long as he kills Chance first. By the time Baptiste agrees, Chance shows up to ask for his old friend's help. In a twist of events, Baptiste fires his gun on Cervantes's bodyguards and the three make their escape.
Winton, Guerrero, and Ilsa come through, leading to the plane's release. Back on the plane, though, Baptiste makes it clear to Chance that he's not going back to prison. Another standoff occurs, but is resolved after Baptiste drinks the cognac that Chance told him not to touch — the reason being that it was laced with a knock-out drug.
With Baptiste back in prison, the Air Force officer shows back up to take Ilsa on a date. While Chance is not pleased with Ilsa's involvement in the rescue, she comes back at him saying "You risked your life for my friend, the least I could do is risk my reputation." And she walks off.
What I liked about this episode was that you got to explore Baptiste's character more and see his past relationship with Chance. For one, Baptiste shows that he has a sense of honor. When Cervantes brings up a man he had asked Baptiste to kill, the same man who is the reason Cervantes tried to kill Baptiste, the assassin tells Cervantes that the drug lord wanted the man to be tortured and humiliated, which Baptiste won't do. Further, he keeps his word to Chance and assists in the escape, even if he does try to get out of going to prison.
We also see that the relationship between Chance and Baptiste is like a sibling rivalry, with the old man as a father figure. From what Baptiste says, the old man clearly regarded Chance as the favorite son and would break him out of prison after three weeks while letting Baptiste stay in jail. It's clear that Baptiste has a bit of a grudge against Chance for this treatment, but he doesn't let it get in the way of what matters.
All in all, it was a decent episode, and I hope they keep producing more like it.
Rating: 4 / 5 Stars