Episode: Human Target 2.01 – "Ilsa Pucci"
Original Air Date: November 17, 2010
"Ordinarily, we're a lot more professional than this."

"No, we're not."
Ready to take another Chance?
The episode begins with Winston's rescue. Notably absent is Armand Assante as Chance's former boss, the guy who trained him to become an assassin before he defected to the side of the angels. It's not really explained why he isn't there. However, as usual, things don't go exactly according to plan for Christopher Chance, though the end result is one of the goriest shootouts I've seen on network television.
Despite rescuing Winston, Chance feels that he has put his friends' lives in danger and leaves without saying goodbye. A week later, Winston is cleaning up the mess left in the warehouse from the season finale when Ilsa Pucci's bodyguard comes looking to hire Chance. After Winston fills them in on the story so far, they travel to the remote Buddhist monastery where our protagonist has decided to sequester himself. Ilsa (newcomer Indira Varma) arrives in person to recruit him.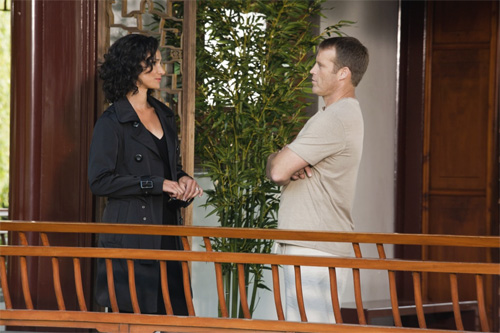 After a quick jump (can't say I'm a fan of the new theme music), Ilsa succeeds by calling him out as afraid, and his mind is made up when the monks show up with his bags already packed. As the gang gets back together, we see that Guerrero has been keeping himself busy, and he has to dump a man out of his trunk before rejoining the group.
The plan to draw out Ilsa's would-be killer starts at a charity party. After a humorous moment when Guerrero sets off the metal detectors by just walking through with his rifle, new cast member Ames (Janet Montgomery) arrives. Chance's team believes that she is the killer at first, until a Winston-Guerrero team-up catches Ames and reveals her true motivation — stealing Ilsa's ring.
The true killers then open fire on the room, wherein Chance notices that they're not hitting anyone and realizes it's all a diversion to get her into the open. Despite his advice, her bodyguards play right into the killer's hands and manage to kidnap Ilsa. In the meantime, Winston and Guerrero interrogate Ames, and it turns out she and Winston have a history — he arrested her five times when she was a juvenile delinquent. Guerrero's reputation gets her talking, and reveals she was hired to meet Ilsa and switch her ring.
Looks like the kidnappers are after Ilsa's money and so the gang decides to take off to Switzerland. The next scene reveals the real mastermind of the plot — her own lawyer. Turns out Ilsa is the only one who can open a safe in which her husband kept his most important possessions. Now, as a law student, it makes me feel good to know that if my profession doesn't pan out, I can still go into high-stakes international crime.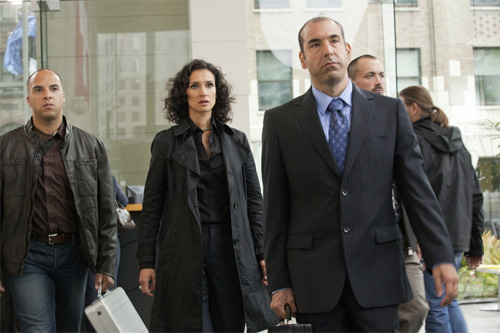 After hearing her boss was killed, Ames decides to join up to ensure the kidnappers don't kill her next. Ilsa's got some serious chutzpah when she stands up to her attorney in the bank, and that changes the gang's plans. Chance is then forced to walk into the bank and instigate a standoff while Ames steals a guard's keycard. Of course, with Guerrero watching his back, the shootout quickly turns to Chance's favor.
Wrapping up, Ilsa opts to bankroll Chance's crew, a benefactor who's prepared to give them access to planes, cars, and a whoooole lotta money. Gone is the rundown warehouse. Now it looks like a slick, professional office environment. As Winston expresses his concern over Chance's enemies, the enigmatic bodyguard responds, "I'm not going anywhere."
This was a nice start to the season and a teaser for the new direction the show will be taking. It still bugs me that they didn't really wrap up everything with Joubert, Chance's former boss, but it's not terribly important. I'm also not a fan of adding new characters to a show so early, as it seems to reek of a show's desperation to survive. However, I do like Ilsa, and with her "absent owner" status, it seems that she's intended to be more of a regular guest-star than ever-present cast member. I'm still on the fence about Ames, but I'm willing to see how she plays out.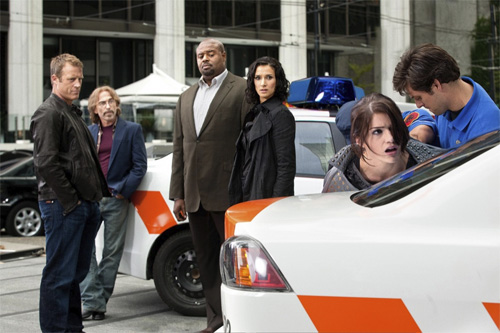 The regular cast members once again do a fantastic job. There's certainly a Three-Musketeers-Meets-Three-Stooges vibe with these guys, which is a reason why this show works. The writing and character development balances the action and comedy well. I love moments such as when Guerrero tells Ames, "I'm going to give you a choice, because I believe in every human being's right to being tortured democratically."
Another thing that I'm always fascinated with about this series are the recurring guest-stars from Battlestar Galactica. This time Tahmoh Penikett. Sadly, he doesn't make it through the whole episode, but it's cool to see him there. It always strikes me as strange that so many Galactica actors turn up on this show, including Tricia Helfer, Alessandro Juiliani, and Grace Park, but there doesn't appear to be a tie between them.
Ilsa's investment in Chance looks like it will provide some pretty exotic stories in the coming months, as this opens up his clientele to the world. I'm looking forward to this season and I can't wait to see what's next.
Rating: 5 / 5 Stars