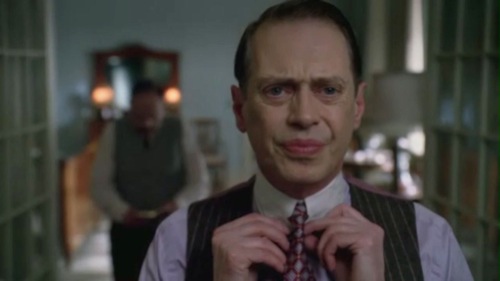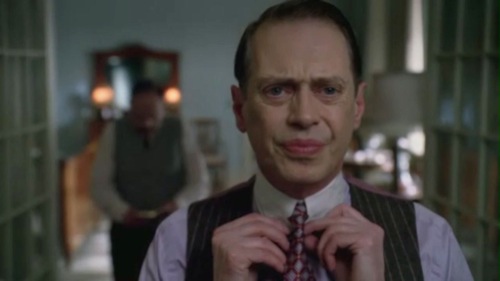 Episode: Boardwalk Empire 1.04 – "Anastasia"
Original Air Date: October 10, 2010
Screencaps from Shadow of Reflection.
Jimmy's path takes him to Chicago instead of sunny California and Chalky wants revenge for the death of one of his crew.
In Chicago, Al Capone sneaks into Jimmy's room, pretending to come shoot him, and shoots the gun just to the side of Jimmy's head. He's come for the keys to a car as it becomes apparent that Capone and Jimmy are now in business together.
Back in Atlantic City, Nucky is interrupted rehearsing a speech when his valet comes in to go over the guest list to a party he's throwing. He wants to make sure all the visiting politicians are taken care of so he'll be sure to get a kickback from a construction project.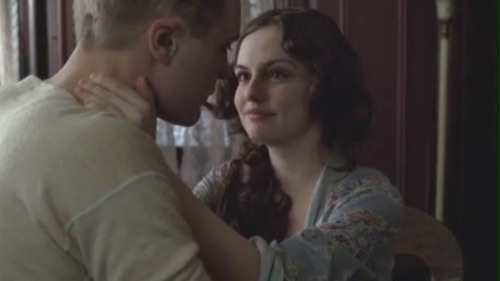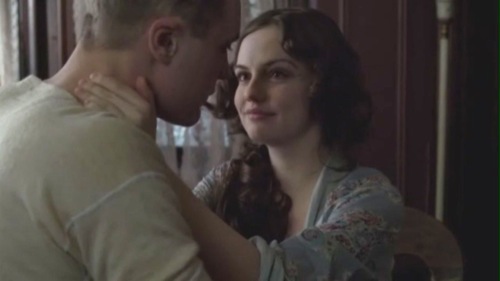 Jimmy is shown with his new girlfriend, Pearl, who is taking care of his ear that was hurt in the opening scene. It's obvious from the way Jimmy looks at her that this woman is starting to mean quite a lot to him — almost, it seems, moreso than Angie back in Atlantic City. Jimmy is noticeably pleased when Pearl says she'll "let" him come with her to California when she gets the money saved up because she thinks he "needs taking care of."
Nucky is pressuring Eli to find out who killed Chalky's worker. Eli claims that he's "asking around" but he doesn't really seem to care about solving the murder, even though Nucky is trying to impress upon him the need for Chalky to deliver the "colored vote" come Election Day.
Jimmy's mom is staying with Angie and Tommy while Angie has to leave when an "acquaintance" of Jimmy's comes to visit. He wants to know where Jimmy is but Gillian refuses to tell him, instead trying to bait him into hitting her before slamming the door in his face.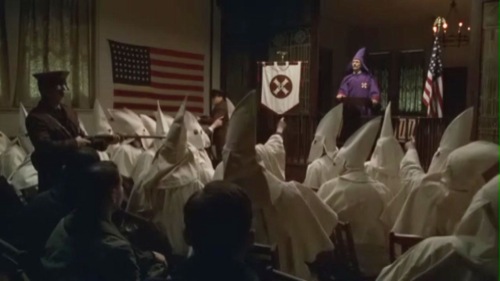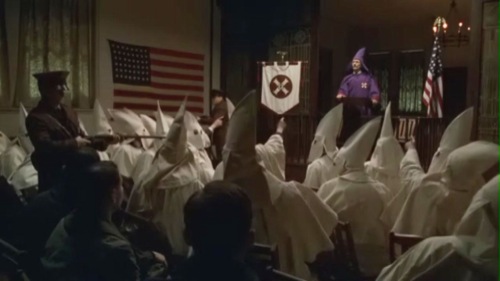 Eli and his deputy bust in on a Klu Klux Klan meeting, demanding to know who's in charge in order to arrest him. When questioned, Eli says that, while being in the Klan isn't against the law, "stringing up darkies is" and leaves. Eli doesn't seem to care about the arrest, instead is just obeying Nucky's orders.
In Chicago, Capone is acting as Johnny Torrio's enforcer, intimidating a bartender into buying from his boss even though the bartender buys from a Mr. Sheridan. Capone beats him into an agreement before leaving, confident that he's acquired Torrio a new customer.
Nucky caves under the pressure he's under, taking it out on his valet, Eddie, while they are going over details for a party Nucky is throwing.
Sheridan comes to see Johnny Torrio in Chicago only to find he's meeting with Capone and Jimmy instead. Jimmy tries to give Capone some advice on handling Sheridan in attempting to work out a compromise. Capone shoots his mouth off and informs Sheridan that he's being pushed out of Greektown and they negotiate a settlement to split Greektown 50/50.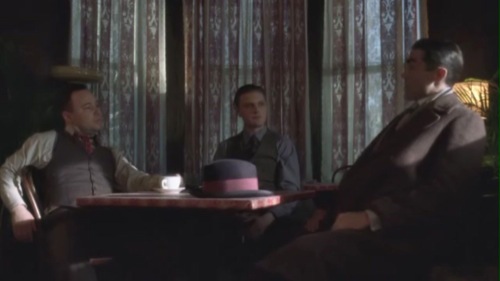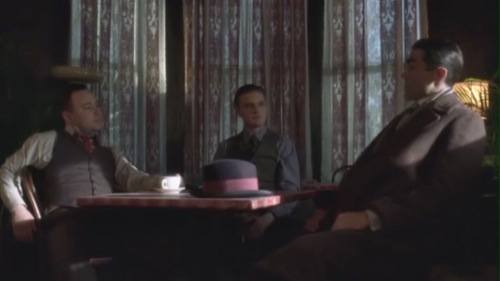 Chalky comes in to talk to the Klan leader, telling him a story of how his father was a carpenter back in Texas until he was lynched for taking a job for a rich white man. Chalky unwraps his late father's tools and, when asked what he plans on doing with them, he tells the Klan leader that he won't be "building no bookcase." He tortures the man until he finds out that the Klan wasn't behind the lynching of his worker.
Nucky walks into what's supposed to be a surprise party for him where a senator is in attendance and Margaret Schroeder is delivering a package for Lucy Danzinger, Nucky's girlfriend. Margaret matches wits with Senator Walter Edge, not backing down from his overly male chauvinistic views of women and where he sees them in society. Margaret and Nucky share a special dance that leaves both of them smiling happily at each other. A large cake is rolled out after the song has ended and Lucy emerges from the top of the cake, but Nucky seemingly only has eyes for Margaret despite Lucy's lack of an outfit.
Senator Edge tells Nucky that he's not getting a lucrative road construction contract in favor of Jersey City. Nucky is highly annoyed and he demands to know how much the mayor of Jersey City wants for a payout so he can get the contract.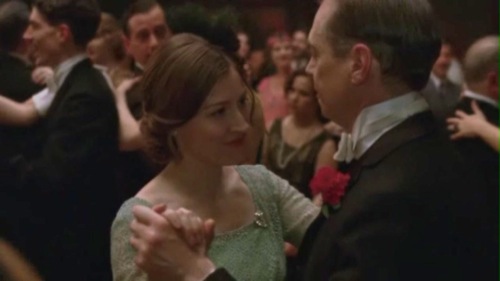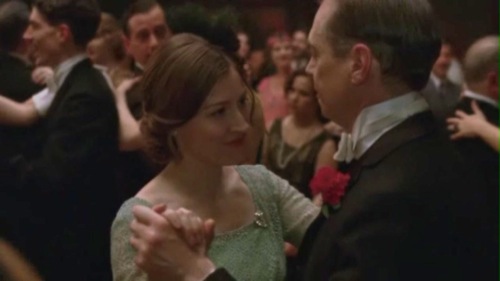 Pearl is attacked by one of her clients, who turns out to be one of Sheridan's men, and he slashes her face. Jimmy comes to see her but the house madam won't let him into her room.
Doyle and the D'Alessio brothers are discussing the lynching of one of Chalky's men and, we find out that they were meant to hang Chalky. Doyle, who owes the D'Alessios thousands of dollars, decides to rob one of Nucky's ward bosses to get the money he owes.
Gillian confronts the man who's been following her around for days, the man she met when he came looking for Jimmy, and arranges to meet him after the show.
Margaret stops by her place of employment to drop off her dress and sees Nucky and Lucy out on a date. Jealousy is plain on her face as she steals a silk chemise on her way out of the store for the night.