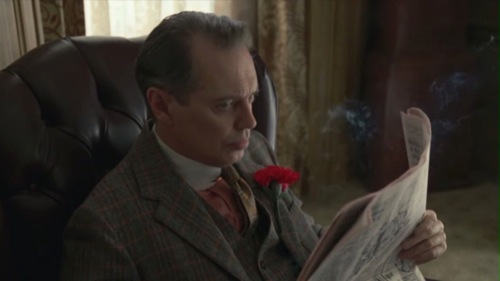 Episode: Boardwalk Empire 1.02 – "The Ivory Tower"
Original Air Date: September 26, 2010
Screencaps from Shadow of Reflection.
This episode opens with a funeral for Big Jim Colosimo in Chicago, who was gunned down in the series premiere.
Meanwhile, in Atlantic City, Nucky Thompson acts as though nothing has changed, making small talk with the shoe-shiner. Agent Van Alden bursts into Nucky's office to hold an informal interrogation concerning Hans Schroeder and his death. Nucky directs the agent to talk the matter over with the current Atlantic City sheriff and fails to be intimidated by the Prohibition agent.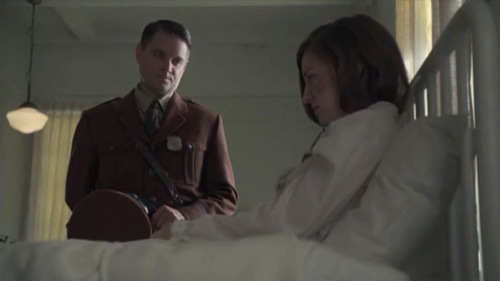 Sheriff Thompson goes to visit Margaret Schroeder in the hospital concerning her late husband. It's clear his intent is to persuade Mrs. Schroeder into believing her husband capable of the woods massacre in the event she's questioned about his involvement. The sheriff even goes so far as to subtly threaten to have Mrs. Schroeder's children taken away from her and he leaves her with an envelope of money from Nucky.
The Prohibition agents talk about how corrupt Nucky is, and we're shown various businessmen and politicians giving and receiving bribes. We find out that Nucky buys the votes of the people of Atlantic City and his business interests aren't confined to liquor. It's intimated that Nucky has his fingers in casinos and brothels as well as bootlegging.
Angela and Tommy come home to find Jimmy waiting with a belated Christmas for their family, claiming Nucky had given him a bonus. It's clear that Jimmy enjoys showering his family with expensive gifts, even going so far as to buy Angela a "vacuum sweeper" to help with her chores. Later, Jimmy goes to visit a strange woman in a theater but, as we soon find out, it's his mother and he has a gift for her as well. There is obviously an immense love from Jimmy for a mother who, apparently, raised him by herself since he insists he didn't have a father.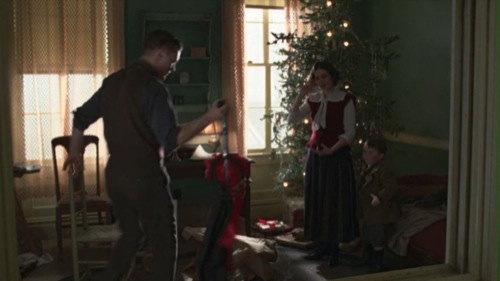 Nucky and Jimmy meet to discuss the continued fallout from Jimmy staging the liquor heist and massacre in the woods. Nucky demands to know what happened and, as Jimmy explains it, we find out Jimmy really didn't think about the ramifications of his actions. It's also revealed that Jimmy's partner in the heist was Al Capone. Jimmy offers to work extra hours to make it up to Nucky but we learn Nucky doesn't want Jimmy working for him. Furthermore, he tells Jimmy he's three thousand dollars short of what Nucky is owed.
A reporter in Chicago confronts, and is beaten up by, Al Capone wanting a statement concerning an article he's writing linking Johnny Torrio to the murder of Big Jim Colosimo.
Nucky grudgingly takes a call from Arnold Rothstein after ducking him for as long as he could. Thompson, always the calm and collected politician, doesn't bat an eyelash when told that he owes Rothstein $100,000 since, according to Rothstein, Nucky sold his alcohol to Chicago and killed Rothstein's sister-in-law's nephew. Nucky ends their conversation with a thinly veiled threat, daring Rothstein to come to Atlantic City.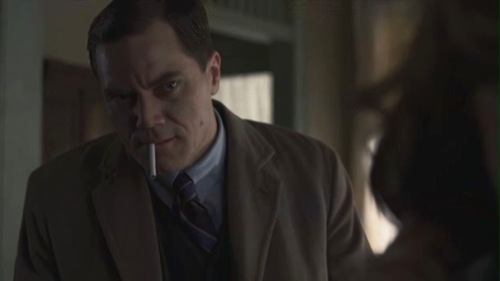 Margaret Schroeder goes back to her home after being released from the hospital and is in the process of putting the house, and her life, back together when Agent Van Alden comes to question her about her husband. Schroeder, remembering what the sheriff mentioned to her while at the hospital, is visibly upset and this throws Van Alden off his game.
Jimmy, once he realizes he's spent the money Nucky says he owes, calls Capone to ask for money but Al brushes him off. Desperate for the money, Jimmy steals back the necklace he'd given his mother earlier.
Agent Van Alden writes a letter home and we see that he's not a sentimental man, even to his wife, but it is apparent he's a true believer.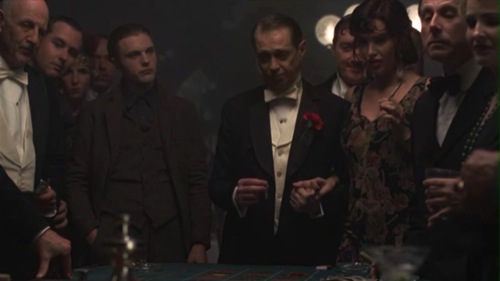 While Nucky prepares for his birthday party, Mrs. Schroeder visits, visibly upset given that it's nearly midnight. She's come to return the money he sent by way of his brother. She confesses that the money was weighing on her conscience. Mrs. Schroeder asks, instead of money, for Mr. Thompson's help in earning the money he's offered her. Nucky tells her, only partially jesting, that he wants her to vote Republican.
Jimmy brings Nucky the money he owes him at Nucky's birthday party and asks if they're square, and Nucky assures him they are. The party goes to the roulette table where Nucky bets the entire sum of money Jimmy's just paid him, but loses it all.
At the close of the episode, we see that there was, indeed, a survivor of the woods massacre but we're left wondering who he is and how his survival will impact Jimmy and Nucky.