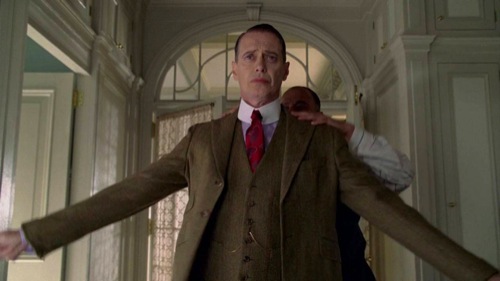 Episode: Boardwalk Empire 1.01 – "Boardwalk Empire"
Original Air Date: September 19, 2010
Screencaps from Shadow of Reflection.
HBO has a tradition of putting gritty, in-your-face dramas on their Sunday night lineup and Boardwalk Empire is no exception.
The series kicks off on a boat bringing illegal liquor into the United States and the liquor being transported secretly. This is at the heart of the Prohibition Era. Atlantic City in 1920 was a common port for importing bootleg alcohol into the country and midnight runs shown taking place in a dark New Jersey forest were an everyday occurrence. But something goes wrong when the bootleggers are hijacked.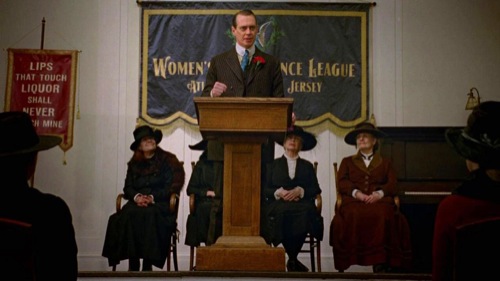 We're transported three nights earlier to a Women's Suffragette meeting where the primary topic is the group's abhorrence of alcohol and the abuse thereof. Atlantic City's treasurer, Enoch "Nucky" Thompson, portrayed brilliantly by Steve Buscemi, is introduced and regales the group with a tragic tale of a nameless Atlantic City youth, forced to scavenge for his family after his father succumbs to consumption. As he ends the tale, Thompson reveals that he was the youth in question and ends his speech when he is prematurely called away on business. Watching the speech was Thompson's personal assistant, Jimmy, who we learn was the person whose time in World War I was the true inspiration for Thompson's sob story to the women's league.
The irony of the series is made clear when it's shown that Thompson, who's just spoken out against liquor, goes directly to a meeting where he not only drinks, but it becomes obvious that he has no interest in upholding Prohibition. In fact, Thompson insists that he's getting bootlegging business as a way to increase the profit in Atlantic City's corrupt government. The entire city government, ward bosses and police alike, has plans to keep Atlantic City's restaurants and hotels well supplied with illegal liquor. It's also apparent that the mayor of Atlantic City doesn't run the town — Nucky Thompson does.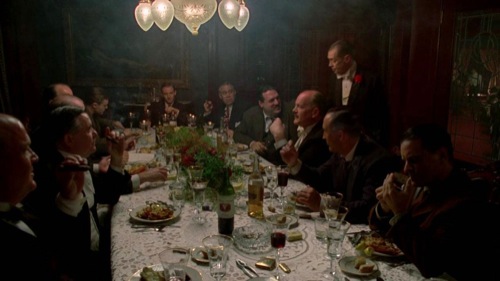 As the clock strikes midnight and the beginning of Prohibition in the Supper Club where Thompson is dining and dancing the night away, a trombone plays taps. Black balloons fall from the ceiling as the club patrons dance and booze the night away, as if Prohibition weren't a reality.
Jimmy is shown at his home with his wife, Angela, and their son. Jimmy is obviously upset with his job prospects and income, or lack thereof. His wife offers to go to work, which Jimmy flatly dismisses as outrageous. Angela asks Jimmy what his plans are and Jimmy decides to talk to Nucky about the possibility of making more money.
Nucky's awoken the next morning by his valet telling him that a woman has come to see him on an "urgent" matter, saying they'd met last night. Nucky goes to meet the mystery woman as we see Arnold Rothstein and Charlie Luciano arrive in the lobby of a hotel. We learn that the woman's name is Margaret Schroeder and she's come to Nucky after hearing him speak the night before at the Women's League. Mrs. Schroeder is obviously upset and very timid in her demeanor and Thompson has to pointedly ask what he can do for her. She mentions that her husband has a drinking problem and works as a baker's assistant, but only in during the summer tourist season, so they have no money as it's winter. She wants Thompson to give her husband a job but he insists on giving her money and a ride home as she's pregnant and he obviously feels for her.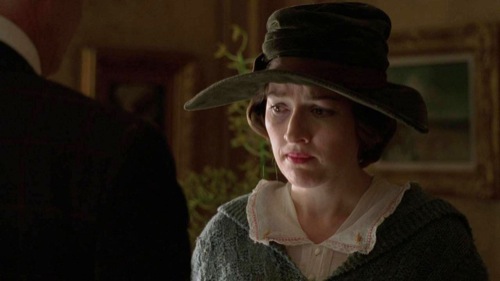 We see Thompson walking down the Atlantic City boardwalk where he stops in front of a storefront advertising infant incubators. He stands at the window, watching the nurse tend to the infants but makes no move to go inside. This is the first real glimpse of humanity we see of Thompson, and it's telling that it's on the heels of his interaction with Mrs. Schroeder.
His moment of reflection gone, the hard-nosed Nucky Thompson facade is back on as he lights a cigarette at the edge of the boardwalk and looks out at the ocean, a king looking out from his empire.
Jimmy takes Mrs. Schroeder home but she insists on him stopping before he gets to her house and, when she gets to her stoop, we get the impression that her husband is a jealous sort of man as he demands to know where his wife has been. This is not a man to be trifled with.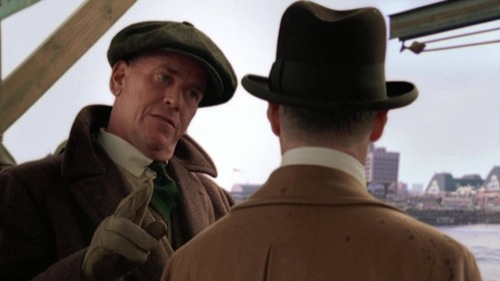 Nucky meets with a friend who's just returned from a trip to Canada. They negotiate the purchase of the entire shipment of Canadian Club whiskey so Nucky can keep his friends in booze. Jimmy tries to talk to him but is brushed off in favor of a new errand. This time, the errand takes them to a funeral parlor, where a distillery is carefully hidden behind a fake wall in the embalming room. Mickie, the overseer of this homestyle distillery, offends Jimmy with his brash and clear disdain for anything and anyone he doesn't like.
Jimmy and Nucky have a confrontation about Jimmy's attitude and Jimmy finally argues with Nucky about Jimmy's appointment as an assistant to the new fourth ward boss. Nucky insists that Jimmy has to put in his time, like everybody else in the operation, but it's obvious Jimmy has no intentions on playing by Nucky's rules. Nucky tries to buy him off but Jimmy refuses, saying he doesn't want money but an opportunity to prove himself instead.
Mrs. Schroeder is fixing dinner for her husband their children when her husband interrogates her as to how she came by the fancy ride home as well as the money he'd found under the mattress. She refuses to tell him, saying that it belongs to their children, and he slaps her, warning her to sit down or she'll "get the belt." Again, Schroeder is not a man to cross.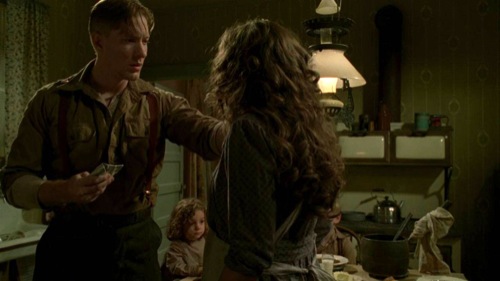 Nucky is being watched by Prohibition agents who are making notes of everyone at the meeting, Arnold Rothstein, Charlie "Lucky" Luciano being the two most recognizable names mentioned. They're meeting to discuss Luciano and Rothstein getting in on Thompson's bootlegging business. Thompson and Lucky Luciano's personalities clash when Luciano refuses to adhere to the "art of conversation." After Luciano excuses himself, Rothstein and Thompson agree to terms wherein Thompson will provide his entire incoming shipment to Rothstein and they decide to settle the amount "tomorrow."
A silent black and white movie plays and we see Jimmy, Angela, and their son, Tommy, in a movie theatre, enjoying the Prohibition film as a family. As they walk down the boardwalk, Jimmy's approach by an Internal Revenue Service agent, specifically a Prohibition agent, to come meet with them. They attempt to recruit Jimmy and we can see that he considers it but turns it down in favor of staying true to what he knows, political corruption and easy money making.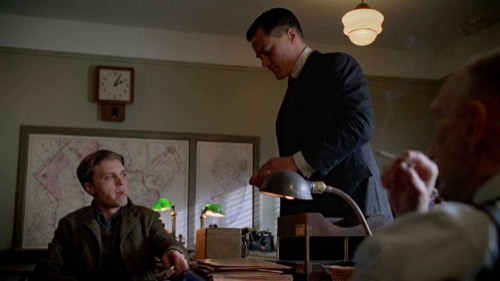 In the meantime, Luciano and Rothstein have spent 16 hours at one of Atlantic City's casinos owned by an associate of Thompson's, winning an amazing $90,000, which the casino can't afford to cash out. Nucky comes to the casino in an attempt to negotiate a compromise and an accord is reached where, instead of Arnold Rothstein paying the agreed upon price for Thompson's alcohol, the casino simply pays him $30,000. On his way out, Nucky is verbally accosted by Schroeder, accusing Nucky of being "familiar" with Mrs. Schroeder. Thompson notices that Schroeder has the cash he'd given to Mrs. Schroeder and, when confronted, Schroeder throws it at Thompson. Nucky, being the short-tempered man he obviously is, smacks Schroeder's head on the gambling table before ordering the other man thrown out and storming out himself.
Jimmy, always looking for easy money, approaches an acquaintance concerning the liquor shipment later that night. We see the set up for the hijacking we saw at the start of the episode interspersed with footage of Nucky and his girlfriend attending a comedy act along with footage of the Prohibition agent who'd attempted to recruit Jimmy leading a raid into a similar wooded area.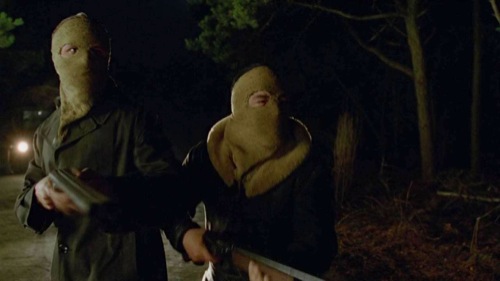 The liquor heist has escalated into a massacre of Arnold Rothstein's men. We see one man escape the gun battle but someone follows him into the woods with a shotgun to silence him. That's when we learn that Jimmy is behind the heist.
Nucky, at the Supper Club, receives a call from the sheriff, his brother, concerning the woods massacre and he leaves going to the police station. They try to figure out who could've pulled off the heist, naming Rothstein himself as a possible perpetrator, but they finally agree to bring Jimmy in for questioning. When Nucky's brother goes to get Jimmy, we find out Jimmy's not home.
The next morning, Nucky's valet is getting angry over reporters calling for statements about the massacre. When Rothstein calls, Nucky avoids the call before heading out "for some air" where he meets the head of the Women's League and learns of Mrs. Schroeder's injury and loss of her child. Nucky, guessing on his own as to the nature of Margaret's injuries, heads to see his mentor for his advice on the massacre and how to handle Jimmy's obvious involvement.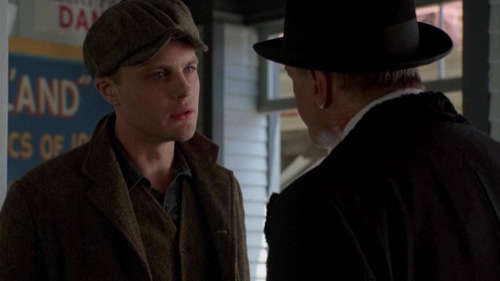 Jimmy finds Nucky and he confesses his part in what happened in the woods with the liquor. Nucky tries to tell Jimmy that he's in over his head but Jimmy insists that he's not a kid anymore and that he can handle the consequences of his actions. Nucky warns his friend that he could have him killed but Jimmy calls his bluff, telling him, "You can't be half a gangster anymore, Nuck," before handing Nucky his share of the profits from the sale of the liquor.
A business associate of Nucky's in Chicago is shown in his restaurant but is assassinated by an unknown assailant.
We see officers pick up Schroeder, we assume for the assault of his wife, but arrest turns out to be the furthest thing from their minds as they take him out onto a boat and beat him to death before dumping him in the ocean. The next we see Mr. Schroeder is when his dead body turns up in the fish market and he is conveniently blamed as the organizer of the woods massacre.
The episode ends with Nucky visiting Mrs. Schroeder in the hospital.