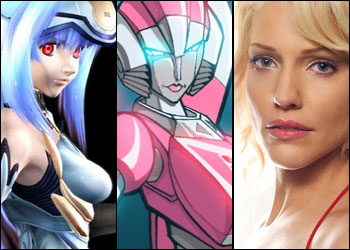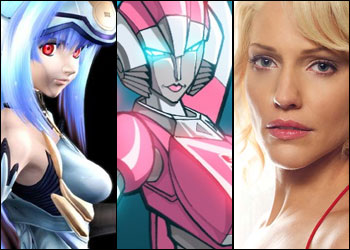 We are closing out Robot Month today with one final feature, a follow up to our previous list of the 20 Hottest Alien Girls of All Time. This time the spotlight is on 100% synthetic lifeforms who have managed to allure and beguile their human counterparts with their artificial feminine wiles. These characters hail from TV, movies, video games, comics, and books, and the list includes only entirely manufactured characters. Don't look for human hybrids or women with cybernetic enhancements on this list; completely artificial life is a prerequisite. On with the list!
20. R. Dorothy Wayneright (Big O)
Roger Smith's assistant is Dorothy, an android built by scientist Miguel Soldano presumably as a replacement for Timothy Wayneright's real daughter Dorothy. An expert negotiator, Dorothy also packs in super strength and agility, as well as a talent for the piano.
19. Jocasta (Marvel Comics)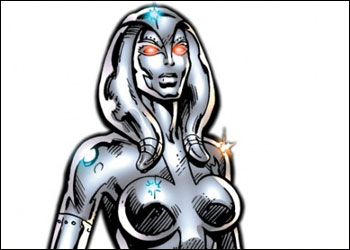 The evil robot Ultron, originally built by Henry Pym, creates Jocasta as his bride and bases her artificial intelligence on that of Janet Van Dyne, aka The Wasp, Pym's occasional wife. After Janet's death, Henry forms a strange relationship with Jocasta, making for one of the most bizarre love entanglements in comics.
18. Cherry 2000 (Cherry 2000)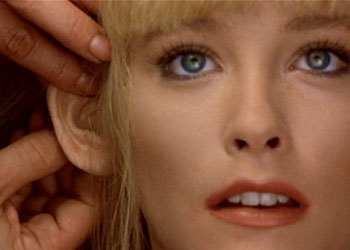 In the far flung future of 2017, Sam Treadwell has fallen in love with his Cherry 2000 girlfriend robot. Unfortunately she short circuits in a cloud of soap suds while they share an amorous embrace on his kitchen floor. This launches his quest into the post apocalytpic wastelands to find a new body for Cherry's still intact memory chip.
17. Arcee (Transformers)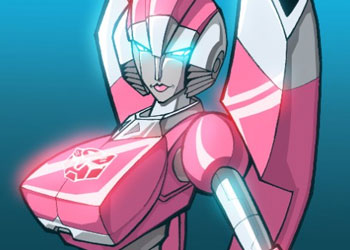 Although the Marvel comic series established that Transformers do not have sexes, Arcee made her animated debut in 1986's The Transformers: The Movie. She later would feature in the animated series and nearly secured a spot in the live-action Transformers movies.
16. Naomi Armitage (Armitage III)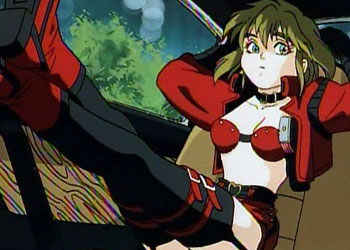 Naomi Armitage is a cop working with her partner Ross Syllibus to track down human-form androids called Thirds in futuristic 2046. Eventually Armitage is revealed to be a Third herself, less than surprising, given her seemingly superhuman combat abilities and the title of the anime series itself.
15. KAY-Em 14 (Jason X)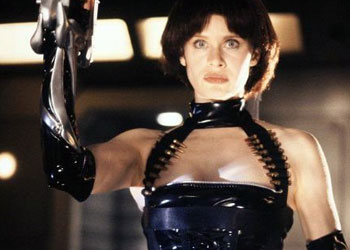 Even starship-bound genius science students need companionship, and that's exactly what drives Tsunaron to build his robotic girlfriend, KAY-Em 14. Of course she goes through a little reprogramming to become a space ninja after Jason Voorhees gets loose on her ship.
14. Lisa (Weird Science)
Nerds of the '80s could do anything, a theory 15 year old buddies Gary and Wyatt prove when they are inspired to create a fembot after watching Frankenstein. Who knew that when you ran some wires between a Memotech computer and a Barbie doll, Kelly LeBrock would pop out? Gary and Wyatt, that's who.
13. T-X (Terminator 3)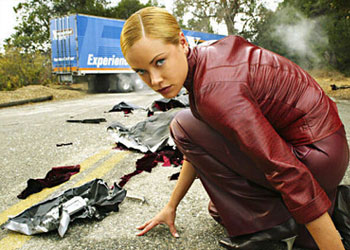 This shapeshifting robotic assassin had an androgynous endoskeleton to allow it to assume forms of either gender. For the majority of its screentime, though, the T-X appears as the deadly Terminatrix, played by Kristianna Loken prior to her career's Uwe Boll induced near-implosion.
12. Annalee Call (Alien Resurrection)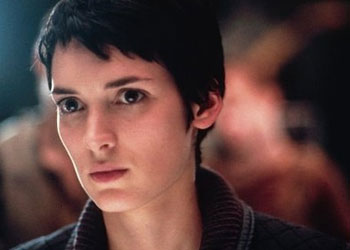 Inserted into the crew of the Betty as an Auton assassin, Annalee's mission was to kill the clone of Ellen Ripley that was playing host to a gestating Alien Queen. Revealed as a robot, Call reluctantly joins with Ripley 8 to fight the Alien menace.
11. Guri (Star Wars)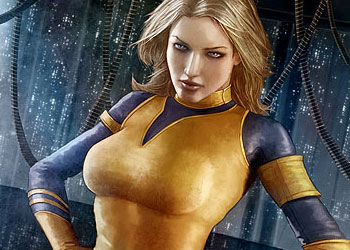 Guri was built as a beautiful human replica droid to act as a lieutenant for Prince Xizor, the head of the Black Sun criminal organization. She works alongside him as a stoic and efficient aid, even sent on assassination missions that would be too sensitive for Xizor's human underlings.
10. Andrea (Star Trek)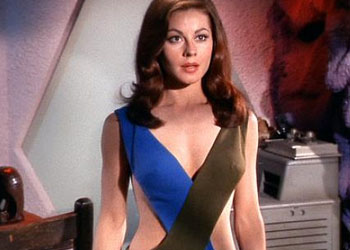 Archaeologist Roger Korby discovers ancient technology left behind on the planet Exo III by a civilization that was wiped out Cylon-style by their own androids. Naturally he then sets about building a beautiful girl for himself. And they lived happily ever after, right?
9. KOS-MOS (Xenosaga)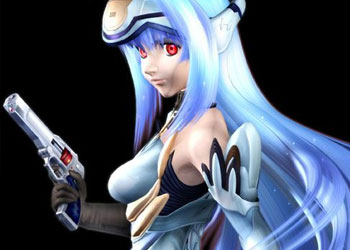 KOS-MOS is an android developed by Vector Industries as a weaponized response to the hostile alien Gnosis race. She is unique from her contemporary robots in that she is composed entirely of synthetic parts, as opposed to most other robots that are products of bioengineering.
8. Buffy Bot (Buffy the Vampire Slayer)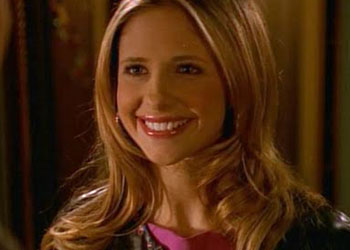 After self styled evil genius Warren is defeated, Spike strongarms him into making one more project. The result is the Buffy Bot, a robotic replica of the Slayer herself, Buffy Summers. The Buffy Bot originally is a sex bot for Spike, but she eventually joins the team as a temporary replacement while the real Buffy is dead.
7. Pris (Blade Runner)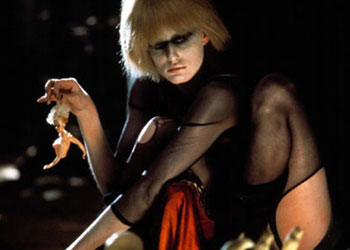 Initially manufactured as just a pleasure model robot, Pris learns how to turn her position to her own advantage through manipulation and deception. In addition to her main programmed functions, she also is a martial arts expert and possesses incredibly agility.
6. Boomer and Athena (Battlestar Galactica)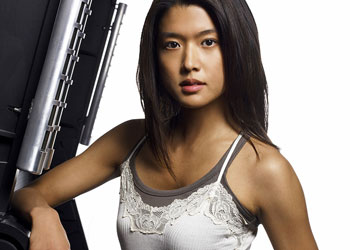 Sharon Valerii is name given to many copies of the eighth Cylon model. The most prominent two Sharons are Boomer, the Cylon sleeper agent who infiltrates the Galactica, and Athena, a copy that is aware of her origin and agenda but who falls in love with a human and devotes herself to the Colonial Fleet.
5. Rommie (Andromeda)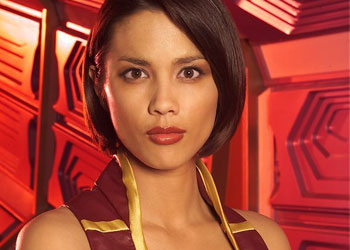 The Andromeda Ascendant's ship engineer, Seamus Harper, builds Rommie as a humanoid avatar for the ship's AI. She evolves independently of the ship itself and develops individuality and self awareness.
4. RepliCarter (Stargate SG-1)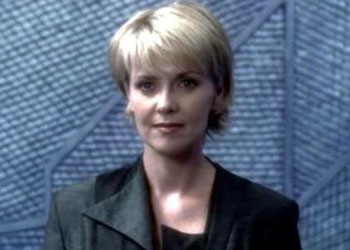 After the real Samantha Carter infatuates and then betrays the human-form Replicator known as Fifth, he creates his own version of Carter from Replicator building blocks. He grooms her to rule the galaxy at his side and imbues her with shapeshifting lethal capabilities that she can use to infiltrate both the Goa'uld and Stargate Command.
3. Vanessa Kensington (Austin Powers)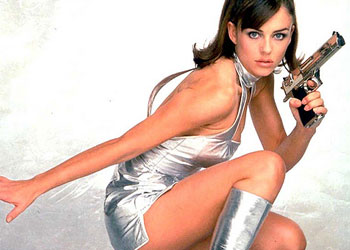 Vanessa Kensington is Austin Powers's secret agent partner when he awakens in the 1990s after being cryogenically frozen in the '60s. After defeating Dr. Evil, the two are married, but it's not long before Vanessa malfunctions on their honeymoon, inexplicably revealing herself to be an evil Fembot.
2. Number Six (Battlestar Galactica)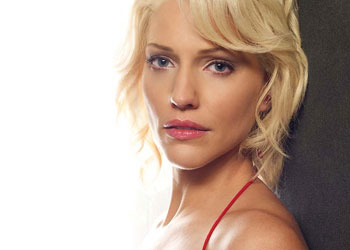 Cylon model Number Six is a key figure in humanity's downfall when she seduces Dr. Gaius Baltar in order to obtain the nuclear codes that would be used to destroy the human colonies. Her various copies develop unique goals and personalities, placing her in gray areas of the ensuing war.
1. Cameron Phillips (The Sarah Connor Chronicles)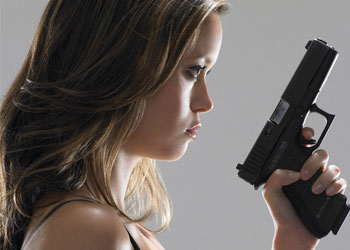 Much like the T-800, Cameron is sent back in time by John Connor to protect his mother and his younger self from the impending robot holocaust. Cameron exhibits the usual strength, speed, and constitution of Terminators, but she also explores human emotions and seeks to understand these people she must protect.