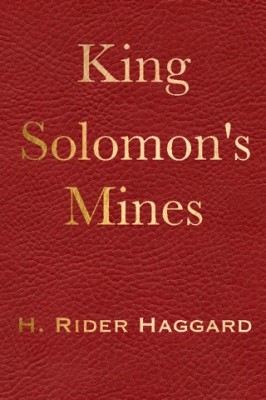 Title: King Solomon's Mines
Author: H. Rider Haggard
Publisher: Barnes and Noble Books (my copy); Cassell & Company (original)
Release Date: 2004 (my copy); 1885 (original)
King Solomon's Mines is the first adventure novel set in Africa and it created a whole new genre of literature. It was the inspiration for the Indiana Jones movies and the book itself was made into six movies. Haggard's main character, Allan Quatermain, has become so popular that Alan Moore made him a character in The League of Extraordinary Gentlemen and was the inspiration for the character of Indiana Jones. Haggard wrote even more adventures for Quatermain following the first novel. King Solomon's Mines is written from the point of view of Quatermain — all the events have already happened, he is just writing them down in the present.
The book starts with Quatermain setting up the events and how he came to meet his traveling companions, Sir Henry Curtis and Captain John Good. Sir Henry is looking for his brother, who has gone missing in search of the legendary King Solomon's mines. Quatermain also has a connection to the mines. Some time ago, he ran across a dying Portuguese man whose ancestor had a map to the mines. The three men then set off across Africa to find these fabled mines. Umbopa, a native servant, and two other servants accompany them as well. The group suffers many hardships along the way; they cross a desert with hardly any food or water and two of their servants die. Finally, they reach their destination. However, once there, they encounter more obstacles in their way and even become embroiled in political battle between the current king and the rightful heir. Eventually, they find the mines and diamonds inside, but it doesn't quite work out they way the group intended.
I received my copy of King Solomon's Mines in an adventure pack filled with other adventure novels. It was aimed at young boys, but anyone can read this. I'm not even sure if it would hold many young boys' interest. The book has sections where nothing really exciting happens. It's filled with descriptions of battles, but also descriptions of them walking through a jungle. Detailed descriptions were a common thing in books of that era, since not many people could travel to Africa. Modern readers might have some trouble getting through those parts. Another thing modern readers might have an issue with is the way that Quatermain, Sir Henry, and Good treat the African natives. Once again, that was just the way that things were back then. They didn't mean anything said in a negative way, which is how it might be taken now.
However, despite those two issues, the book is great. It's engaging and thrilling. It not only gives you a look into Africa, but a look into the culture and times in the 1800s. The book only has twenty chapters and they are fairly short, so you should be able to read it fairly quickly. If you want to see where Indiana Jones and others came from, read this book.