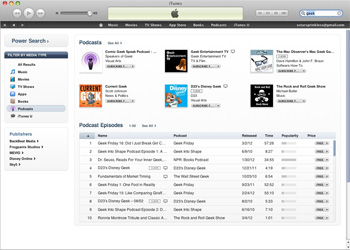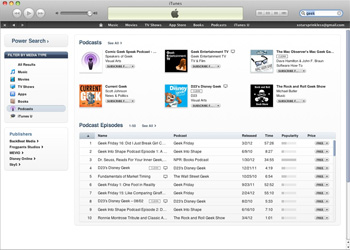 So you've read my entire article series about podcasts and you need more than I gave you. Or maybe I didn't mention your particular fandom, because it's not something I'm a particular fan of. What to do? Where to find more? There are tons of podcasts out there, and many ways to find new ones to listen to — keep reading to find out where to look…
iTunes

This is probably the most popular way to find and get podcasts. Even if you're not a regular iTunes user, the podcast section of the iTunes store is a great place to start because it does serve as an index of many podcasts in many genres and fandoms. You can search for podcasts on your topic of choice and then read descriptions and user reviews of individual podcasts to see if they might interest you. You can even listen to podcast episodes via streaming audio to help you decide if you want to subscribe or not. Subscription is as easy as one click if you use iTunes, but if you have a different favorite podcatcher, there is also a link to the show's webpage where you can usually find the podcast's RSS feed.
Podcast Networks

Earth-2.net
Home of the Bigger on the Inside podcast (see the Doctor Who podcast roundup), this site hosts many other fandom-related podcasts, particularly related to movies, comics, and gaming. Descriptions of each podcast are on the podcast forum page with links to individual podcast forums.

SQPN
In addition to the Secrets of Middle Earth and Secrets of the Hobbit podcasts (see the Tolkien podcast roundup), Father Roderick has put out a whole series of "Secrets Of" podcasts about popular movies (most of them Science Fiction and Fantasy) and movie worlds, including Star Wars, Star Trek, Harry Potter, and Battlestar Galactica. Most of the podcasts are either on hiatus or no longer in production, but past episodes are still available to download and listen to.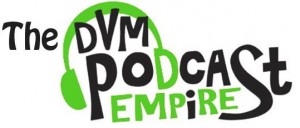 DVM Podcast Empire David Vox Mullen of the New Who Podcast (see the Doctor Who podcast roundup) produces a whole stable of podcasts related to current and recent genre television shows, including Fringe, Alcatraz, Terra Nova, Grimm, and American Horror Story.

Doctor Who Podcast Alliance
As mentioned in the Doctor Who podcast roundup, over 50 Doctor Who podcasts are represented here, with brief descriptions and links to show websites. Whatever aspect of the Whoniverse you prefer, you will probably find a podcast related to it here.

Geek Syndicate, which I covered in the TV, Movies, and General Geekery edition of the Podcast Roundup, hosts a ton of podcasts on various geeky topics.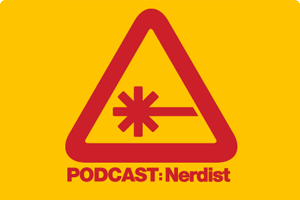 The Nerdist
In addition to the Nerdist Podcast and the Thrilling Adventure Hour podcast (reviewed in the TV, Movies, and General Geekery and SciFi/Fantasy Audio podcast roundups, respectively), Chris Hardwick's Nerdist Industries website is home to about a dozen other podcasts of geeky goodness.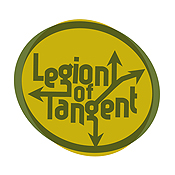 The Legion of Tangent is another group of geeky podcasts that includes Creeping with Armstrong and Television Zombies (both reviewed in the TV, Movies, and General Geekery podcast roundup). The website includes subscription information and access to the most recent episodes of member podcasts.
Podcasts and Podcast Websites
Don't forget to look to your favorite podcasts for more listening ideas — that's where I learned about many of the podcasts that I reviewed in this series of articles. Podcasting is one big happy family, particularly within specific fandom circles (e.g., Doctor Who, Tolkien, writing and storytelling, comics, etc.). It is not unusual for podcasters to make guest appearances on other podcasts, and for the hosts of one podcast to plug their friends' podcasts, particularly within the same fandom. In fact, that was the main thing that kept slowing me down while writing this article series — it seemed like almost every podcast I listened to led me to at least one more podcast that I wanted to check out! Therefore, keep your ears open for people and podcasts that sound interesting, especially when they're mentioned by the hosts of a podcast you particularly enjoy. Check out your favorite podcasts' websites as well — they often post links to other podcasts that they like or that are similar to theirs (look for a "links" page like the Drabblecast's or a "blogroll" in one of the side columns, like SF Signal has — it's about the third thing down in the right-side column).
---
If you're new to podcasts, I hope that helps get you started. If you're an experienced podcast listener, I hope you have found some new shows to check out. If you still can't find what you're looking for, post a comment and we'll try to help you out with some ideas. Happy Listening!