I love Hitchhiker's Guide to the Galaxy; it has some of the funniest and well-written dialogue ever to be seen. I particularly loved the 1981 BBC show and I got to thinking, what if they re-made the TV show? It would probably be longer, have better special effects, and could work with even more material. This is who I'd like to see play Douglas Adams's zany characters if the TV show were ever re-made.
The Guide: Stephan Fry
He was the voice in the movie and I think he'd work perfectly in a TV setting.
Arthur Dent: David Mitchell
I think Mitchell kind of looks and sounds like Simon Jones (who originally played Arthur). Mitchell's humor would fit well with Arthur's outlook on life. Plus, I can see him clad in a robe, with a towel, and complaining about Thursdays.
Ford Prefect: Simon Pegg
Ford was harder to cast because he has to be the slightly sane man of the group: less weird than Zaphod, but smarter than Arthur. However, I think Pegg could pull it off
Trillian: Parminder Nagra
I was re-reading Trillian's description to see who I could cast her as, and Parminder came straight to my mind. I think she would be good as Trillian and an excellent only sane woman to all the craziness that goes on.
Zaphod Beeblebrox: Noel Fielding and Russell Brand
Zaphod has two heads, an eccentric style, and witty retorts at the tip of his tongues. I think both Noel and Russell would be a good fit for this part, as they are both pretty wacky, and are known to be hysterically funny together.
Marvin, the Paranoid Android: Warwick Davis and Alan Rickman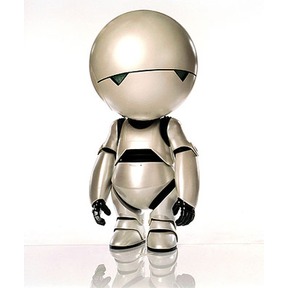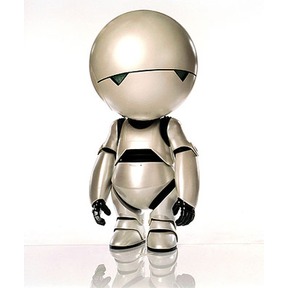 Like the movie version, I think Marvin should be played by Warwick Davis and voiced by Alan Rickman. Rickman's voice is perfect for Marvin, and this version is much better than the 1981 version.