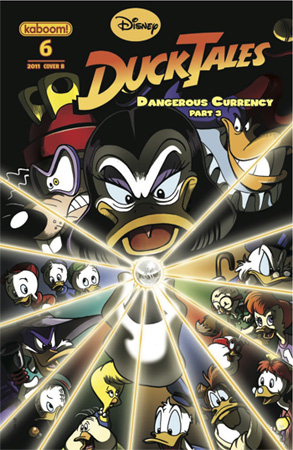 Issue: Disney's DuckTales #6
Release Date: November 9, 2011
Story: Warren Spector, Ian Brill, and James Silvani
Writers: Warren Spector and Ian Brill
Artist: James Silvani and José Massaroli
Colors: Braden Lamb
Letters: Deron Bennett
Covers: James Silvani
Publisher: kaboom!
DuckTales #6 picks up right where Darkwing Duck #17 left off, with Huey, Dewey, Louie, and Honker under the influence of the slime. Unable to stop the boys' rampage and with Darkwing's lab compromised, the rest of the group flies off to Duckburg. Scrooge brought along a sample of the slime, hoping that Gyro could make an antidote for the boys. Darkwing is suspicious of the slime, but doesn't have a better idea. Gyro finally comes up with a solution just in time, the boys have arrived at a Duckburg harbor.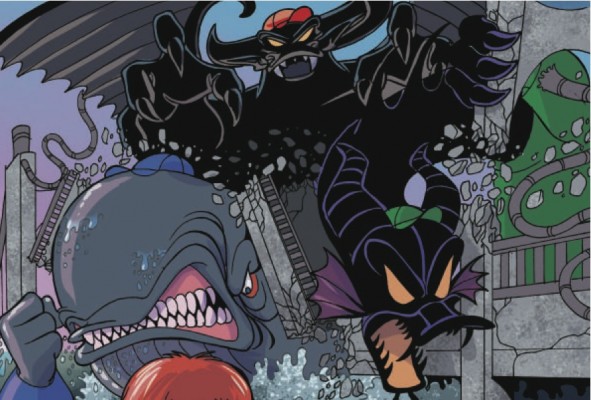 Sharp-eyed readers will notice that Huey is Chernabog from Fantasia, Dewey is the whale from Pinocchio, and Louie is Dragon Maleficent from Sleeping Beauty. If Honker is supposed to be something, I wasn't sure what it was. Anyway, the boys are saved and apologize for their actions. Gizmoduck says that even he went evil when touched by the slime, this leads everyone to ask where he's been. Not only does Gizmoduck tell them, his suit is able to project all of the plans Magica has for using the slime. Scrooge calls in Agent 44 once more and tells them the news.
The team is looking over Gizmoduck's suit when they hear news of Magica and her crew invading Duckburg. Scrooge knows that they will head right for his money bin and they all get ready for an attack. Darkwing is able to use the antidote on some of the villains, but Magica is able to take over the money bin, much to Scrooge's dismay.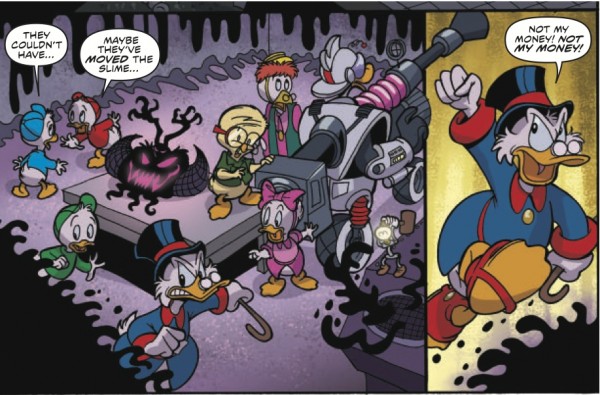 Gyro and Honker uses Gizmoduck's suit to see where the slime came from. It an opens a portal and we see someone who we were not expecting to see. The conclusion will be in Darkwing Duck #18 and hopefully it will tell us where the slime came from and who Agent 44 is.