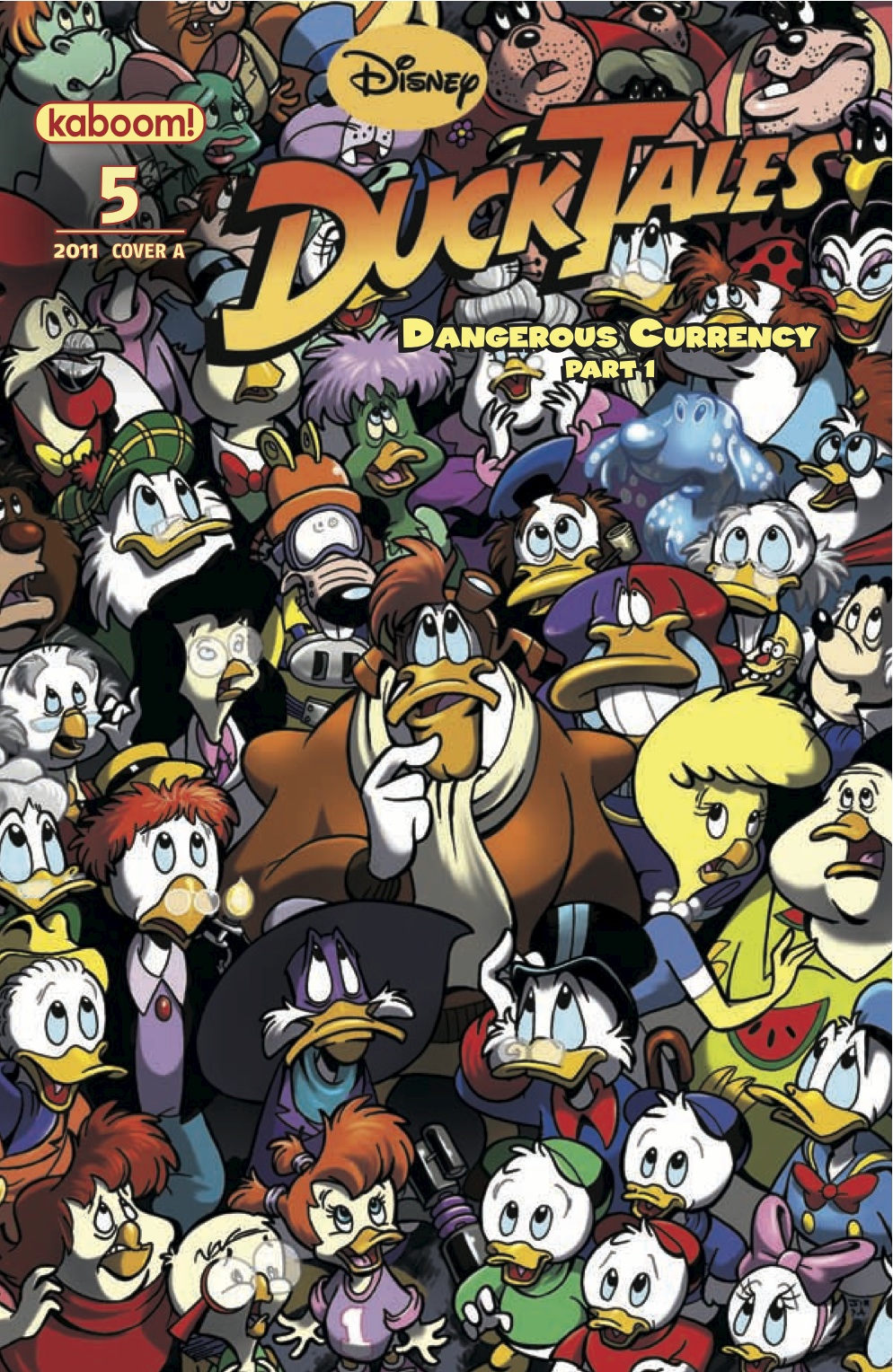 Issue: Disney's DuckTales #5
Release Date: October 12, 2011
Author: Warren Spector, Ian Brill, and James Silvani
Artist: James Silvani and José Massaroli
Inker: Rubén Torreiro
Colors: Braden Lamb
Letters: Deron Bennett
Covers: James Silvani
Publisher: kaboom!
This is it! The beginning of a crossover with Darkwing Duck! It follows after the end of the last Darkwing Duck comic with The Phantom Blot and Magica De Spell taking over St. Canard with magic slime. Scrooge, Webby, and the nephews make their way to St. Canard, while Drake Mallard and his crew meet Fenton Crackershell. Fenton seems to know what is going on, but has no way to stop it. Scrooge shows up soon after and demands to know what is happening.
Before Fenton can explain, the slime attacks Drake's house and Fenton vanishes. Scrooge and Drake exchange some funny dialogue where Scrooge finds out that Drake is Darkwing Duck. Following that, the group picks up Gyro Gearloose and makes their way to Darkwing's base. Suddenly, Megavolt and the Beagle Boys attack the group and a huge battle ensues. They have come for the Gizmoduck suit, but can't get at it. However, Megavolt and the Beagle Boys have a backup plan and manage to take the suit from the gang. Scrooge makes a mysterious call while everyone else stares out at St. Canard, covered in slime.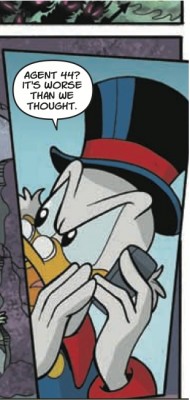 For being a first issue of a crossover, there is a lot of plot given, but a lot of more mysteries are given to us. The slime is interesting as it gives not only the city, but people, powers. The interactions between Scrooge and Darkwing are great and I hope to see more of them. It will also be interesting to see how all the kids interact with each other, as they are all so different. I also can't wait to see how the villains plan to try and defeat Scrooge and Darkwing. I want to know more about this Agent 44 that Scrooge calls. Who are they? What will they do to help? We shall find out in the next part, covered in Darkwing Duck #17.