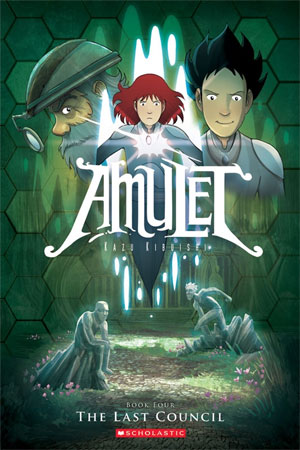 Kazu Kibuishi's bestselling Amulet series continues with Amulet Book Four: The Last Council. To celebrate the book's release earlier this month, Scholastic has provided us with five copies of the book to give away to you.
The ongoing adventures continue in this newest volume:
Emily and her friends think they'll find the help they need in Cielis, but something isn't right.  Streets that were once busy are deserted, and the townspeople who are left live in fear.  Emily is soon escorted to the Academy, where she's expected to compete for a spot on the Guardian Coucil, a group of the most powerful Stonekeepers.  But as the number of competitors gets smaller and smaller, an awful secret is slowly uncovered – a secret that, if left buried, means the certain destruction of everything Emily fights for.
Check out the book's official trailer:
You can learn more about Amulet on Scholastic's website or at Bolt City!
Check out the form below for all the ways you can enter to win: