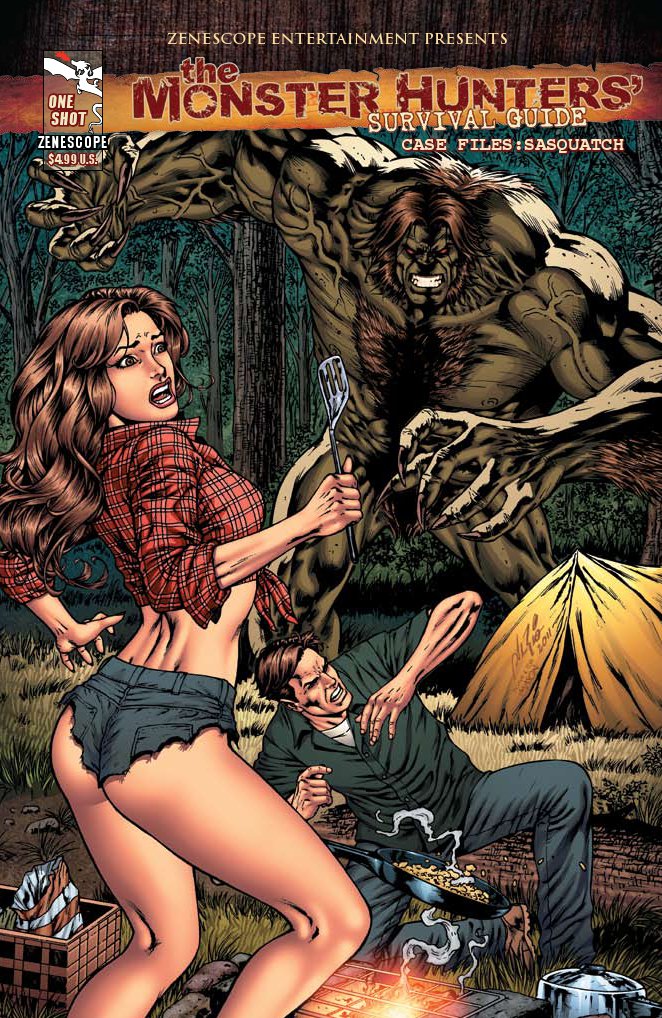 Issue: The Monster Hunters' Survival Guide Case Files: Sasquatch
Release Date: July 2011
Author: Joe Brusha
Artists: Anthony Spay and Isaac Goodhart
Cover A: Al Rio and Thomas Mason
Colors: Falk
Letters: Jim Campbell
Publisher: Zenescope Entertainment
The Monster Hunter is back and this time he's going after Sasquatch. That's right, JP Russ is investigating the death of a young man and the disappearance of his girlfriend up near the Washington border. Evidence shows that the famed Sasquatch is to blame and, since he's a trained professional, he's going to make sure that the beast cannot hurt anyone else.
Two game hunters stumble into a bar, spouting off nonsense about a Bigfoot creature who was seen carrying a young woman off from her campsite. When the Sheriff puts it down as just ramblings of two drunken men, JP Russ steps in to offer his services. While the Sheriff doesn't believe him either, he agrees to accompany the game hunters and Russ to the campsite to sift through the evidence. Faced with the scattered remains of the attack, the Sheriff believes the story of monsters in the woods, but Russ suspects there's something deeper going on. And there is. It seems the Sheriff had an encounter with Bigfoot when he was just a boy.
Setting up camp for the night, Russ explains to the group how monsters are indeed real and man should be jut as fearful of them as they are of things they have seen with their own eyes. Just because the media hasn't blasted their appearances all over the news sources doesn't mean they don't exist. And when one of the game hunters is killed by an attack that night, it's made more real than ever. Even though the Sheriff wants to call off the search, Russ is more determined than ever to find the creature and get some answers.
And when they find the Sasquatch's lair, the answers become clear. The female Sasquatch was caught in a bear trap, leaving her and her young to starve to death, and putting the father in a rage that caused him to lash out towards all the humans who happened into the forest. And the second game hunter becomes his next target. The Sheriff and Russ find the kidnapped girl, but their struggles are just beginning as they have to defend themselves against an angry Sasquatch and find their way out of its cave without dying. The Sheriff takes off with his gun to try and take on the creature while Russ takes the girl and attempts to get her to safety. But one Sasquatch becomes many and it looks like they will take care of the rogue monster on their own, with their own brand of justice.
Brusha does a wonderful job of giving us a story that remains interesting and true to the mythological tales we've grown up with. Russ is a hunter and, as such, he seeks out the monsters that haunt our dreams. And sometimes he has to kill them, to protect humanity, but always he must make sure that their existence is kept secret from a public not ready to know the whole truth. Spay and Goodhart's artwork bring to life a creature that many have speculated about, but few have ever seen. I found the frames to be vibrant and bursting with action as we followed Russ on this case, unsure how it would all turn out. I'm very pleased I got to take the journey with him and I look forward to his next adventure when we get to see more creatures that are all too real. Such is the life of a hunter.
Rating: 4 / 5 Stars