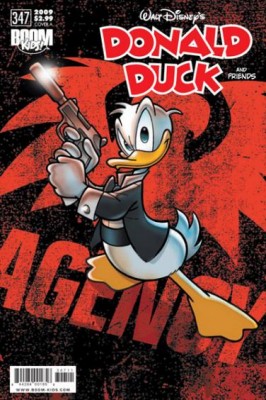 Issue: Donald Duck and Friends #347
Release Date: November 4, 2009
Writer(s): Fausto Vitaliano
Artist(s): Andrea Freccero
Cover(s): Andrea Freccero
Editor: Aaron Sparrow
Assistant Editor: Christopher Burns
Letterer: Jose Macasocol Jr.
Publisher: BOOM! Studios
A lot of people shun Disney or kids' comics because of their cutesy art styles and simple storylines. Unfortunately, this title will probably show off both of those traits to the casual comic reader's eyes.
As for those of us who still enjoy watching Saturday morning cartoons, Disney films and old House of Mouse episodes, and actual humor, this could be a definite purchase.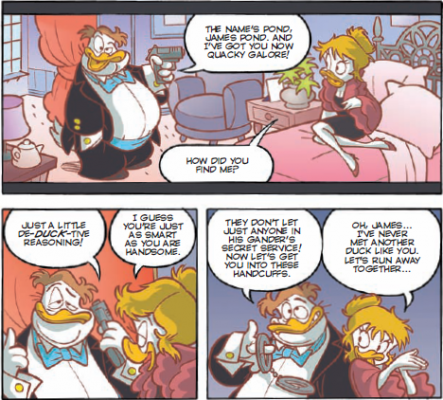 The comic book starts off with Donald Duck and Daisy Duck out on a date to see a James Pond (pun intended) film in which Donald decides to sleep through. Angry at the fact Donald slept the entire movie, Daisy stomps off away from Donald and complains that Donald didn't pay any attention to the romantic parts of the film. Eventually Daisy runs off with Gladstone Gander while Donald is left alone to deal with a parking ticket he just received from a police officer outside of the theater.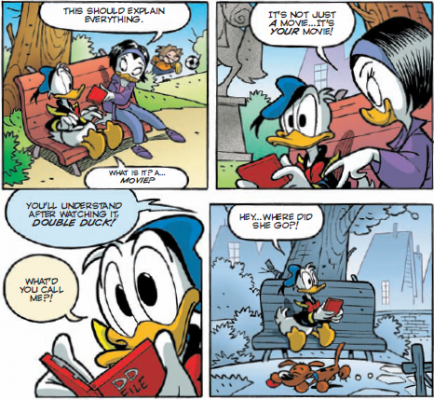 The next morning, Donald goes to the Clerk of Courts to see if he can dismiss the ticket, but instead finds out he has unpaid parking tickets from parking near a fire hydrant for three days and three nights. Donald doesn't seem to remember what he did those days at all, nor does he remember parking near a hydrant, and refuses to pay the ticket. After trying to recall memories of what he did those nights, he runs into a mysterious girl who calls him "Double Duck" and hands him a video of himself as a secret agent named Double Duck. As the mystery unfolds, Donald soons discovers his entire memory was wiped when he decided to join the Agency as a Double Agent. As the story continues, Donald eventually reconnects with everyone in the Agency and the comic introduces new characters and pushes Donald's new role as Double Duck.
Overall, the comic is a fun read. Pun after pun and joke after joke, you'll giggle all the way until the last page. The comic has a couple of cameos and some homages to other cartoons, which was a pleasant surprise to see. Of course, this isn't the most hilarious thing I've read, or entertaining, but it is just plain fun reading. Even though this comic is aimed at kids, I really ended up enjoying it and I could see a much broader audience enjoying it as well if given the chance.
Rating: 4 / 5 Stars