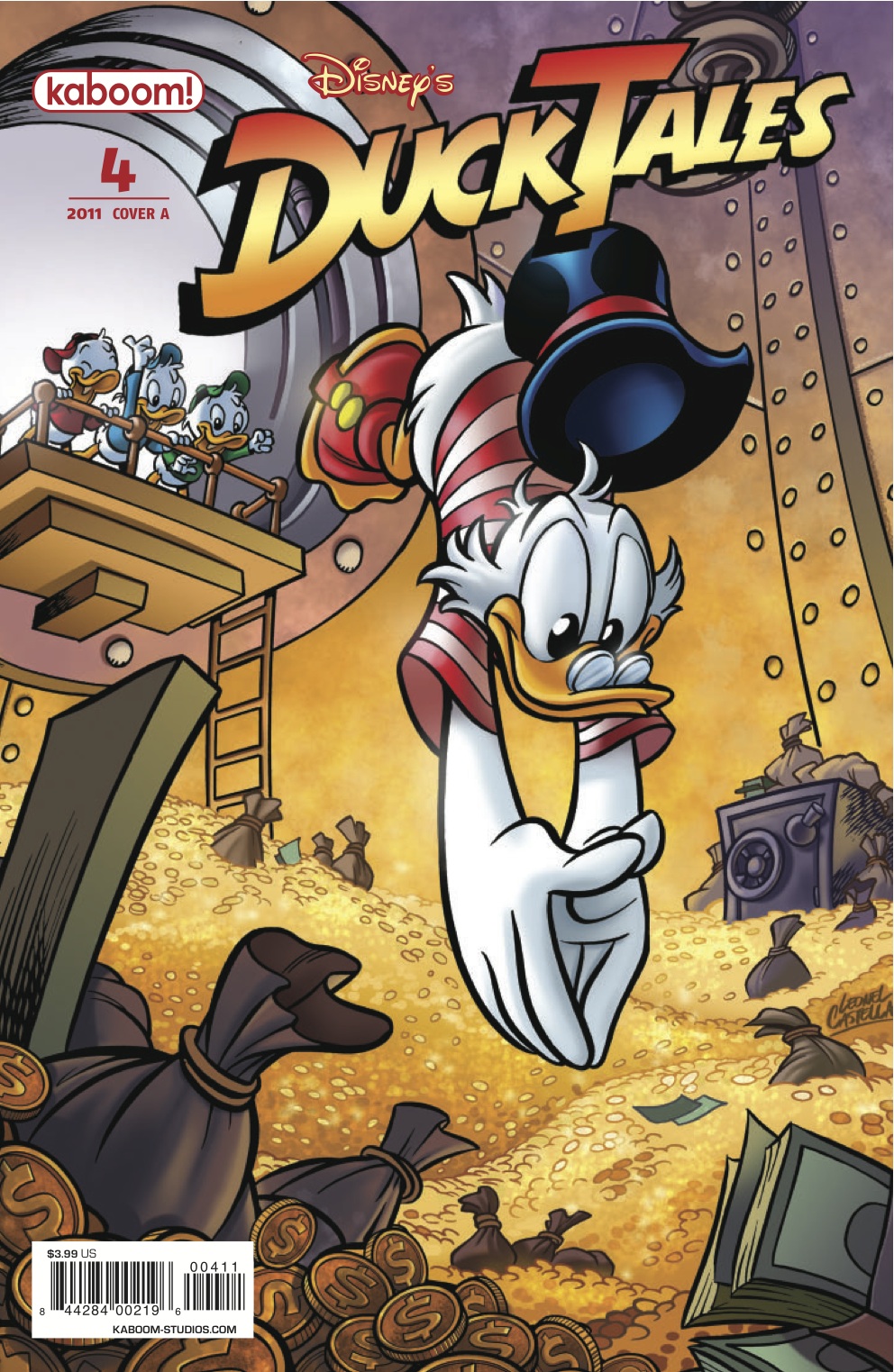 Issue: Disney's DuckTales #4
Release Date: September 2011
Author: Warren Spector
Artist: José Massaroli
Inker: Rubén Torreiro
Colors: Braden Lamb
Letters: Deron Bennett
Cover A: Leonel Castellani
Cover B: James Silvani
Publisher: kaboom!
The fourth issue picks up right where issue three left off, with Scrooge and his family jumping out of Launchpad's plane. They land in a village, but it's different than they remember. Once again, the Beagle Boys show up to chase them and get the crown.

We cut to the villain of the moment, Guy Standforth, making his way up a mountain and running into a yeti, who proceeds to hug and kiss him. It seems this particular yeti, Gu, has fallen in love with Guy. Guy tricks Gu into attacking Scrooge and company, as the crown Scrooge wants to return used to belong to Gu. However, before Scrooge can even think about returning the crown, he has to think about surviving massive snowballs.
Of course he does make it through and even manages to land in front of Gu's cave. They enter the cave and Gu steps out to roar at them. Everyone runs except Scrooge and Webby. Gu recognizes them and is happy to see them. Scrooge gives her the crown, but all she wants is Scrooge's hat and Webby's bow. Scrooge gives the crown to the villagers, but at a price.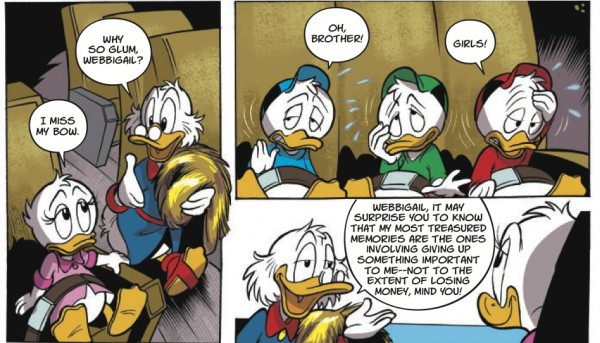 The next thing Scrooge wants to return is the Golden Fleece. Once at Colchis, they run into some Larkies, who they have met before. One even seems to have a crush on Launchpad. Gladstone and his luck finally seem to turning against Scrooge on this mission as they are attacked from all sides. They get out safely and make their way into the Forbidden Valley to reunite a baby dinosaur with his mother. The Beagle Boys attack once more, but are rebuffed. They will never learn their lesson.
Scrooge realizes that he has lost his bet and is very upset by that. As he makes his way to the museum, all the media in Duckburg is waiting for him. Daisy is interviewing Rockerduck, when Scrooge barges in and calls Rockerduck a cheater. Before a full out fistfight can happen, Billups interrupts them to announce the results. They confirm Scrooge has lost and Rockerduck has the hats all ready to eat. Huey, Dewey and Louie realize something is wrong and rush out to find some evidence to save their uncle.

Once the boys blow the whistle, Rockerduck admits to cheating. Billups is demoted, while Farquardt is promoted in his place. Rockerduck is then made to eat all the hats. Daisy gets a call and everyone rushes to the docks. Donald has shown up with the villain from issue three and so have the people that Scrooge gave the artifacts back to, which means Scrooge lost the bet too! So he and Rockerduck eat the hats. The issue ends with a cliffhanger and a hint at a crossover!
This issue was very good. I like the way it ended, almost like a DuckTales episode — with Scrooge realizing his family was more important than money.
Spoiler
Only one thing really bothered me in this issue: how did Daisy and Gladstone break their enchantment? Daisy even looks enchanted while she talks. Perhaps that will be explained in later issues.
End of Spoiler
I liked how the whole story arc went back to places Scrooge went in the television show — it really brought the comic into the show's universe. I also love the idea of a crossover with another comic. I think it would be amazing. I can't wait to see what happens next!