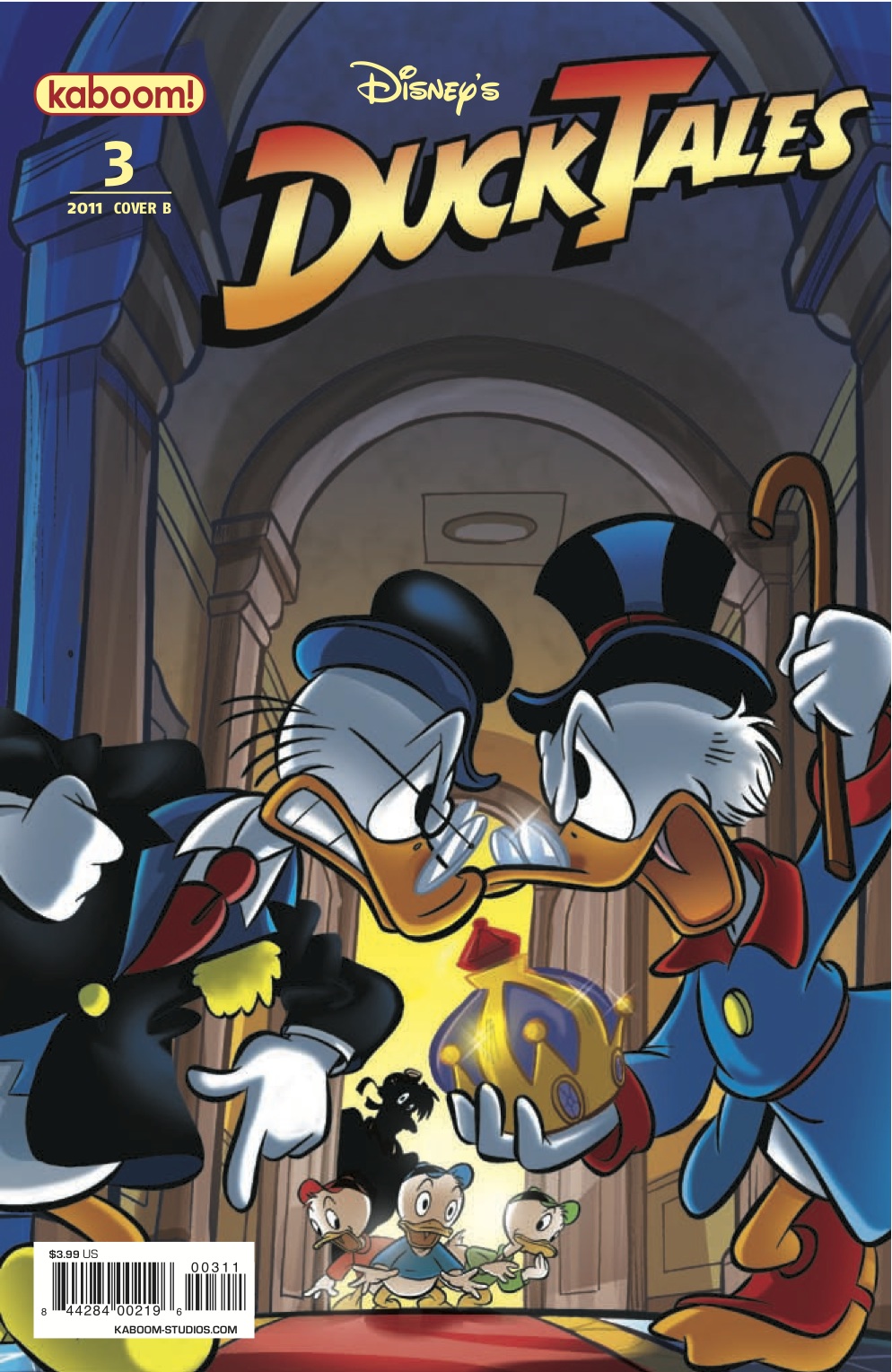 Issue: Disney's DuckTales #3
Release Date: July 27, 2011
Author: Warren Spector
Artist: José Massaroli
Colors: Braden Lamb
Letters: Deron Bennett
Cover A: Leonel Castellani
Cover B: Fabrizio Petrossi
Cover C: James Silvani
Publisher: kaboom!
I won't lie, when I first saw the DuckTales title, I immediately thought of the theme song. Many have called that song unforgettable and once you hear it, it will never leave your head. Anyway, I was super excited to read this comic and see what some of my favorite Ducks were up to. I was even more excited when I saw Warren Spector was the writer. Before I review issue three, I'd like to give a quick overview of issues one and two.
In issue one we see Scrooge McDuck at a museum, showing off all of his treasures to his nephews and niece. He brags about each one and how he got it. Also along for the tour are John D. Rockerduck, a rival to Scrooge, Mr. Billups, the museum curator, and Farquardt, Mr. Billups's assistant. After the tour, Webbigail tells Huey, Dewey, and Louie that Scrooge should give his treasures back, as he was wrong to take them in the first place. They tell their uncle, but he calls them crazy until Scrooge hears his rival, Rockerduck, say that he will give all his treasures away. This goads Scrooge into taking a bet with Rockerduck to see who can give the most away. The issue ends with Scrooge taking Webbigail with him to return a ruby to Rippan Taro while the boys stay behind. However, once Scrooge and Webbigail arrive, the boys also arrive with Launchpad, Scrooge's pilot. Then they all head off to see the king and return the ruby.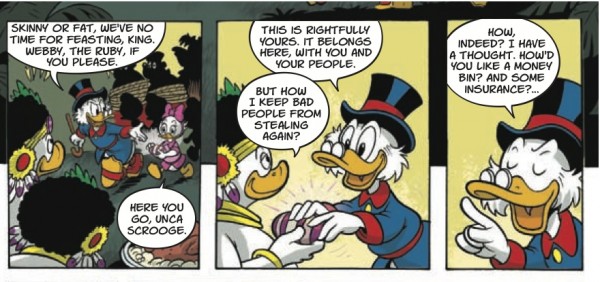 Issue two picks up right where issue one left off, with Scrooge looking for King Fulla Cola, but finding his son, Fulla Pep See, instead. Soon things take a turn for the worse as the Beagle Boys come out and attack Scrooge and his family. There is a scramble for the ruby, but it's lost when Fulla Pep See grabs it and reveals himself to be a villain from Darkwing Duck. The team manages to free themselves and then they split up to look for the ruby. Scrooge is the one to find the villain and the real Fulla Pep See and he attacks the hideout. The issue ends with everyone coming back together and finding themselves surrounded by Beagle Boys and the Rippan Tarons.
Issue three starts with Launchpad and the children surrounded by Beagle Boys and Rippan Tarons. The Rippan Tarons are only attacking them since they fear for the lives of their prince and king. Once they know he is safe, they team up with Scrooge against the Beagle Boys. During the fight, Webbigail sees the villain run off with the ruby. She convinces her family to go after the ruby. Scrooge and company finally catch up the villain and after a comical, if clichéd, event, Scrooge gets the ruby back. The villain gets away however, much to Scrooge's annoyance.
Scrooge gives the ruby back to King Fulla Cola. Even though he does the right thing, he has an ulterior motive when he offers the king insurance. Scrooge is always thinking of the monetary gain. After that is taken care of, Scrooge rushes back to Duckburg to confront Rockerduck.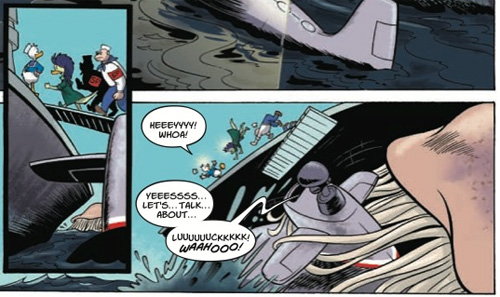 Before we are shown that, we see the villain and a mysterious person, known only as Agent X. Agent X had been referenced in the previous issues, but this is the first time we see Agent X talk. We also see Donald Duck! Maybe he is important in some way to the plot or he was just added for fan service? Hopefully we will find out in the fourth issue.
Finally we follow Scrooge to Rockerduck's house and they have an argument. Scrooge is certain Rockerduck sent the Beagle Boys after him, but Rockerduck denies it. They up the bet so whoever returns the most after two weeks wins.
The issue wraps up with Gladstone Gander, Scrooge's lucky nephew, accompanying his uncle to the Hindu Kush Mountains to return a crown. It then ends with everyone but Scrooge and Launchpad leaping from the plane as Launchpad attempts to land it safely. Good luck, Launchpad.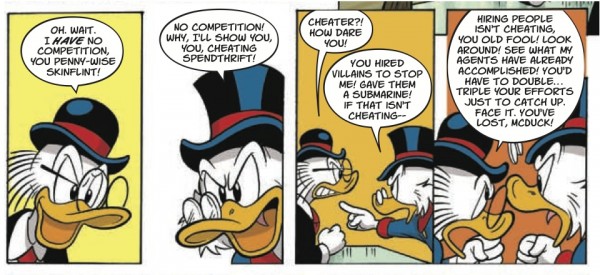 Overall, I really enjoyed the issue. It was true to the cartoon, with all the wackiness and randomness that seemed to follow Scrooge and his family on their adventures. The cast of characters is varied and they act how they would have acted on the cartoon. Scrooge is properly greedy, while his nephews try to follow in his footsteps. Webbigail seems less annoying in the comic, but that could be because I don't have to listen to her voice. Poor Launchpad still can't land a plane in a safe manner. You are suspicious of everyone who isn't a part of Scrooge's family, which was the intention, I believe. I had very few issues with the comic, mostly some clichéd moments, but those would have been in the cartoon as well, so they didn't throw me out of the story.
This comic is definitely for fans of the show. The comic series, so far, has a lot of good references for fans of DuckTales and Darkwing Duck, with mentions of Launchpad being in two places at once and villains' crossing over into the series. It even has Donald Duck on a Navy boat, which was the premise of the cartoon in the first place. However, this would also be a good comic to get a younger generation into older cartoons, as there is only minor cartoon violence.
If you liked watching DuckTales, you will probably like this comic, so go check it out. You will also get the theme song stuck in your head. Sorry about that.