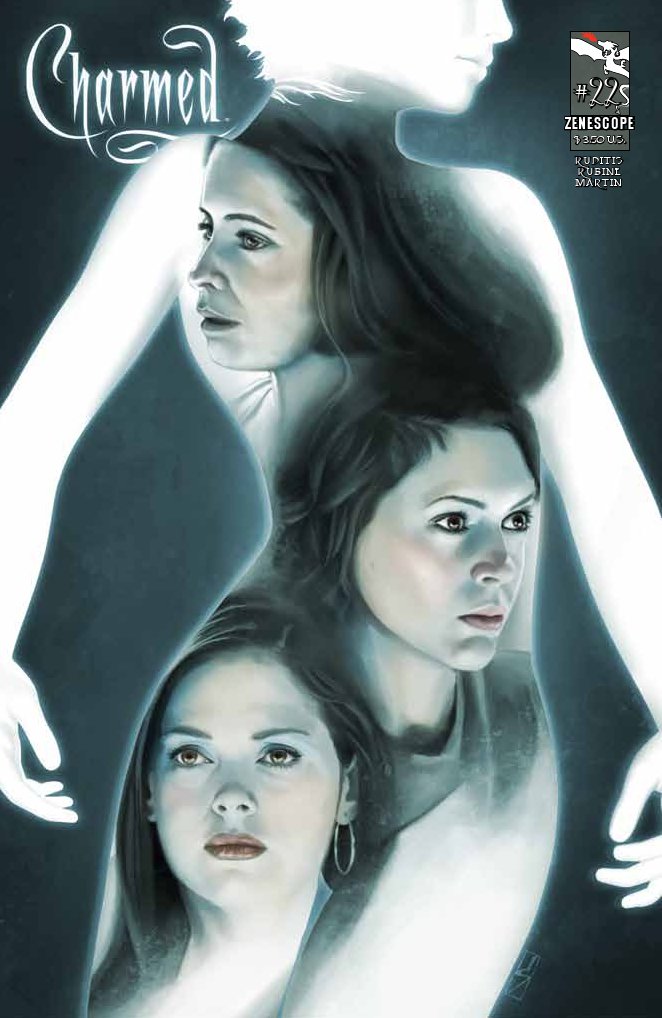 Issue: Charmed #22: "Prue Ya Gonna Call?"
Release Date: June 2012
Author: Paul Ruditis
Artist: Rubine
Cover: David Seidman
Colors: Dash Martin
Letters: Jim Campbell
Editor: Matt Rogers
Publisher: Zenescope Entertainment
Magic is still upside down in the world and the Power of Three has turned into the Power of Four, or maybe just one. It's a complicated time in the lives of the sisters and more than a few times I felt like I was missing gaps in the narrative. Best hopes that the storyline evens out soon.
For the first six pages of this issue, I had no idea what was going on. It felt like a time jump, but no one had clued me in on what was missing. I got that the powered figure was Prue and that she was fighting against magical gangs, but how did she gain all the power? And where was Cole? Trying to swim in the deep end and feeling like you're drowning isn't a good feeling for a reader.
Thankfully we got back to more familiar ground by switching to the sisters at The Manor. Magical beings are still without their powers, but it seems like Piper might be getting some of hers back? Perhaps the world is trying to right itself again. They seem to have a whole group of people willing to help, among them Darryl, Glynnis, and Prue herself. It's only now that we learn that she had taken on all of her sisters' powers. At least, it's the first time I'd heard about it. She's having a hard time recuperating after using the powers each time, though. I can well understand that since the Power of Three was never meant to be housed in just one person. Plus, Cole's gone now, so she's on her own. Or, she could rely on her sisters, but she hasn't been too keen on that plan in the past, much to their dismay.

Meanwhile, Glynnis may have a way to gain the upper-hand in this battle. The weapons she made prior, the ones that were normal daggers and swords before, have now been infused with magic. No one knows why, but it's best not to question an advantage when one presents itself. Also, she points out that the sword Leo's been carrying around all this time, the one he thought he couldn't get rid of, isn't the real Empyreal sword. Who has the real one? That'd be Rennek, who has the sword along with Grimoire. Put those together and it's a sign that he's up to no good.
As the sisters are set to take on the multitude of magical gangs that have begun targeting The Manor, Prue does what she does best and tries to take on all of them by herself. Guess what? That doesn't work out and she dies… again. It felt like such a rip-off to bring her back into play and then just kill her off again. However, it wasn't such a permanent ending for her. Ever since magic did its little flip-flop, the dead have been stuck in the Between area. Cole's there, too, and he's got a plan to help out his ex-in-laws. If they use all the magical beings' powers from the Between, combined, they might be able to rip a hole in the dimension and get Prue back to the land of the living. That way, Cole can send a message through with her and help the Charmed Ones make everything right again. So, they do, and it works. Resurrected Prue to the rescue! And we end the issue knowing pretty much nothing more than when we started. What was the point of this again?
Rating: 3 / 5 Stars