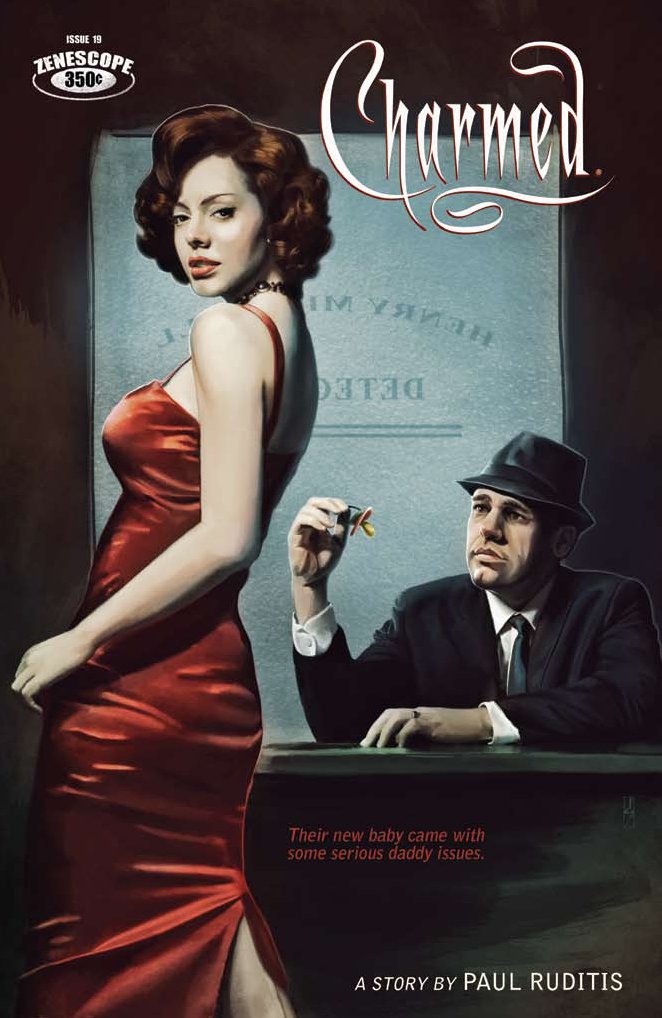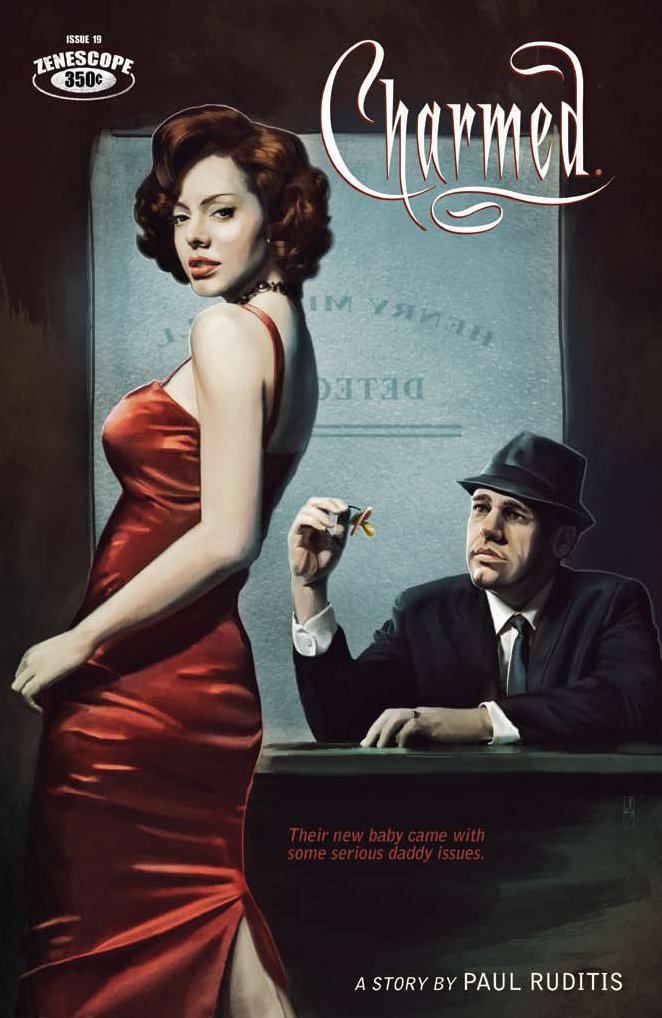 Issue: Charmed #19: "Crossed, Triple-Crossed"
Release Date: March 2012
Author: Paul Ruditis
Artist: Tess Fowler
Cover: David Seidman
Colors: Michael Spicer
Letters: Jim Campbell
Editor: Matt Rogers
Publisher: Zenescope Entertainment
With a storyline reminiscent of the noir of old, this issue of the Charmed comic sets out to explore Paige and Henry's desire to keep little Henry Jr. with them. Social services has found his birth father, but Dad's not exactly the law-abiding type to entrust a baby to. In fact, he's part of the dwindling Mercer crime family, so Paige is not jumping at the prospect of turning over her adopted son to these people. But she has a plan, one that is a bit magically-influenced.
Henry and Paige need someone to help them uncover dirt on Henry Jr.'s birth father, but that takes money. What if they could create their own detective? That's Paige's plan. She comes up with a spell to bring famed mystery novel detective Richard Quinn to life. There are minor problems with this plan. One, it's a spell to bring about personal gain, which is technically against the rules. Two, when she brings Quinn to life, she forgot to include the clause about lifelike. He's a walking, talking, black-and-white version of an old-school detective. Not so easy to blend into the modern day, if you get my drift. But, with a bit of make-up and a set of Leo's clothes, Quinn is ready to take on the case.


Except, while Quinn and Paige are trying to work the Mercer family for a hook, the manor is becoming a bit too colorless. Quinn brought his black-and-white problem to the real world and now it's spreading. Spells never work out quite how you want them to, but Paige isn't ready to give up the game just yet. She's got 24 hours to use Quinn's knowledge before it's back to the book he goes. First step, a date with the younger Mercer to dig up more dirt. And she goes all out with the old-school tricks during her rendezvous, including a bit of sleeping powder in her ring so that they can search the room while the younger Mercer is out cold. I guess those crime novels paid off.
Paige gets her information, all the evidence she might need to put the Mercer family away and keep Henry Jr. safe, but it comes with a cost. Once she's back at the manor she finds out that she's gone black-and-white, too. Added to that, Quinn is nowhere to be found. He's got a bit of a double-cross running. Problems, they are many. Quinn calls with a deal. He will return the evidence to Paige, but in return she has to let him stay in the real world. But Paige isn't about to sacrifice the world for just one fictional character. She gets the evidence and she manages to send Quinn back to the pages of literary land with the help of her sisters, her husband, and some well-placed glamours. All's well that ends well? Well, until they figure out Henry Jr. is magically gifted, too. Until next time, it's an adventure with the sisters.
Rating: 3 / 5 Stars