Issue: Charmed #18: "Four's Company"
Release Date: February 2012
Author: Paul Ruditis
Artist: Dean Kotz
Cover: David Seidman
Colors: Michael Spicer
Letters: Jim Campbell
Editors: Paul Ruditis and Ralph Tedesco
Publisher: Zenescope Entertainment
What happens when your dead half-sister comes back to life? Well, you might feel like you've become the black sheep of the family. That's the plight Paige has to deal with in the latest issue of the Charmed comic. When last we left the Halliwell reunion, Prue was being welcomed back with open arms by her sisters Phoebe and Piper, while Paige stood off to the side feeling a bit left out. Now, we get to see how the Charmed Three deal with having one extra.
The happy reunion continued as hugs and good tidings were exchanged among the Halliwells. I like that, despite the problems Phoebe and Prue had in their past, they have moved past it and focused on the love they share as sisters. I mean, Phoebe named her daughter after Prue, so there's got to be some good memories in there. But all these good vibes aren't inclusive of Paige. She's now the extra sister, feeling like she's been replaced by Prue, returning to take her rightful place as head of the family. But she dares not tell her sisters of her concerns. No, she saves those revelations for a frozen Henry and her friend from Magic School.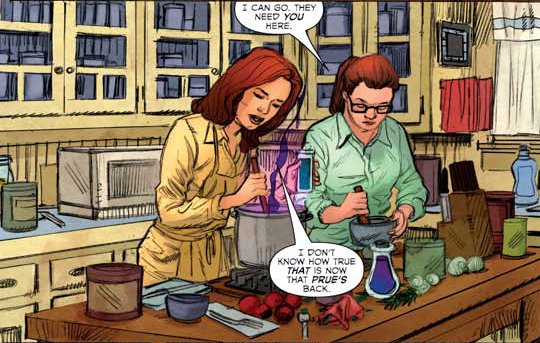 While Prue and Piper are off doing their thing, and Paige is making potions to supply their attacks, Phoebe and Cole get to have a little alone time. Whatever preconceptions Phoebe might hold about her ex, Cole really has been trying to change. I like that Cole got a chance to apologize and Phoebe actually took it as genuine. I've always liked Cole, despite his demonic nature. He's making strides to change his future, even in death. And he's got a wonderful plan, too. He will return to Salem with Prue to start guiding new witches. It's a worthy path for the both of them and who knows what might be in store for them now. He can't hold onto the past any more. Phoebe has her own life, her own family, and they're about to expand by one more. Cole deserves to have a chance at happiness, too.
Paige, being the self-sacrificing person that she is, has the perfect solution to their "magic gone wild" problem. If the sisters strip her of her powers, there will once again only be the Power of Three and perhaps balance will be restored. It's a noble gesture, but not the best option. It takes a bit of help from Cole, but Prue finally accepts that she should be the one to sacrifice her powers for the good of her family. The Power of Three was passed on to Paige when Prue died, so it's time to let that action stand. Everything seems to have worked out in the end for all involved. Well, almost everyone.

Leo's got his own issues to deal with. While Rennek wasn't responsible for Prue's return, he's not going to look a gift horse in the mouth. She proved the perfect distraction for the sisters so that he could make his move on Leo. What he wants with him, that's what we don't know. True, with as many incarnations that Leo's been through, his mind's got to harness all kinds of knowledge, but what piece of information specifically does Rennek want? Even his menacing partner-in-crime couldn't get it out of Leo yet, but Rennek isn't one to just give up without a fight. As we leave the issue, we see that Rennek's still hanging around, waiting and watching until he can make his move again. Leo's in danger, the entire family's in danger, but for what purpose? That's what we have to wait and find out.
Rating: 3 / 5 Stars