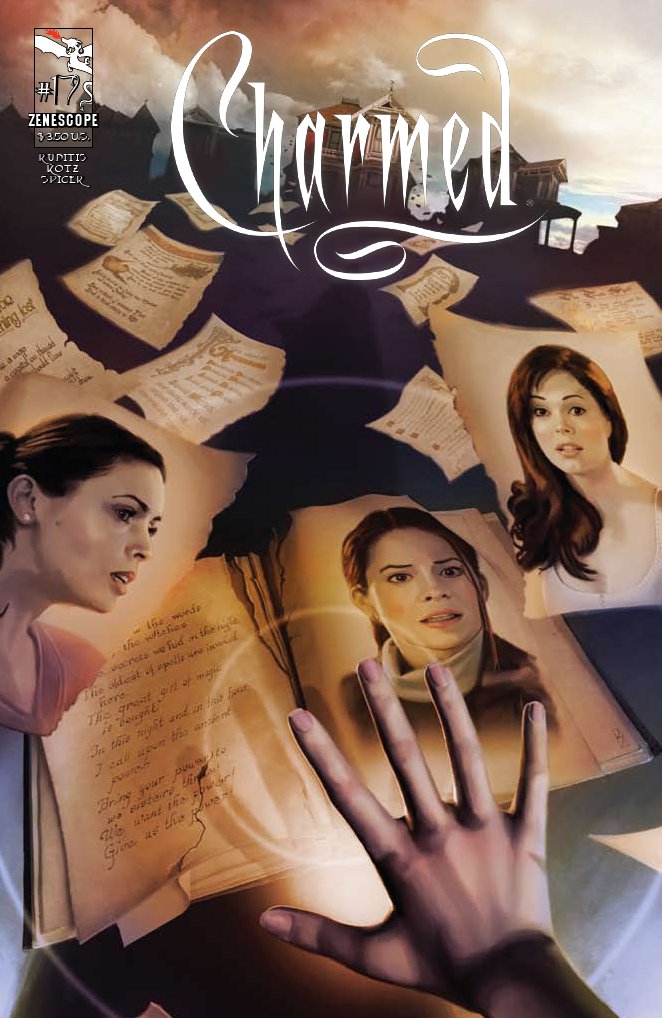 Issue: Charmed #17: "Family Shatters"
Release Date: January 2012
Author: Paul Ruditis
Artist: Dean Kotz
Cover: David Seidman
Colors: Michael Spicer
Letters: Jim Campbell
Editors: Paul Ruditis and Ralph Tedesco
Publisher: Zenescope Entertainment
What happens when the Charmed Ones expand from three to four? That's what we were set to find out in this issue of the Charmed comic. Fans knew it was only a matter of time before Prue's existence was uncovered and, from the looks of things, that revelation is coming sooner than expected. Will the sisters welcome their once-dead sibling back with open arms? Or is the balance of the universe going to be thrown into chaos when there's an extra Halliwell wandering around? Read on to find out.
Paige is off to the Salem Witch House to meet a new potential. Cole is there to make sure she doesn't get in and discover Prue. What a lovely and explosive family reunion we have in store. Of course Paige breaches the barrier and, in the process, unknowingly meets up with her half-sister. I'm guessing that her touch activated the Power of Three because Piper and Phoebe looked like they not only felt the presence, but their powers were heightened in the process. Time has frozen around them and Phoebe's levitation turned into the power of flight. And it's not just them that's been affected. Piper and Prue's contact heightened the kids' powers, too, and the manor looks like it went through a magical earthquake. Bad things are happening all around them and if they don't figure out something soon the whole family could be in danger.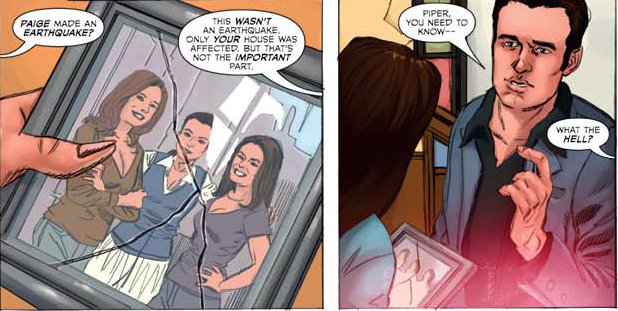 While they're coordinating a plan, there are two people noticeably absent. The first is Paige, who is still trying to figure out what's going on with this crazy lady who claims to be Prue. You'd think meeting her long-lost sister would be a good thing, but when Prue's mere existence throws the universe into chaos it's not going to be smooth sailing for anyone. The other missing family member would be Leo, who has been locked up in some supernatural jail cell by Rennek. Leo's got the wings and sword out, ready to defend himself against attack, but it seems like Rennek just wants to talk. What could Rennek need Leo for? And how does this play into the Prue storyline? We'll have to wait and find out.
While we're still left with lingering questions over Leo, one thing we know for sure — Piper and Phoebe are more welcoming of their dead sister than Paige was. It was a touching reunion filled with smiles and hugs while Paige looked on, shocked and perhaps a little bit hurt. With the original Charmed Ones together again, will Paige be the odd one out? All these questions are left unanswered until next time. I can't wait!
Rating: 3 / 5 Stars