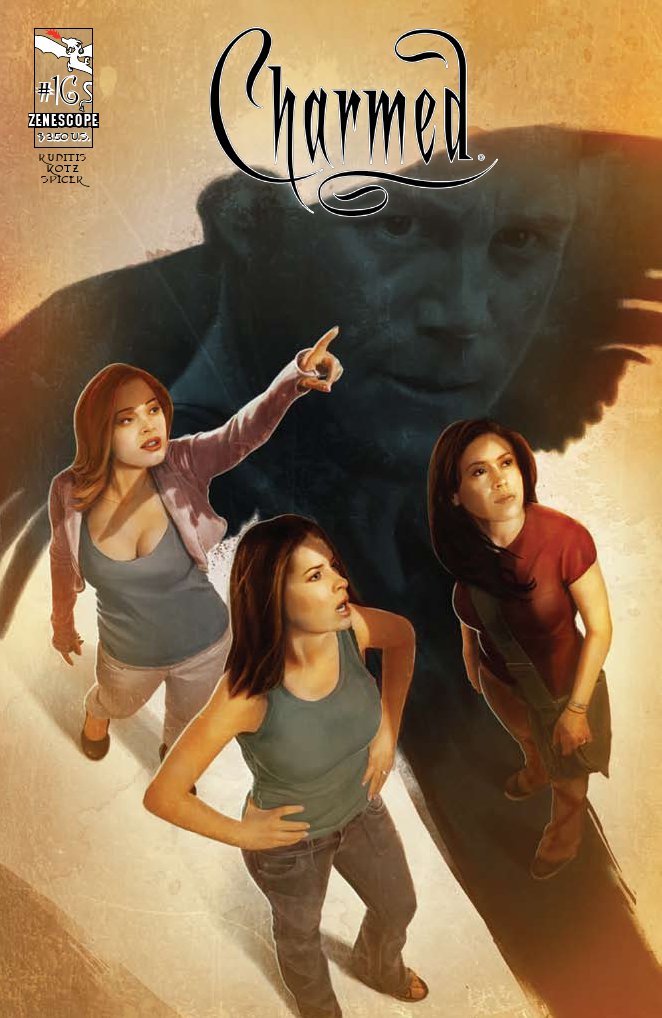 Issue: Charmed #16: "The Heavens Can Wait"
Release Date: November 2011
Author: Paul Ruditis
Artist: Dean Kotz
Cover: David Seidman
Colors: Michael Spicer
Letters: Jim Campbell
Editors: Paul Ruditis and Ralph Tedesco
Publisher: Zenescope Entertainment
Quite a mess is developing in the lives of The Charmed Ones and they don't even know it yet. First they have to contend with Leo's wing issue, but soon they'll come face to face with a sister they thought was dead. It's always an adventure!
Going by the cover of this issue, I was expecting it to be a Leo-centered plot. While one half of the storyline did devote itself to Leo and trying to figure out who or what he is now, the issue was also evenly split to devote time to Cole and Prue's developing storyline. Sadly, you can already see that all these loose ends are going to tie together in one explosive showdown before it's all done.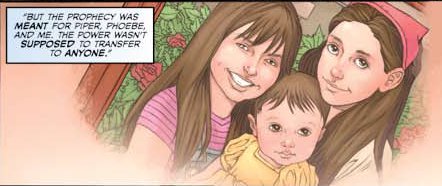 Dealing with Prue's storyline, I wasn't expecting her to be the blonde girl. The impression I got prior was that Prue would turn out to be Sarah, the young witch who was just coming into her power. It made sense that she might have amnesia after having been reborn to Earth. However, that's not the case. Instead, Prue willingly took over a comatose body and has known her identity the whole time. My confusion over the situation was mirrored by Cole, but through him we learn the truth. Because of the unfulfilled prophecy, Prue's afterlife has been torturous and she's been trying to gain relief ever since she died. I don't see a pleasant end in sight for that situation, but I'm sure it'll get worse once her sisters get involved. That's yet to come, though.
Meanwhile, there's Leo and his new destiny. I can officially say that my new favorite sight is Leo spreading his wings. I would love to see more of that, often and with purpose. The wings and the sword are connected and he has to take the family all the way to the Himalayas to get some education. But they make it and they survive the massive armory that's guarding the woman inside. That's when they get treated to a history lesson, complete with Biblical throwback. The wings and the Empyreal sword, as it's called, are directly connected and were meant to be wielded by a magical being rather than the mortal that Leo appears to be. However, he must still have some power left inside because he can not only wield the weapon, he can temporarily ditch the wings as long as he bites down on the pain it causes him. His goal is to ditch them both permanently, for the good of his family, but I'm hoping they stick around for a while. Winged Leo, Avenging Angel Leo, I like it more than you can imagine.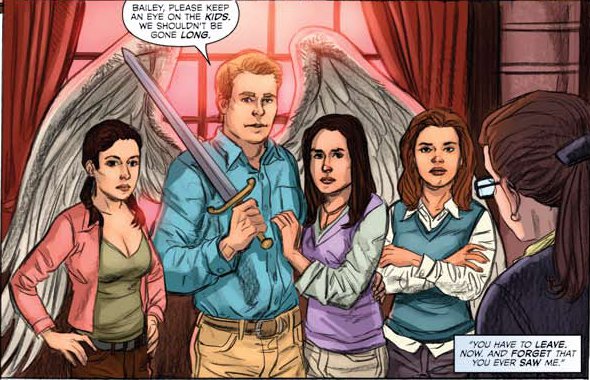 So, while we get more information, we don't get any massive showdowns in this issue. It's more building up to an event we know is coming. For now, we're left to ponder what might happen when Prue meets her sisters again, and what Leo's role will be in the coming battle. As for me, I'll just look at pretty, winged Leo some more.
Rating: 4 / 5 Stars