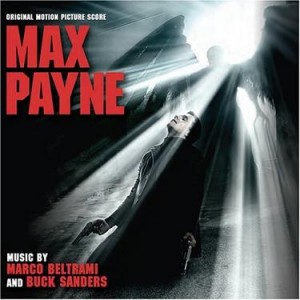 John is the biggest Max Payne fan on staff, so when we got the opportunity to review the CD score to the movie, he jumped at the chance. Here's his look at the release.
Composers: Marco Beltrami and Buck Sanders
From La La Land Records
ANALYSIS: When it comes motion picture scores, if you listen to them you can tell what kind of genre they are meant to be attached to. To me, the thing that makes a truly fantastic score is the kind that elevates beyond generalization and works on a variety of levels. I wish I could say that for the score of Max Payne. When I finished listening to this score, I knew exactly what kind of movie this score was meant for. It never aspires to be more than what it is, which works on its own terms, but the result is that the score becomes quite forgettable. This is a shame, given the talents of the composers.
I will say to the end of providing excellent music for a movie focused on a cop with nothing to lose, this score indeed serves its purpose and does so with flying colors. I will add that it is indeed worth listening to. For Max Payne, the score has just the right amount of brooding melancholy, combined with an appropriately subdued melody of suspense. Even by action movie standards, Max Payne is less glamorous or flashy, so don't expect there to be sweeping orchestral sounds. Composers Marco Beltrami (Hellboy, the Scream trilogy) and Buck Sanders descend into the dank and gritty world of Film Noir.
If you're particularly sharp you'll be able to pinpoint some interesting tricks that Beltrami and Sanders use to create some of the sound for this score. According to the liner notes on the CD they jumped at the opportunity to de-tune every instrument in their arsenal, the effect of which creates a sound which, for lack of a better word, can only be described as dirty. Beltrami and Sanders set out to make the music a reflection of the title character. It's unclear whether or not either composer had played the video game, but it's to the movie's credit that they understood the character. You can tell because when you listen to this score, the evidence clearly shows that the music belongs to Max Payne. You know the feeling when you're walking alone down the street, and you're feeling angry and PO'ed? Well, this is this music that will probably be playing in your head. All you need now is someone to film you in slow-mo.
Beltrami is a composer I have always held in high regard. I loved his work on the Scream trilogy, and he did incendiary work on Hellboy. I love that in listening to this score I had no problem picking out his stylistic choices. He is particularly sharp with base lines, using them to hint that there is something sinister happening under the surface. He then punctuates the reveal with sudden bursts of melodic assaults. So listening to this score is never a repetitious affair. One thing I will say to the score's credit is that when this score becomes public domain, it is perfect for anyone who wishes to use it for their independent horror and action films. Though the score belongs in one genre, it's simplistic enough to be transplanted into other genres. Unfortunately, that doesn't say much for the longevity of the original movie that this music is attached to, which means that as time goes on the work put into this score will be buried by other, more memorable scores.
ESSENTIALLY: A worthy excercise of technique for two very talented composers, but it's a little too common to labeled anything more than business as usual, which sadly makes it forgettable.
FINAL GRADE: C+