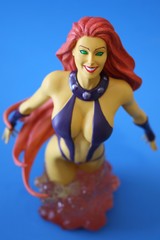 DC Direct's newest entry in their Women of the DC Universe series is the Starfire bust. The bust hit stores last week, and we have some photos to show off this awesome new piece.
Upcoming busts in the series include:
This is the second series of busts in the Women of DC line, with characters based on the art of Terry Dodson. The first series ran throughout last year and featured DC females as drawn by Adam Hughes. The rest of our Starfire gallery is after the jump:
[imgset:72157604242803720,thumbnail,true]
Jason is the founder and managing editor of Fandomania, and he co-hosts the weekly Fandomania Podcast with Celeste. He is severely into toy collecting, plays a worryingly large amount of games, watches way too many movies and TV shows, and reads more than his fair share of books and comics. He also likes guacamole.