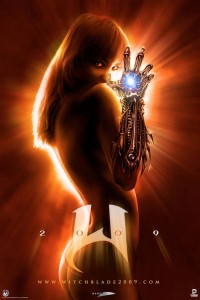 The Witchblade motion picture was just announced a week or so ago, and the studio isn't wasting any time on getting things rolling. Here's a look at the teaser poster that's already hit the web, and an official website already is online as well. The site is pretty bare bones for now and doesn't have anything more than a sign-up area where you can add your name to the movie's newsletter for now.
The Witchblade movie will be based on the long-running comic book series from Top Cow about a New York City police officer who becomes the wielder of a mystical gauntlet called the Witchblade. The comic previously was adapted as a short-lived TV series starring Yancy Butler.
Have a look at the official site: Link
Jason is the founder and managing editor of Fandomania. He is severely into toy collecting, plays a worryingly large amount of games, watches way too many movies and TV shows, and reads more than his fair share of books and comics. He also likes guacamole.