We're taking a bit of a break this week because I really want to know: what are you guys reading? I have have read hundreds, if not thousands, of pages of webcomics over the last six months or so trying to find what I think is the best of the best available right now. However, I am only one person, and I want to know what you think is the best of the best available!
This is your chance — have you been reading, hoping I'll mention your favorite webcomic (or even YOUR webcomic)? Well, please take a moment and tell me about it here! Give me the name of the comic, a link (pretty pretty please, with sugar on top) and why you think it should be highlighted on Webcomic Wednesday. I do, from time to time, get emails from fans and creators alike, but I wanted to give you all a forum to sell it to the rest of our readership.
I am really looking forward to see what you guys recommend. I know I already have a couple great comics lined up in the next couple of weeks but, who knows, maybe your favorite webcomic will be featured here because you mentioned it. I am but one woman working to bring you fresh interesting comics to read, but I really want to know: what are you reading?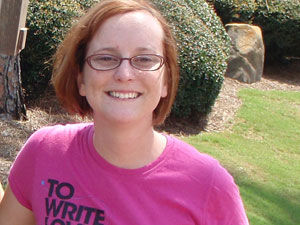 Kelly Cipera has been a bookworm from a very early age, discovering the fantasy genre in the 7th grade by reading The Smallest Dragonboy by Anne McCaffrey during an English class. After that it was too late; science fiction and fantasy became insatiable habits helped along by her father. Married to a rocket scientist, she now lives in Virginia and continues to read voraciously.