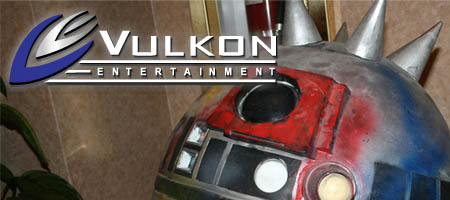 Last weekend I was at Vulkon's summer event in Orlando, FL. The main featured guests at the convention were Jonathan Frakes, Nana Visitor, and Erick Avari. I had a great time sitting in on panels, chatting with the actors, and buying some art for myself.
I was surprised by the amount of cool stuff on display at Vulkon, as it was my first time attending one of their events. Not only did they have a dealer room full of toys and collectibles, but they also had a separate Prop Room where creative fans were able to show off their homemade replicas, models, and costume pieces. I spoke with several such creators and will be featuring those interviews here throughout the week. For now, here's a look at some of the cool gear I spotted at the con.
If you'd like to check out Vulkon's future events and order tickets, you can do so through their official website: Link
( Vulkon Orlando Summer 2008 Event Photo Set )
Jason is the founder and managing editor of Fandomania, and he co-hosts the weekly Fandomania Podcast with Celeste. He is severely into toy collecting, plays a worryingly large amount of games, watches way too many movies and TV shows, and reads more than his fair share of books and comics. He also likes guacamole.