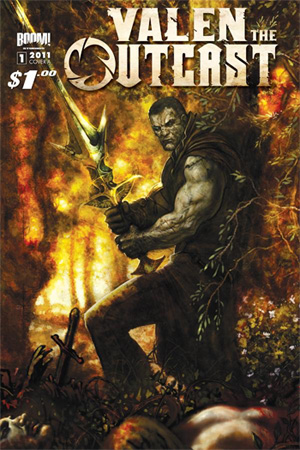 Issue: Valen the Outcast #1
Writer: Michael Alan Nelson
Art: Matteo Scalera
Colors: Archie Van Buren
Letters: Ed Dukeshire
Cover A: Liam Sharp
Cover B: Cary Nord and Dave Stewart
Cover C: Ale Garza and Blond
Publisher: BOOM! Studios
Valen the Outcast starts how most fantasy stories end: the death of a king. However, this takes a turn when the Necromancer, Korrus Null, reanimates the king. Now considered an outcast by everyone, except for a few, Valen makes his way to the Necromancer to get his soul back and become human once again. Not only does Valen have to hide from Korrus Null, but also from the people he once protected and fought alongside.

Valen can't just walk into Wraithendal, the seat of Korrus Null's power; he must sneak in. While asking for help, Valen is tricked by a common thief and must fight against his old friends. Once they and the thief are taken care of Valen starts towards Wraithendal. Accompanying him on his adventure are Zjanna, a friend of his, and Cordovan, a thief who Valen tried to capture when he was king. Each of his companions has their own reasons for traveling with Valen, and it might not be to help him.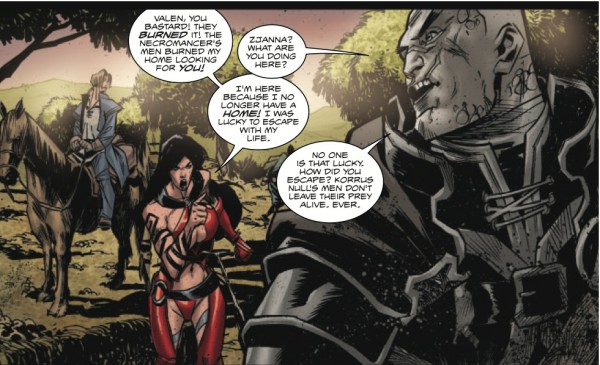 I thought this first issue was really well done. It manages to tell a lot of story without it feeling rushed, but it doesn't give too much away. If you like medieval fantasy (Dungeons and Dragons, World of Warcraft, Demon Knights, etc.), than you should pick this up. It follows in the same vein as those, but manages to put a twist on the genre.
From a young age, Nikki would read any book placed in front of her and has always had an interest in writing. She saw Sailor Moon, Red Dwarf, and Highlander (to name a few shows) on TV and they got her more interested in anime and sci-fi, which led to fantasy, her favorite genre. Right now Nikki is devouring anything Middle Earth related and has very much fallen in love with Tolkien's world. Nikki plays a lot of video games ranging from Final Fantasy to Mass Effect to Assassin's Creed III. Nikki has also written her first book! You can find it here if you're interested. She is currently planning another novel.