Just when you thought you'd seen every cinematic second of The Twilight Saga, here come eight more minutes of footage. Summit Entertainment announced today the upcoming release of The Twilight Saga: Breaking Dawn – Part 1 Extended Edition, which will be hitting stores on Blu-ray and DVD, as well as for digital download, on March 2, 2013. Here's the full press release:
Here is the chance to discover even more of the blockbuster film when The Twilight Saga: Breaking Dawn – Part 1 Extended Edition, featuring eight minutes of never-before-seen footage, debuts only on Blu-ray Disc (plus Digital Copy and UV), DVD (plus Digital Copy and UV) and Digital Download on Saturday March 2nd from Summit Entertainment, a LIONSGATE company. Now with eight minutes of new and extended scenes added back into the film by Director Bill Condon, along with his optional audio commentary, fans can delve deeper into the epic series they adore. Experience the timeless romance and drama in a whole new way when The Twilight Saga: Breaking Dawn – Part 1 Extended Edition, featuring the original theatrical version and the all-new extended edition with optional audio commentary from the director, arrives on Blu-ray Disc and DVD for the suggested retail price of $29.99 and $22.98, respectively.

"As Twilight series devotees know, there was a lot of ground to cover in adapting Breaking Dawn to the screen," said Condon. "Between the wedding, the honeymoon, the birth, and everything in between, naturally there were things that didn't make it into our final cut. But I wanted to make sure that for all the Twihards out there, there was a chance to see some of these cut scenes – several of which are fan favorites from the book."

The Twilight Saga has held its spot as the top-selling home entertainment franchise since 2008 and The Twilight Saga: Breaking Dawn – Part 1 took in $281.3 million in domestic box office sales after its release on November 18, 2011. The worldwide phenomenon continues to ignite a huge following of passionate and loyal fans that have driven the success of the Saga from the beginning.

The Twilight Saga: Breaking Dawn – Part 1 Extended Edition now featuring additional footage, presents the marriage, honeymoon and the birth of a child that brings unforeseen and shocking developments for Bella and Edward and those they love, including new complications with werewolf Jacob Black.
The extended edition's cover eschews vampires, werewolves, and indeed the entire movie cast for a pink and flowery presentation, no doubt to highlight the wedding and romanticalityness that happens when a human girl and a vampire boy like each other very, very much: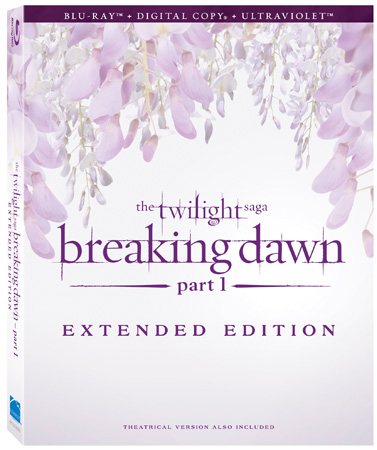 In addition to the cover art, the studio also is promoting the new release with a trailer, which you can check out below:
Having not seen any of the Twilight movies myself, I can't comment on what's new in that trailer or what might be added in that wasn't there previously. What say you, Twilight fans? Are you looking forward to eight more minutes of supernatural shenanigans?
Jason is the founder and managing editor of Fandomania, and he co-hosts the weekly Fandomania Podcast with Celeste. He is severely into toy collecting, plays a worryingly large amount of games, watches way too many movies and TV shows, and reads more than his fair share of books and comics. He also likes guacamole.