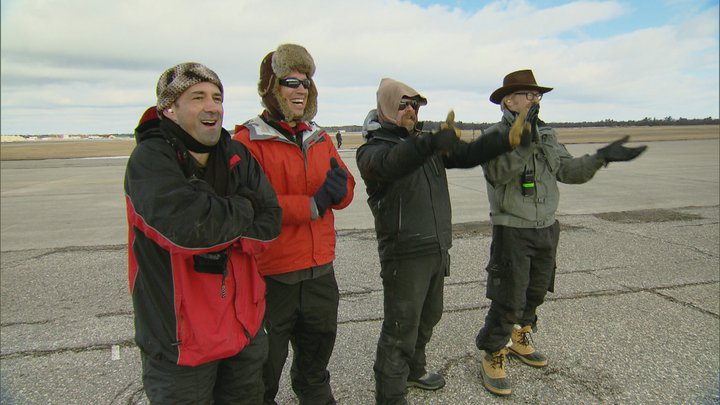 Episode: Mythbusters 8.19 – "Storm Chasing Myths"
Original Air Date: October 13, 2010
This week, the Mythbusters didn't bust any myths. Instead, they engaged in a bit of quality control, Mythbusters style, which means that the testing was done under extreme conditions — tornado conditions, in fact. Adam and Jamie teamed up with Sean Casey and Reed Timmer from Discovery's Storm Chasers show to see if the vehicles they use when getting up close and personal with tornadoes are really up to the job, then the Mythbusters engaged in a bit of tornado protection research and development themselves. There were not really any confirmed/busted pronouncements to be made in this episode, but if you want to see for yourself if the Storm Chasers' rides are up to snuff, then consider this your spoiler warning.
Task #1: Determine if the Storm Chasers' vehicles are capable of withstanding tornado-strength winds.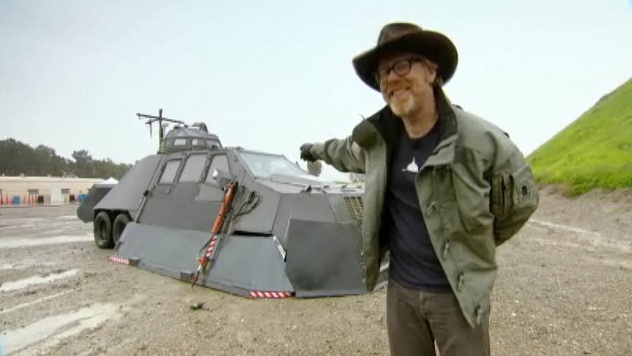 Sean and Reed each have a vehicle designed for getting up close and personal with a tornado. Both are heavily armored to protect from flying debris and both are designed to counteract the effects of extreme wind speeds. Sean's vehicle, the TIV2 (TIV stands for Tornado Intercept Vehicle), has armored panels that lower to the ground to prevent winds from getting underneath and lifting the vehicle off the ground. It also has two forty-inch-long hydraulic spikes that can be lowered into the ground to anchor the vehicle. The Dominator is Reed's vehicle, and it has hydraulics that allow him to lower the vehicle so that the foot-wide rubber skirting attached to the bottom of its armored panels touches the ground and blocks air flow underneath it. Both the TIV2 and the Dominator have successfully withstood storms with winds between 150 and 155 miles per hour, but how might they fare in more severe conditions?
Procedure: Park a vehicle behind the jet engine of a 747 cargo airplane. Start the engine and increase power until the exhaust blown from the back of the engine reaches the desired wind speed. Observe the effects on the vehicle.
Test 1: 160 mph winds
Control: The unmodified car was pushed 50 feet from its starting position behind the airplane and the hood of the car was blown off.
Results: Neither vehicle moved or sustained any significant damage. The door of the TIV2 blew open because it was not locked, but it was not damaged.
Test 2: 250 mph winds
Control: The unmodified car had its hood blown off and experienced a significant amount of movement due to being pushed around by the high-speed winds.
Results: Neither vehicle sustained significant or life-threatening damage. The Dominator moved some, but not nearly as much as the control car. The hydraulic spikes on the TIV2 prevented it from moving, but upon closer inspection it was discovered that in keeping the TIV2 in place, they were slightly bent. Still, anyone in either vehicle would have been safe from the effects of the high winds.
Conclusion: Both vehicles earned the Mythbusters Approved 250 MPH Rating, and bright pink emblems proclaiming that fact were stenciled on to each.
Task #2: Design and build a prototype personal shelter to protect against a tornado. It must be portable, able to protect the user from flying debris, and able to withstand the 130-plus mph winds of an F3 tornado.
Adam and Jamie, as usual, went their separate ways in the shop to build and test their ideas with scale models. Adam had no luck with his metal dome/wing combinations, but Jamie came up with a wing-shaped design that withstood high winds, on a small scale, anyway, so he moved on to a full-size prototype. Made of rip-stop nylon with aluminum panels at the front and foam board inside to protect the user from flying debris, the structure is mounted on a frame attached to a board with short spikes to anchor the user to the ground. The setup resembles a space-age sleeping bag, except for the fact that you get in head first. But will it protect someone from a tornado?
Results:
Portability – check. Jamie designed it to fold up and be carried in a backpack. A little big for carrying around long distances, perhaps, but it's perfectly sized for keeping in the trunk of your car, for example, if you lived in a tornado-prone area.
Able to withstand flying debris – check. They tested this by firing wooden plugs about the size of a soft drink can at it with an air canon, and neither Buster nor Adam were harmed. The "debris" glanced off the aluminum panels.
Able to withstand F3 tornado winds – check. Once again they were behind the 747's engines. During the first trial with 130 mph winds, the top of the shelter blew off of the bottom part. Jamie made a quick adjustment to the design, and the second time it did fine at 130 mph, then kept holding as the wind speed increased to 180 mph.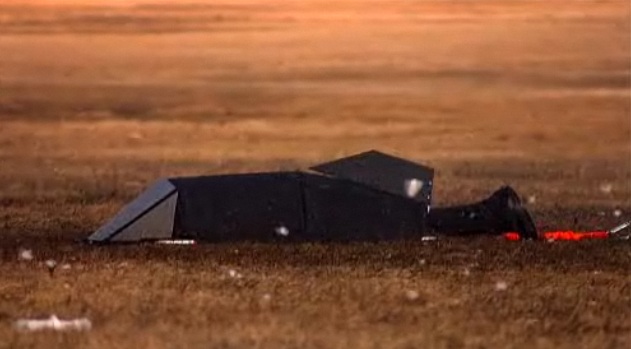 Conclusion: Find a company to make them and get those puppies into production! Even the Storm Chasers were impressed with the results.
I was a bit disappointed that Discovery basically hijacked Mythbusters and turned it into an hour-long promo for the season premiere of Storm Chasers. I missed the myth-busting part of the show — it lacks something when there's no "busted" or "confirmed" verdict to hand down. I also missed the secondary team. Even though we still had Adam for comic relief, wearing a Batman-inspired armored suit to test how much wind speed a person could face and still be able to stand up, it just wasn't the same.
I wonder why they didn't take advantage of Sean's and Reed's expertise to bring a little more science content to the show, especially since I actually had several science issues to call them on this week. The Storm Chasers chase a specific type of storm, those containing tornadoes, yet all the testing was done using straight-line winds without the rotation or updrafts that would be found in a tornado. Reed mentioned this fact briefly in passing, but then he said that they were only interested in the effects of the wind's power alone. In one of the supplemental video clips available at Discovery.com, Jamie addresses this question as well, acknowledging that rotation and updraft are important aspects of tornado winds, but that the wind speed is still the most important factor and the one they chose to test with. I still wonder if this makes for a valid assessment of the vehicles and shelter, however. I also wonder about the effects of high winds over time — is a short test exposure enough to say that the vehicles are safe when exposed to high winds, no matter how long that exposure lasts? They could have at least had Sean or Reed talk about the average length of time a tornado of a particular size would last, and use that as the basis for the length of time the vehicles were subjected to the wind.
I suspect that the Mythbusters will get plenty of fan mail feedback on the issues I have just raised, so perhaps there will be a revisit later on. Or perhaps not, since obviously the purpose in this episode was to get viewers excited about the other show and keep the TV on after Mythbusters ended to watch Storm Chasers. As I mentioned above, visit Discovery.com to see Jamie and Adam address some viewer questions, tour the TIV2, and set up equipment to measure wind speed behind the 747's engines (some of the background science that didn't make it into the show), and to see high-speed camera footage of the personal shelter test. After this so-so episode, I look forward to getting back to good, old-fashioned mythbusting!
Rating: 2 / 5 Stars

Ann Wells is an elementary music teacher by day and a nerd all the time. Her fandoms include Star Wars (the original three, thank-you-very-much), Doctor Who (10 is her doctor), and great authors like J.R.R. Tolkien, Isaac Asimov, and Neil Gaiman, among others. She can usually be found with her nose in a book, playing an instrument, singing show tunes, being crafty with yarn, or doing the bidding of her cat.