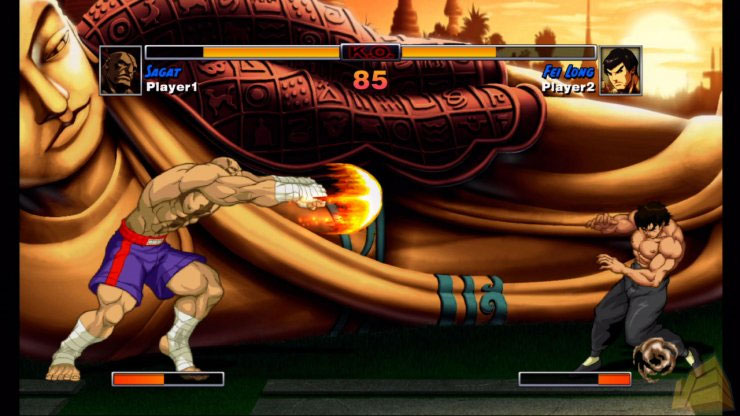 One of the most highly anticipated releases for the XBox Live Arcade finally makes its way to the console today, and the title is a mouthful. It's (deep breath) Super Street Fighter II Turbo HD Remix! You can nab the fighting fun for yourself now for 800 MS Points, or $10. Here's the official blurb from XBox.com:
The original MMA series is back! Super Street Fighter® II Turbo HD Remix receives a whole new look while improving on the innovative fighting system of the original game. Updated with 1080p HD redrawn art, widescreen support and remixed music, SSFHD Remix offers a unique experience appealing to new fans and Street Fighter purists alike. Play at home versus a friend or test your skills online. A new Remixed mode incorporates new techniques for your favorite characters, and the original Super Street Fighter II Turbo mode is built-in for those who want to revisit the game's old school gameplay.

Remixed or Classic Mode: The new optional Remixed Mode provides massive changes across the board to all Street Fighter characters as created and tested by some the world's top-ranked professional Street Fighter players. Or try the original Super Street Fighter II Turbo mode, which is built-in for those who want to revisit the game's classic gameplay. You can even choose from classic game tunes or newly remixed music.
New graphics: Check out the all-new 1080p high-definition art for the Street Fighter characters and backgrounds created by Udon Entertainment, creators of the Street Fighter comic books.
Classic characters: The game features all 17 of the original Super Street Fighter® II Turbo characters including Ryu, Guile, M. Bison and Akuma.
Multiplayer: New multiplayer modes are provided including Quarter Match, Ranked Match, and Tournament. The network code has also been improved for the best possible online game experience.
Jason is the founder and managing editor of Fandomania, and he co-hosts the weekly Fandomania Podcast with Celeste. He is severely into toy collecting, plays a worryingly large amount of games, watches way too many movies and TV shows, and reads more than his fair share of books and comics. He also likes guacamole.