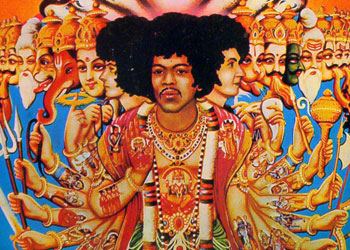 Jimi Hendrix comes to Rock Band next week with a new deal that lands his music exclusively in this game series. Along with a full album pack of Axis: Bold As Love, we'll be getting "Valleys of Neptune," the single from the new Hendrix album that released March 9. The album pack is priced at $19.99 (1600 Microsoft Points), which each individual track hitting at $1.99 (160 Microsoft Points). You can get the new songs on Tuesday for the Xbox 360 and Wii or on Thursday for the Playstation 3. Here's the full song list, with videos:
Jimi Hendrix:
"Up From the Skies"
"Spanish Castle Magic"
"Wait Until Tomorrow"
"Ain't No Telling"
"Little Wing"
"If 6 Was 9"
"You Got Me Floatin'"
"Castles Made of Sand"
"She's So Fine"
"One Rainy Wish"
"Little Miss Lover"
"Bold As Love"
"Valleys of Neptune"
Jason is the founder and managing editor of Fandomania, and he co-hosts the weekly Fandomania Podcast with Celeste. He is severely into toy collecting, plays a worryingly large amount of games, watches way too many movies and TV shows, and reads more than his fair share of books and comics. He also likes guacamole.