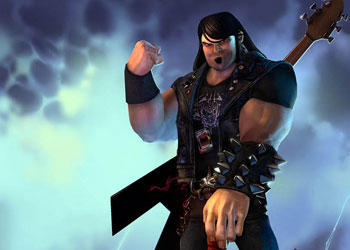 There's a lot of variety in this week's new song releases for Rock Band as a three pack drops alongside seven other tracks, comprising eight artists in all. The three pack features music from the new game Brutal Legend and costs 440 Microsoft Points ($5.49), while all the individual tracks are the usual 160 Microsoft Points ($1.99) each. All songs are available on the Xbox 360 and Wii today, and they'll be on the Playstation 3 on Thursday. Here's the full listing, with videos:
Brutal Legend 3-Pack:
Motorhead – "(We Are) The Road Crew '08"
Tenacious D – "The Metal"
Testament – "More Than Meets the Eye"
Individual Tracks:
Black Tide – "Show Me the Way"
Blink-182 – "What's My Age Again?"
Joe Satriani – "Satch Boogie"
Joe Satriani – "Surfing with the Alien"
Kansas – "Icarus (Born on the Wings of Steel)" (Live from Two for the Show)
Kansas – "Point of Know Return" (Live from Two for the Show)
L7 – "Andres"
Jason is the founder and managing editor of Fandomania. He is severely into toy collecting, plays a worryingly large amount of games, watches way too many movies and TV shows, and reads more than his fair share of books and comics. He also likes guacamole.