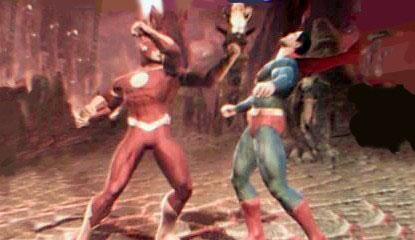 A British gaming magazine called X360 reportedly has a new story this month about Midway's upcoming fighter that pits the Mortal Kombat and DC Comics universes against each other. Among the details revealed in the article are that the game will contain blood, though likely not copious amounts of it, and that at least some of the characters' costumes will have destructible parts. A photo in the magazine is said to show Superman shattering part of Scorpion's mask.
The article also reveals what may be a partial or full character roster:
DC Characters:
Batman
Superman
Robin
Wonder Woman
Flash
Green Lantern
Black Canary
Hawkman
Powergirl
Mortal Kombat Characters:
Sub-Zero
Scorpion
Kabal
Sonya
Jax
Raiden
Kitana
Source: Neogaf via XBox360Fanboy
Jason is the founder and managing editor of Fandomania, and he co-hosts the weekly Fandomania Podcast with Celeste. He is severely into toy collecting, plays a worryingly large amount of games, watches way too many movies and TV shows, and reads more than his fair share of books and comics. He also likes guacamole.