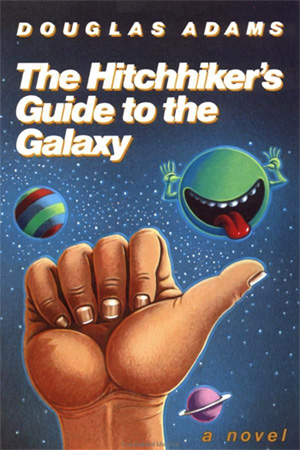 Douglas Adams is tricky. If your only exposure to Adams is the attempt Hollywood made to bring his vision to the commercially driven big screen, then you are probably thinking something like "that poor Furbanks. He is a sucker for poorly crafted movies with jokes that could be totally amazing and I have to admit it had interesting characters but somehow wasn't executed correctly. I liked the bit about the paranoid android. And that thing about the religion based on sneezing was clever. But come on, Furbanks. COME ON!!"
I know that's what you are thinking. Just give me a few more paragraphs, because if your first exposure had been one of the myriad other media that show Adams's blend of wit, genius, deep thought, improbability, and quotable quotes, then you'd understand the intrigue behind the Adams phenomenon. Writer, deep thinker, party maniac, philosopher, and damn good writer, the guy has plenty of material. And the weird thing is that, although you can enjoy the easy read and lighthearted jokes, you'll also find yourself marvelling — years later, sometimes — at Adams's deep insights into the human condition.
So let's get started. Hopefully, you are a clean slate (not counting all the references to Eccentrica Gallumbits* and "that Old Janx Spirit" you keep hearing at those after-hours convention parties). If you are a clean slate, start with the original The Hitchhiker's Guide to the Galaxy novel.
Of course, by saying "the original novel" I am being a total ignoramus. Everyone knows that the Guide started as a BBC radio broadcast, then it became a BBC Television broadcast, then it became a novel, and then a major Hollywood film, and finally a text-based adventure game (it was the '80s. This was cutting edge). I might be somewhat out of order. But the point is I know the novel didn't come first.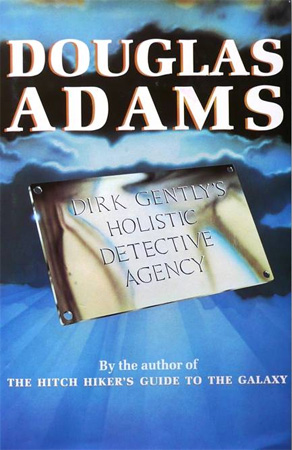 Nevertheless, I suggest starting with the novel. The exception is if (like me) you are a total BBC low-budget fanatic who can't get enough of that community theater vibe. If that's the case, start with the television broadcast.
But back to the novel: go ahead and finish the first three books: The Hitchhiker's Guide to the Galaxy, The Restaurant at the End of the Universe, and Life, the Universe and Everything. In the Guide novels, Adams takes on major themes of the human condition. For example, he explores the nature of religion. He also questions the linguistic limitations of confronting space-time paradoxes. Then, of course, there's the big one: whether it's possible to get marketing executives do something productive.
But it's a work of comedy, after all. The deeper issues Adams explores won't hit you until later. After three novels of the Hitchiker's universe, you'll want to move on to Dirk Gently's Holistic Detective Agency, just to get out of the Hitchiker's universe for a while. This novel includes the same interesting blend of humor and paradox, but set in the mid-'80s. It's got Norse gods and physics-defying couches. You'll like it. After that, if you can still handle it, move on to The Salmon of Doubt. This is a posthumous publication of some of his columns, speeches, and part of a draft for his follow-up to Dirk Gently they found in one of his computers. This is the type of book that will make you scratch your chin and think "wow, I never thought of it that way before."
*Here's a hint: she's the triple-breasted whore of Eroticon Six.
Raised in the Montana Rocky Mountains by buffalo farming philosophy professors, Lamar Furbanks embraces the geek's golden rule: have a good time all the time. Armed with dual degrees in liberal studies and general studies, Furbanks hopes to melt your brain like a Pan Galactic Gargle Blaster. So throw out that Earl Grey and feast your brain cells, because geeks can live on Fandom alone.